Dalvey Haus is one of the newest launches that is located long the coveted 105A Dalvey Road in District 10, which features a low-rise resort style only for the privileged. With a stunning design and an extensive set of facilities, Dalvey Haus is the sanctuary that provides the perfect balance between work and play.
Modern-style living is a concept that KOP Limited strives to attain for Dalvey Haus, which is consistently seen through its impeccable design and efficient layout. As a luxury condominium, Dalvey Haus is a freehold that certainly sets the standard within the luxury property scene. With its proximity to newer establishments and retail options, living at Dalvey Haus will definitely be a dream come true.
Dalvey Haus is expected to have 27 exclusive units, with units ranging from: 2-bedroom + study, 3-bedroom, 4-bedroom and finally, 5-bedroom units as well – providing a full range for residents to consider depending on their family size.
Two Bedroom + Study Unit – What does it offer?
Entering the two-bedroom unit, we are pleasantly surprised by the wooden highlights and soothing undertones across the furniture and designing choice. It creates a relaxing and calming atmosphere, keeping the room well-lit and spacious as well. The living room and the dining area is merged into one huge space, allowing families to interact with one another more easily. Full height windows are featured across the living room, bringing in natural sunlight and a clear view of the beautiful scenery outside of Dalvey Haus.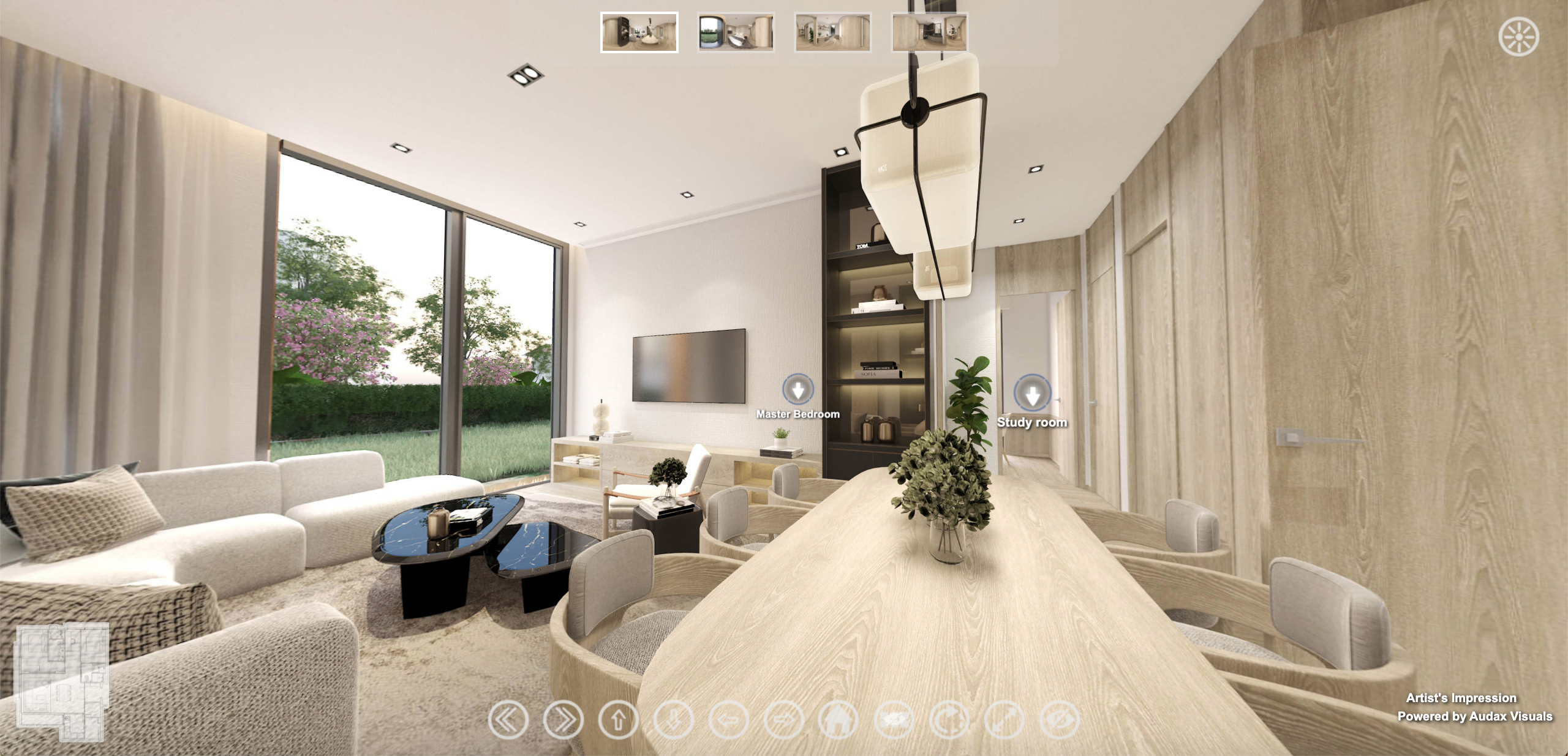 Entering the master bedroom and we see the same calm undertones adorning the rooms, which actually gives it a much bigger and spacious look as well. We can see that there is lots of walking space and room for you to include your own preferences. A good addition would be the TV that is hinged on the wall on the left, which is a great use of space as well.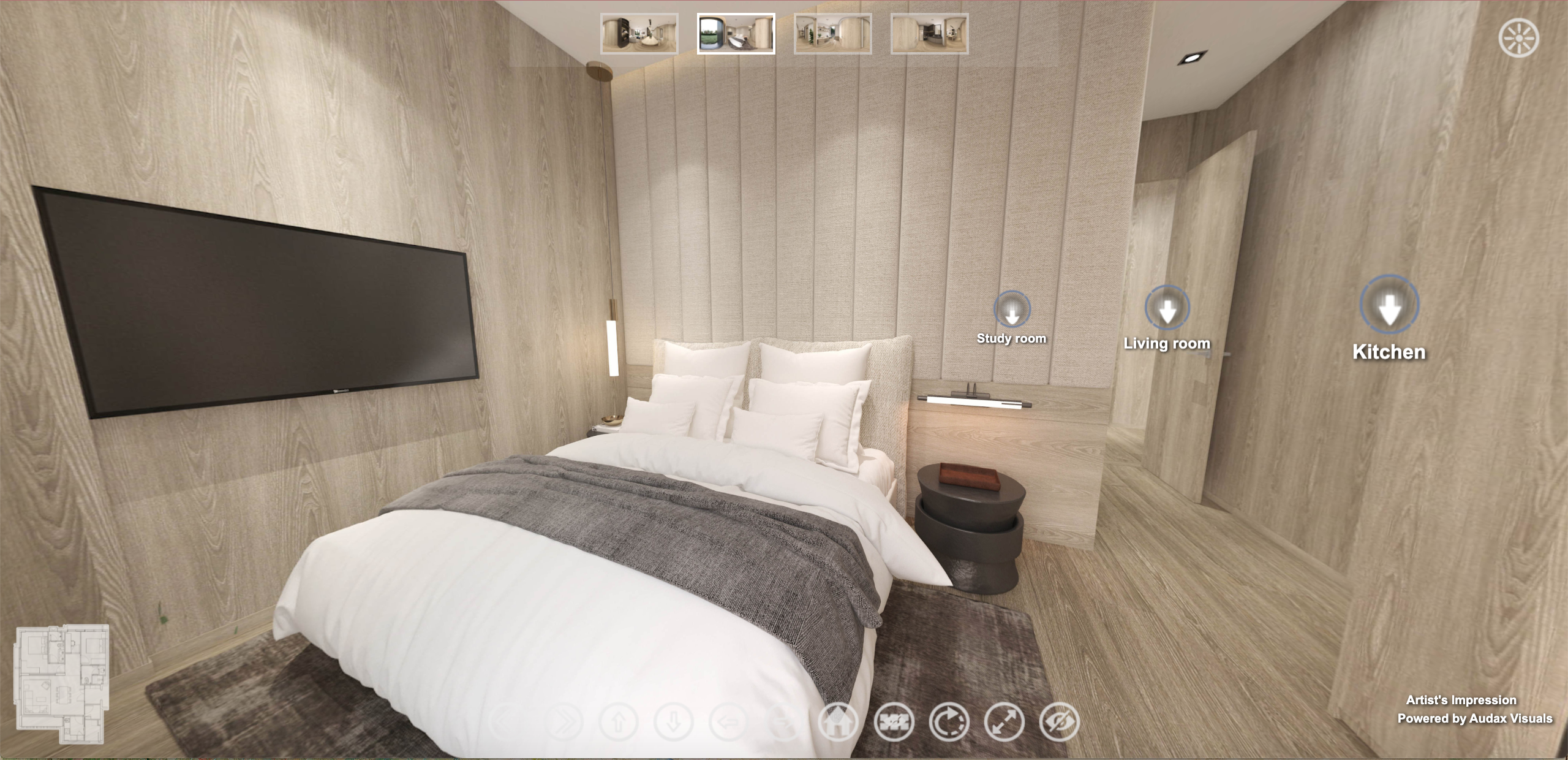 Moving on to the study room, we notice that full-height windows are also featured here to bring in natural sunlight into the room. The walls are also kept minimalistic and clean to giving a refreshing and relaxing atmosphere – perfect for some reading and working.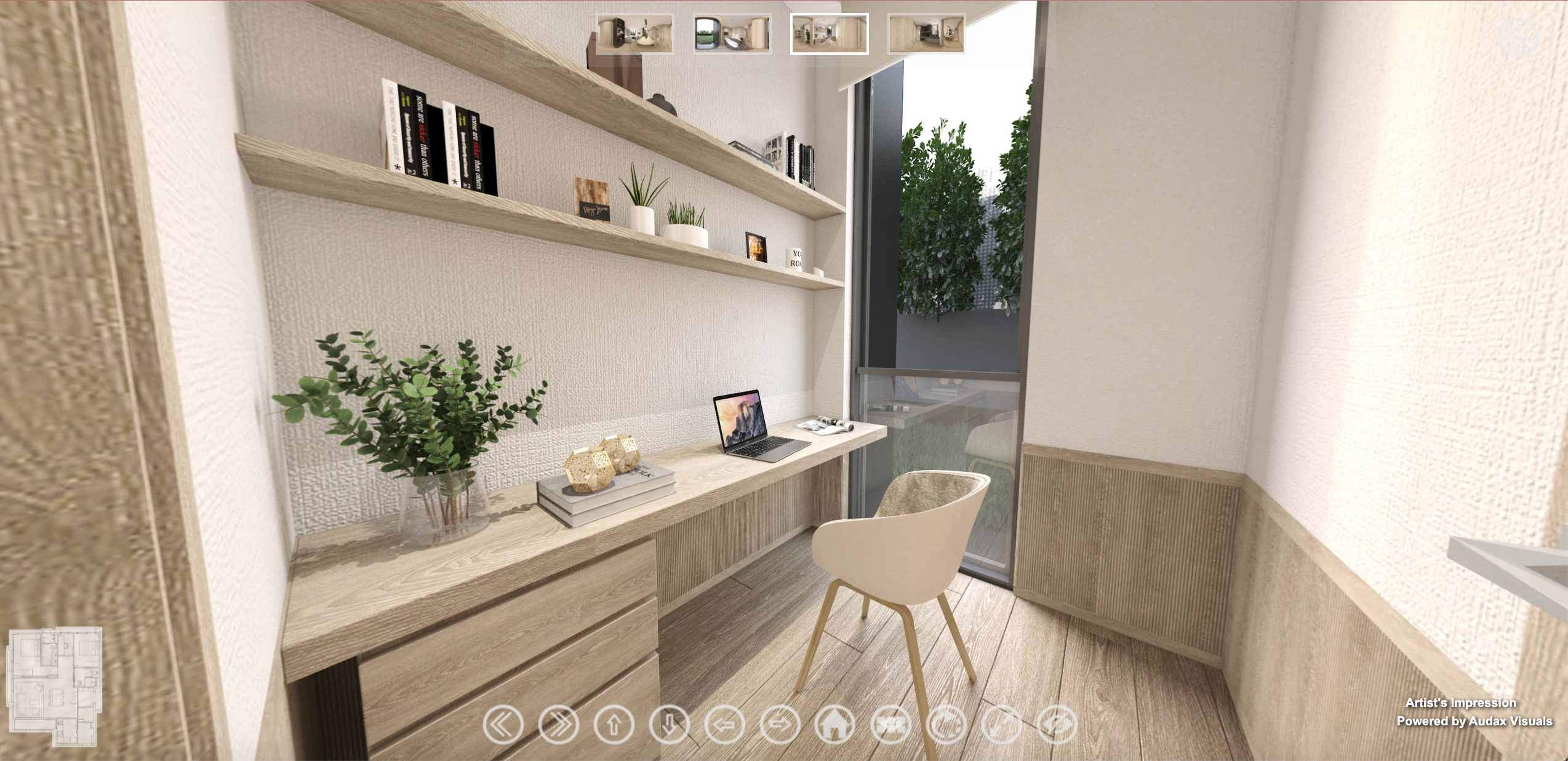 Finally, we get to the kitchen, which is beautifully designed with minimalistic but high-quality kitchen equipment decorating the cooking space. This ensures that the space is easily cleaned without fuss, which can be a huge plus for many that loves to cook at home.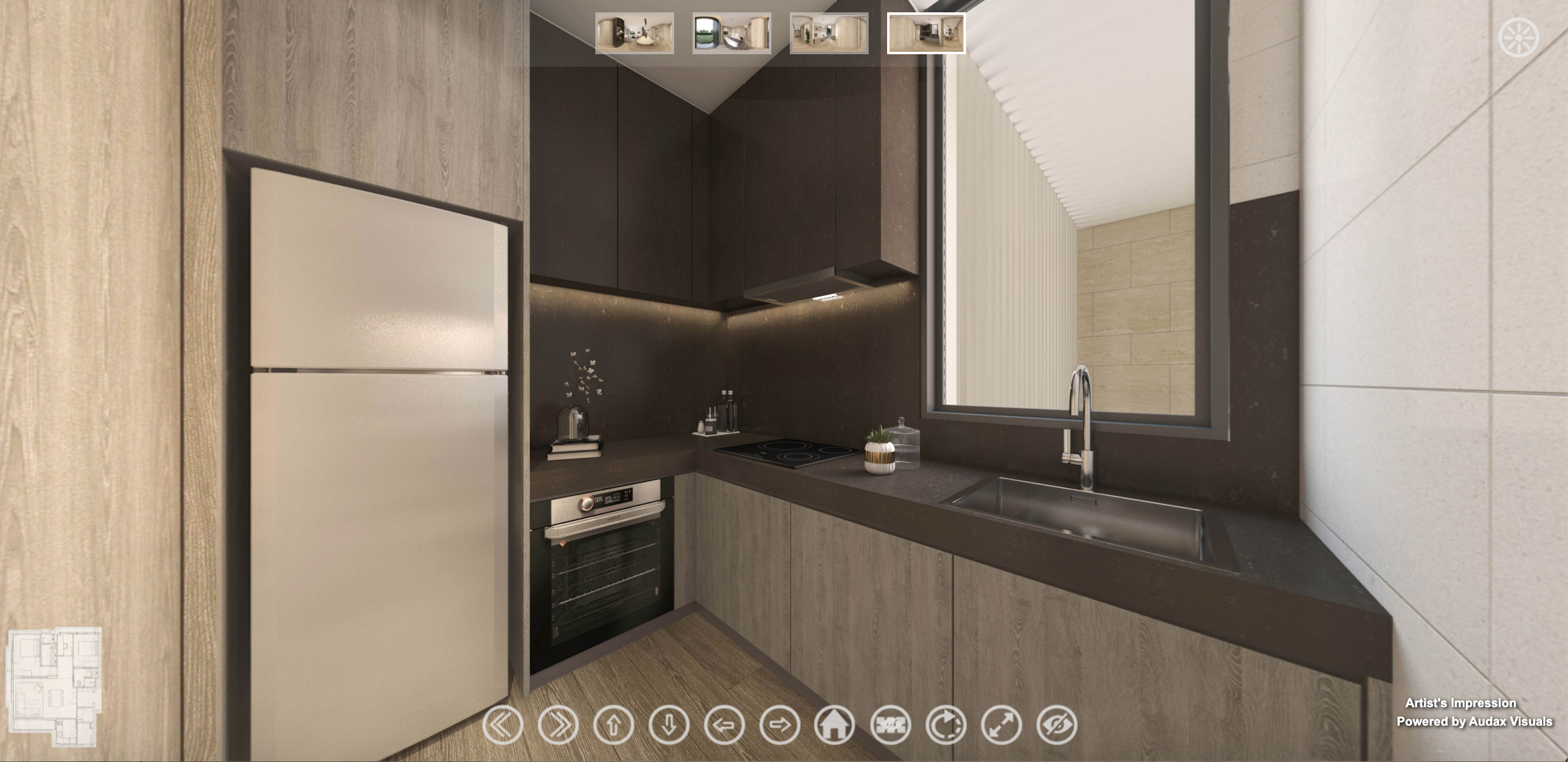 Three Bedroom Unit – What does it offer?
A look at the three-bedroom unit and we see the same calm and relaxing tones highlighting the room, with the living room noticeably bigger to accommodate more walking space and more extensive decorations as well.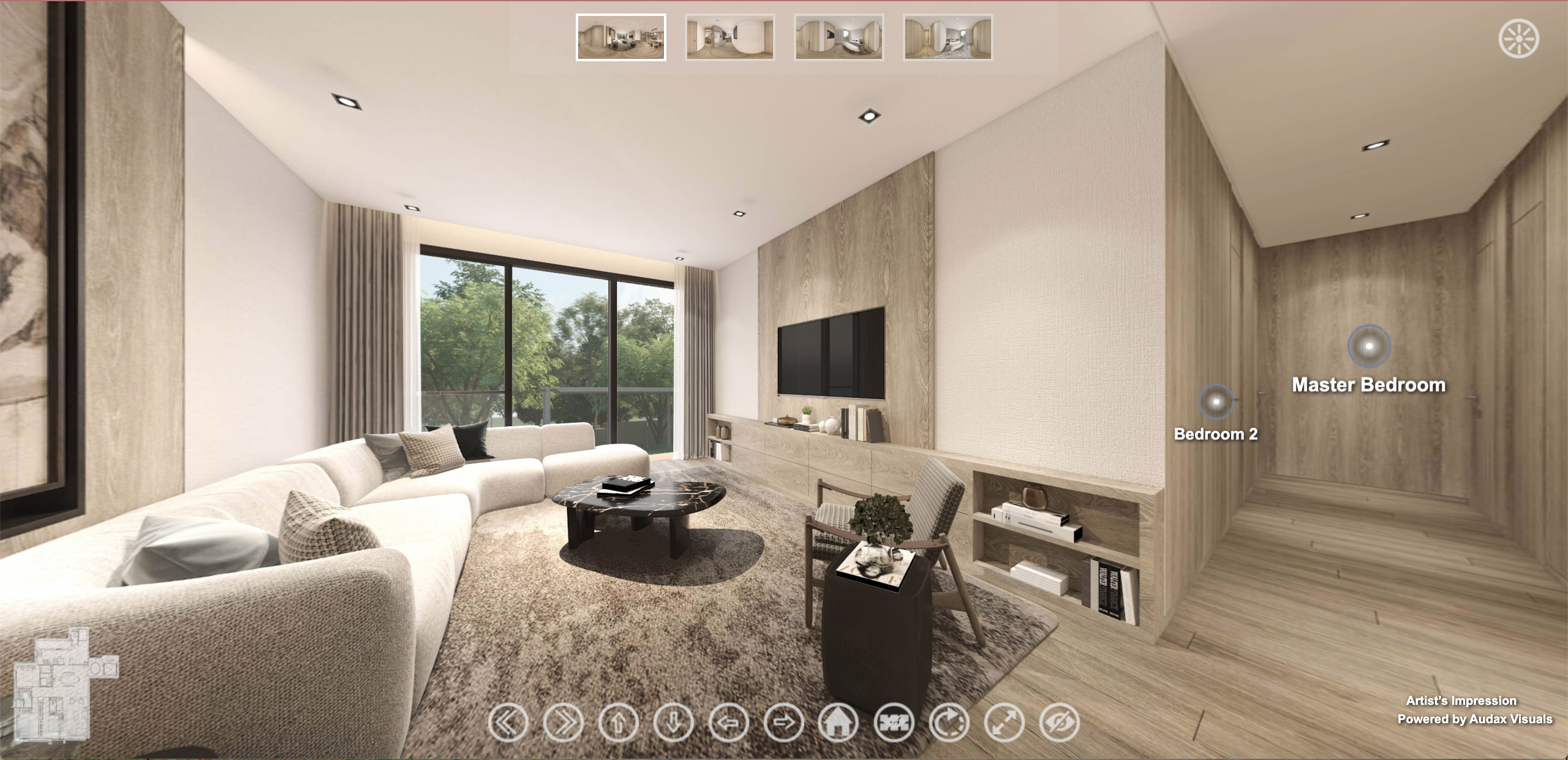 At the other side we can see the dining area, which is much more spacious as well. The dining table is now extended to also accommodate more family members at the same table. The door extends to the kitchen, which has more space to take up separate cooking area.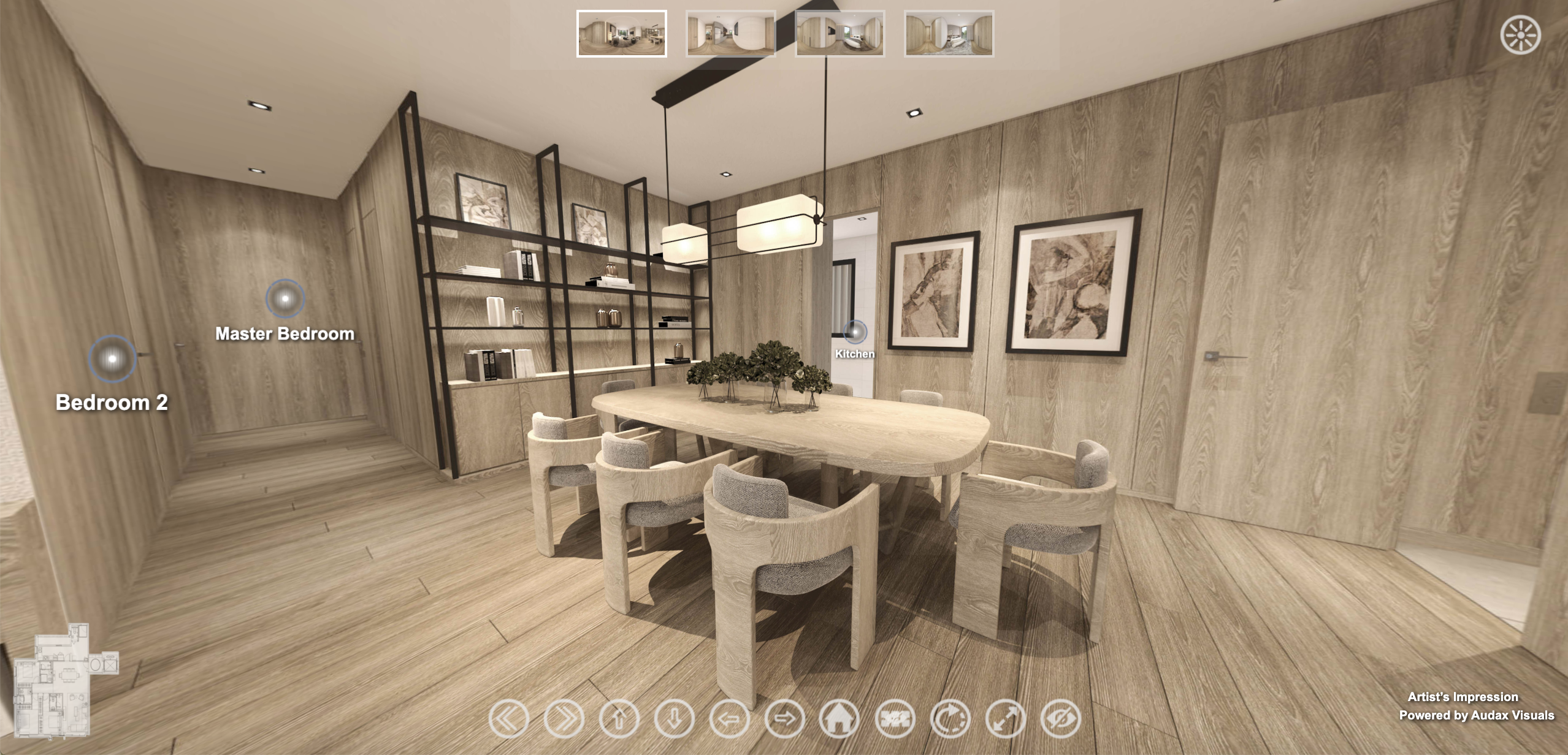 Finally, we get to the master bedroom, which is equally astounding with the full height curtains and minimalistic designs that aptly shows how "less is more" – exuding unrivalled sophistication and grandeur.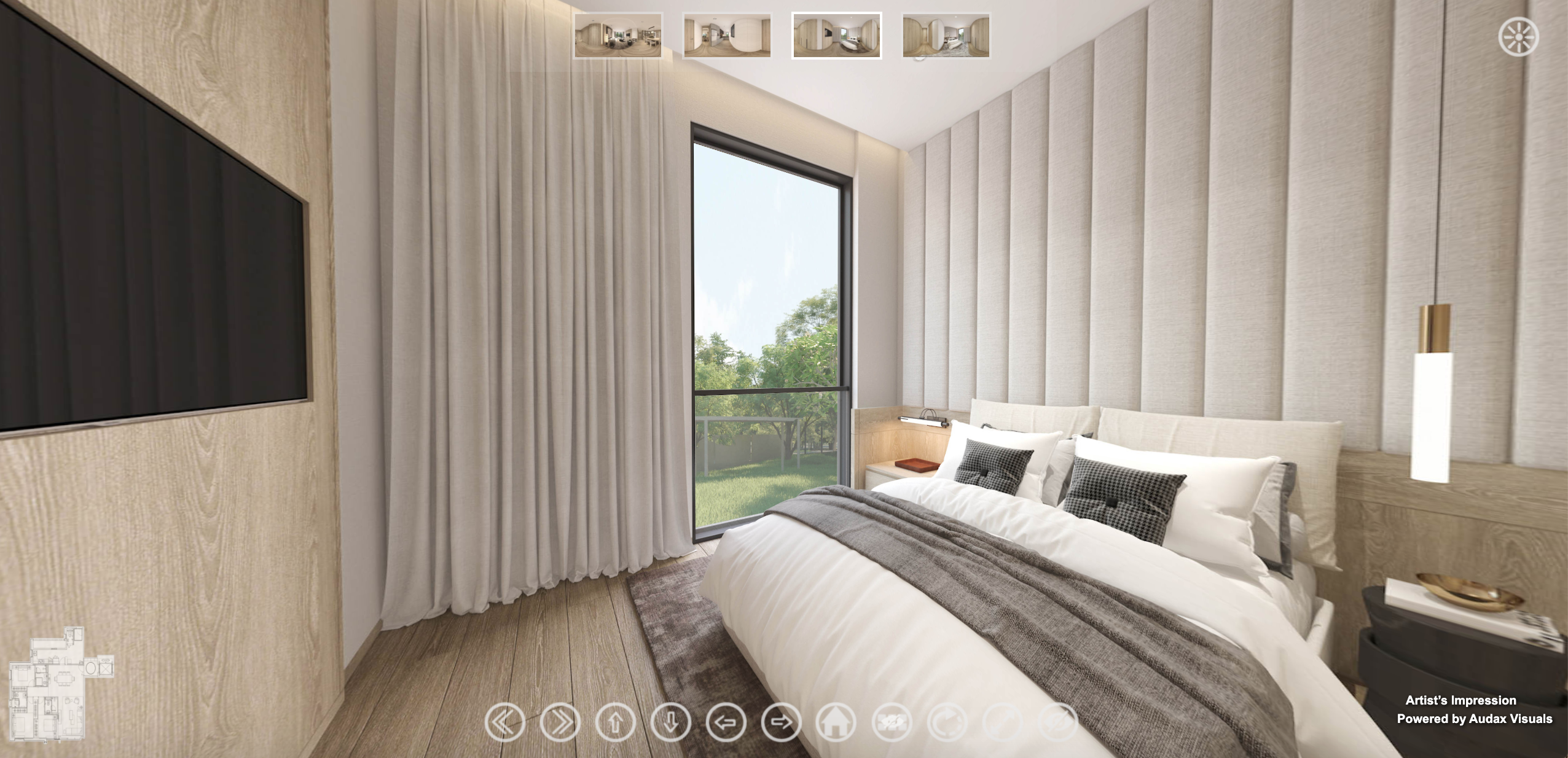 Four Bedroom Unit (2,788 sq ft) – What does it offer?
Looking at the four-bedroom unit and we are deeply impressed by the double storey design of the living room, with full height windows extending to the second floor to show a full view of the astounding scenery across the horizon. It also adds an air of luxury and sophistication along with the lavish wall art and decorations.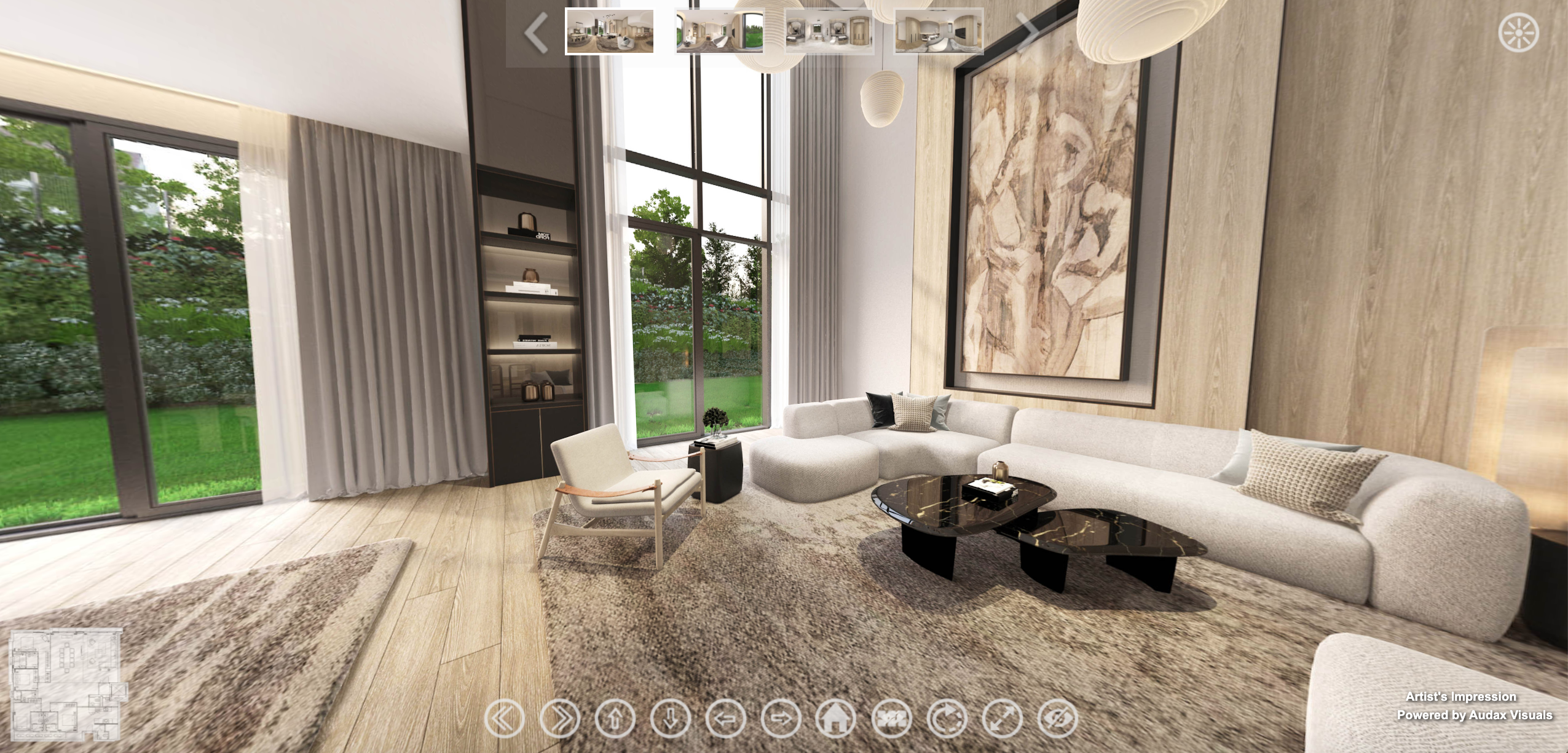 At the other end we have the dining area that is completed with the beautiful dry kitchen area, which is a perfect addition to the open space.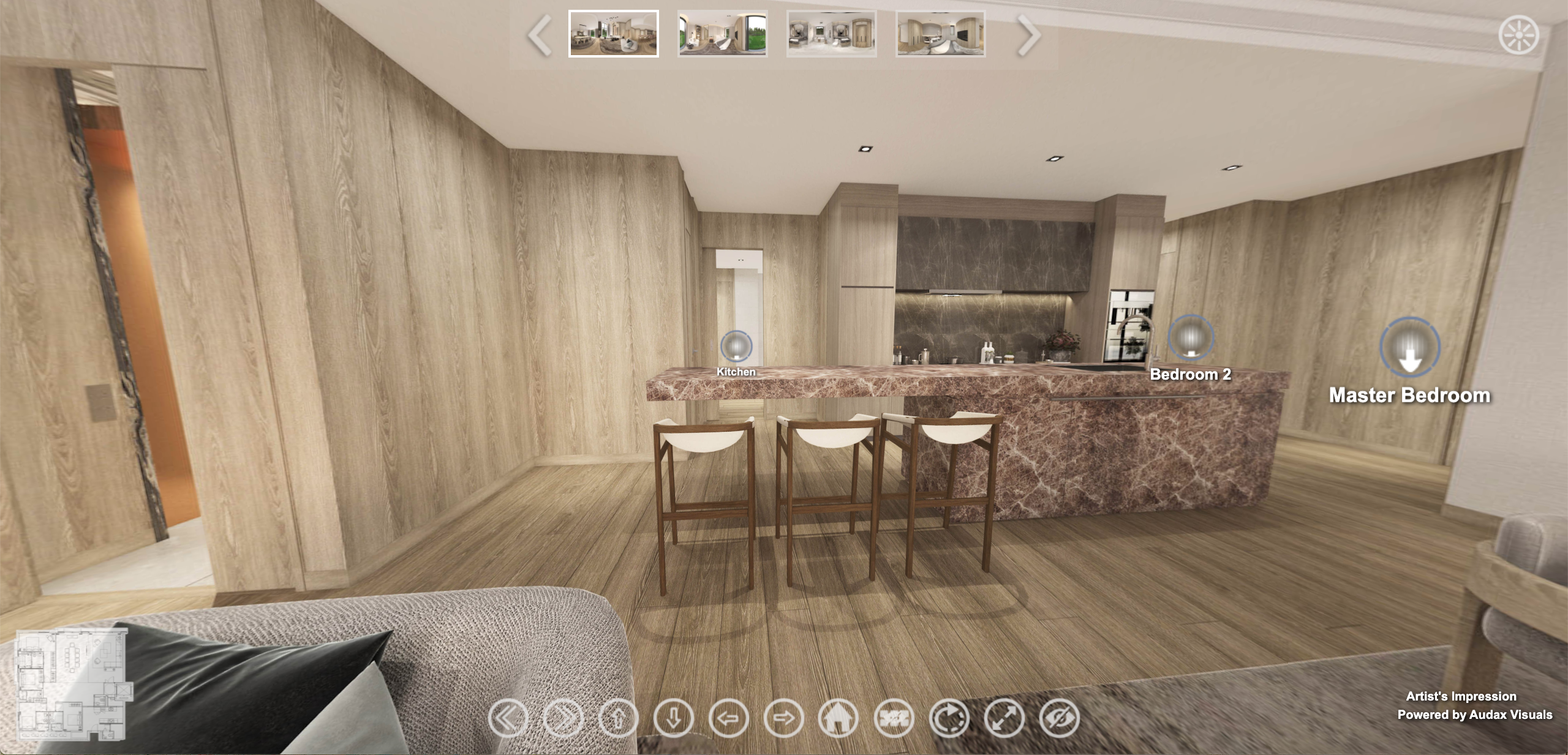 Next we walk in to see the kitchen, which is upgraded to include an extensive array of high-quality kitchen and cooking equipment. A dedicated space to whipping up delicious meals, cooking here would definitely be an ease due to the minimalistic designs here that prevents any fuss and mess.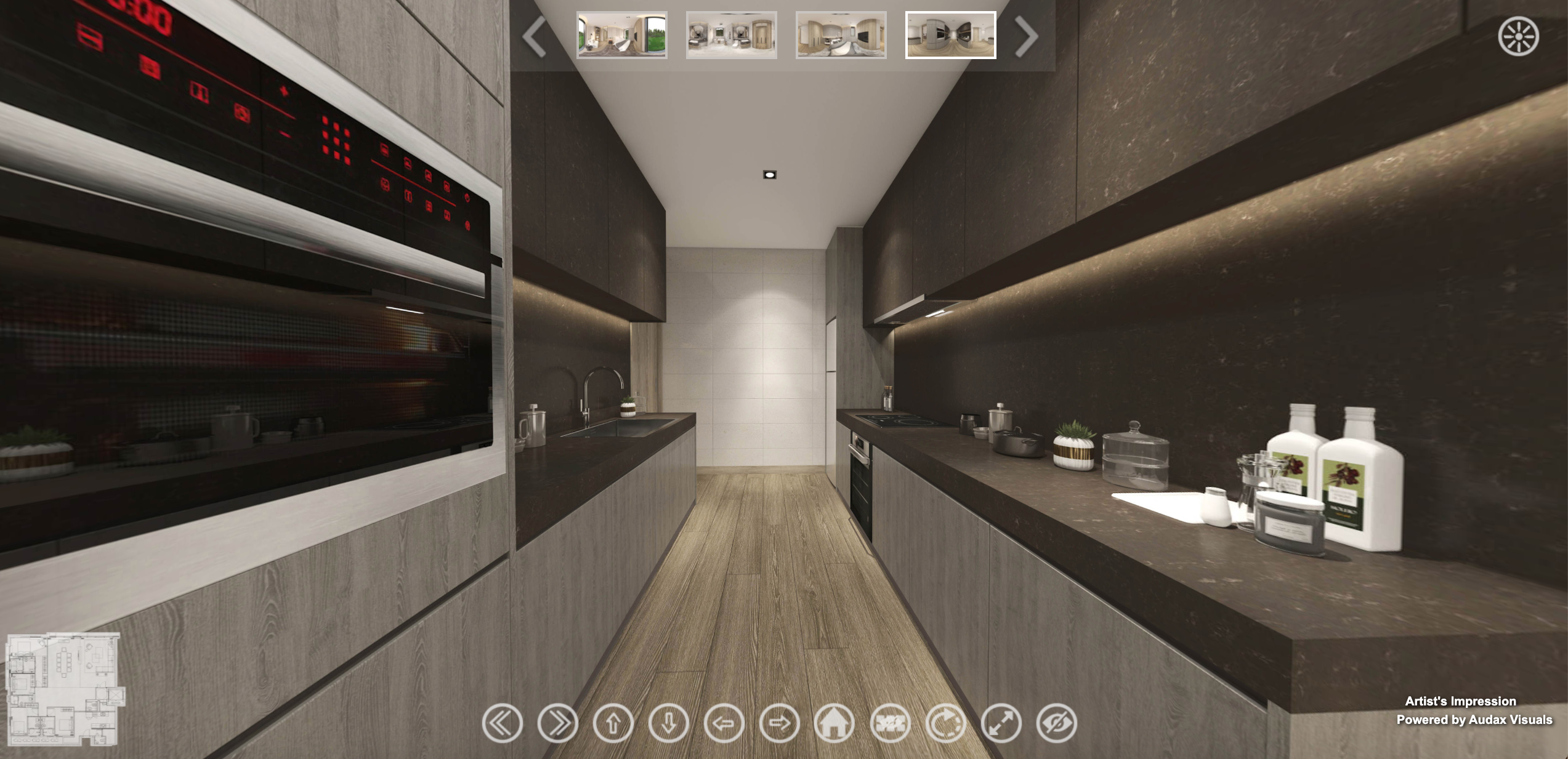 We get to the bathroom area, which is adorned with beautiful marbling detailing with a bathtub included for comfort and relaxation. Along with high quality bathroom equipment included in the dry and shower area, it is evident that the no efforts were spared when crafting this beautiful space.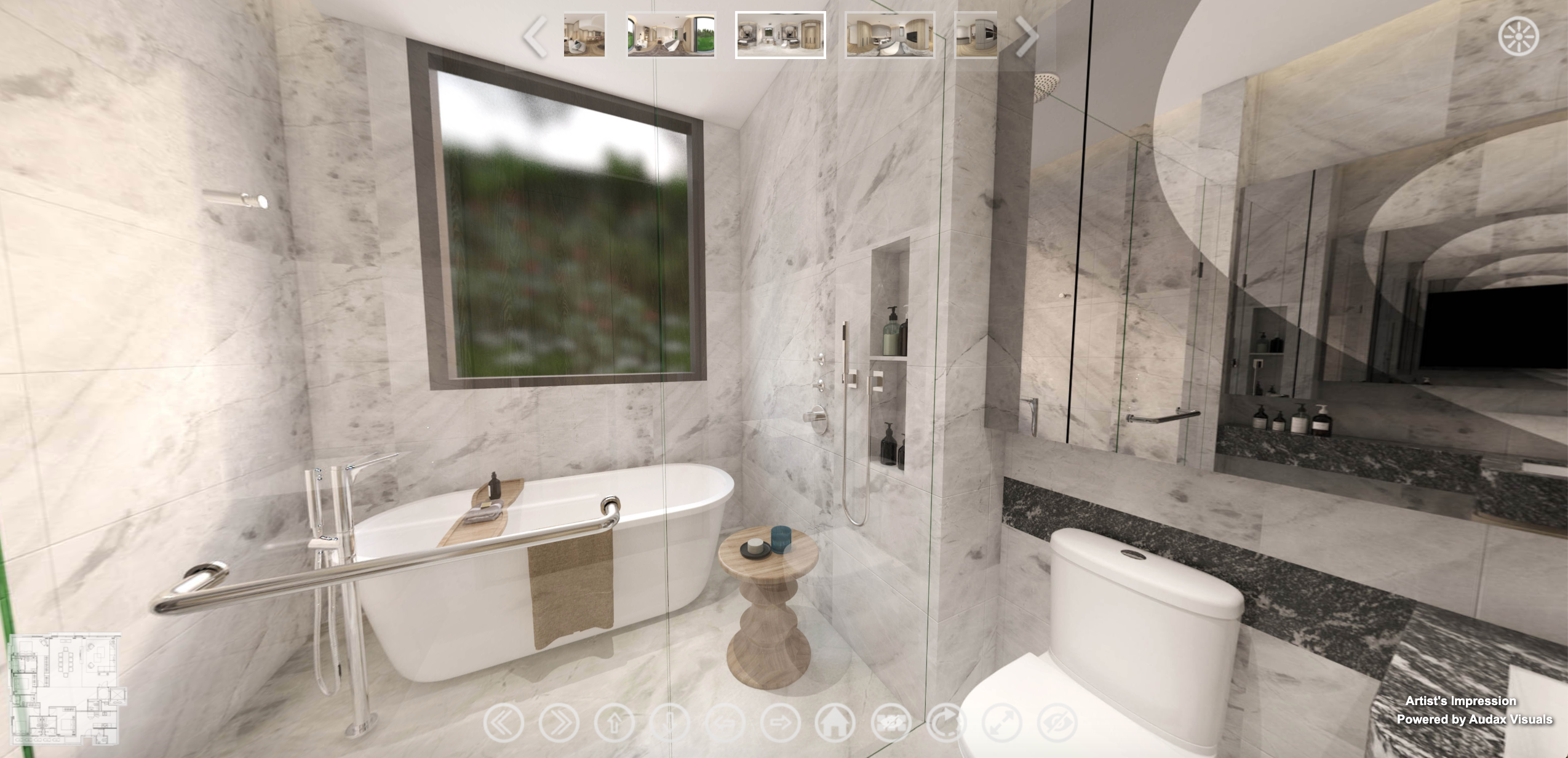 Location – More about its connectivity
Dalvey Haus is an astounding development not only for its stylish interiors and facilities, but also its impressive connectivity due to its prime location. For one, it is just a short distance from Stevens MRT station, which is along the Downtown Line. This would bring residents direct access to other key stations on the line like Bugis, Expo and Chinatown.
In addition, its proximity to the Tanglin-Orchard enclave would also mean an endless supply of shopping and dining options for residents to choose from, adding much excitement and surprises to their vibrant lifestyles. This also means that it takes only a few minutes for you to reach the Central Business District (CBD), which can be a huge perk if you or your loved ones are working within the area.
Another highlight within the proximity of Dalvey Haus would be the proximity to nature, which includes famous spots like Singapore Botanic Gardens. It is better known as a 160-year-old tropical garden located at the fringe of Singapore's Orchard Road shopping district. Singapore Botanic Gardens is also one of three gardens, and the only tropical garden, to be honoured as a UNESCO World Heritage Site.