Nestled within District 9 along 5 Derbyshire Road, Fyve Derbyshire is a prized property in a prime location with limitless potential. With only 71 exclusive units across its 19 storeys, Fyve Derbyshire creates a flawless private sanctuary that is perfect for individuals and families alike. It will be featuring a range of units, from 2-bedroom units to 4-bedroom units. This stunning property is developed by Roxy Holdings Ltd, a well-known developer that has numerous successful projects under their belt as well. Recent establishments include RV Altitude, Arena Residences and The Navian.
Two Bedroom Unit (Type A2) – What does it offer?
At the two bedroom unit, we first enter to land our sight on the kitchen and living room space that is well lit and spacious. The kitchen area is well decked with high quality kitchen equipment and adorned with marble detailing to give the kitchen a decadent and elegant look. The living room opts for a more lighter colour scheme, giving the room a more brighter and refreshing look. All in all, they blend well together to create a luxurious and calming atmosphere.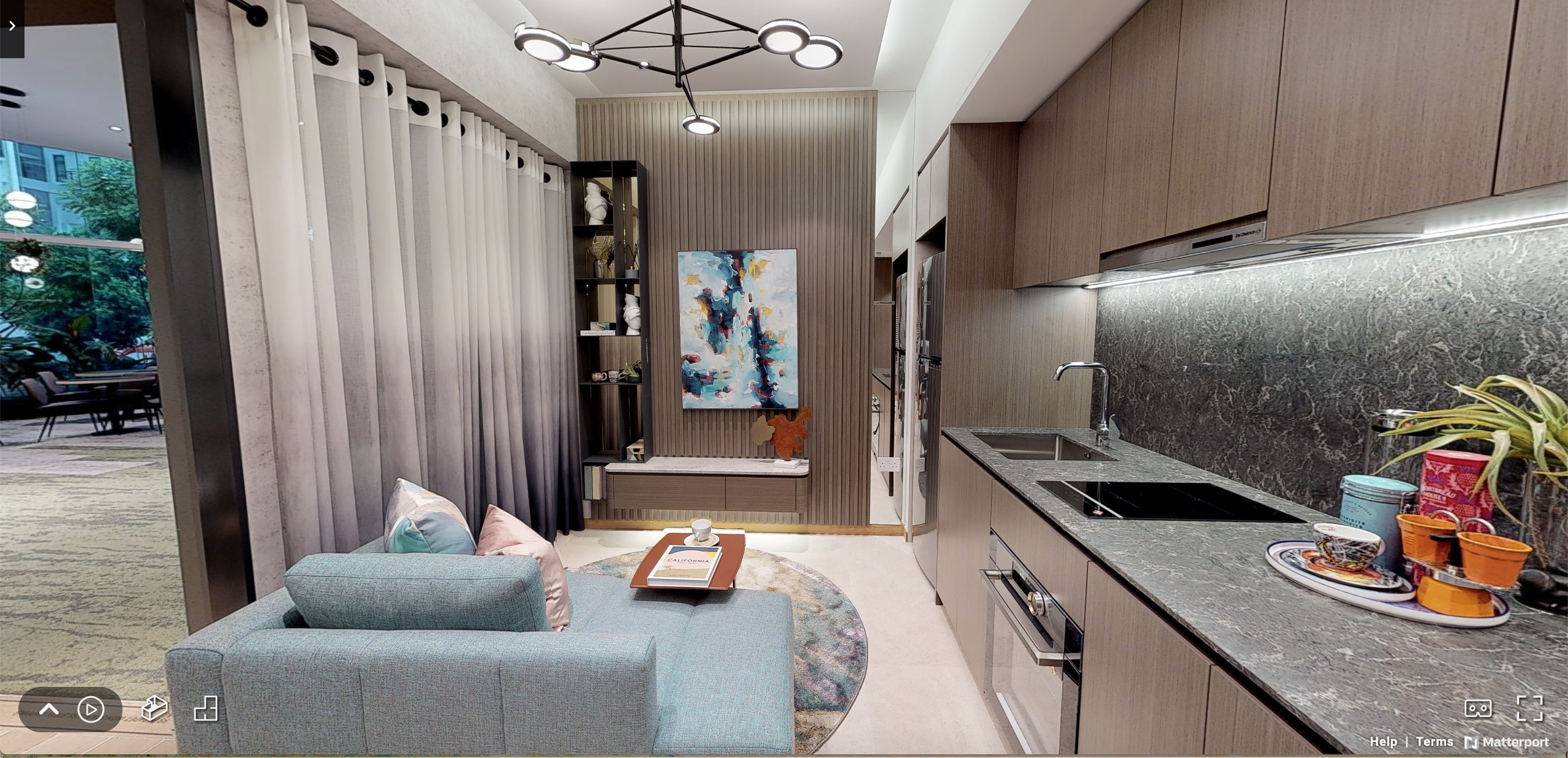 At the corner of the living room we see that the mirror area has been redesigned to become an art corner, which is definitely something you can consider – or even remodel it into a wine tasting, tea making or any other corner to your preferences. Extending out would be the balcony area, which is large enough to accommodate a comfortable couch and dining chair – perfect for relaxing over a glass of wine while enjoying the beautiful view outside.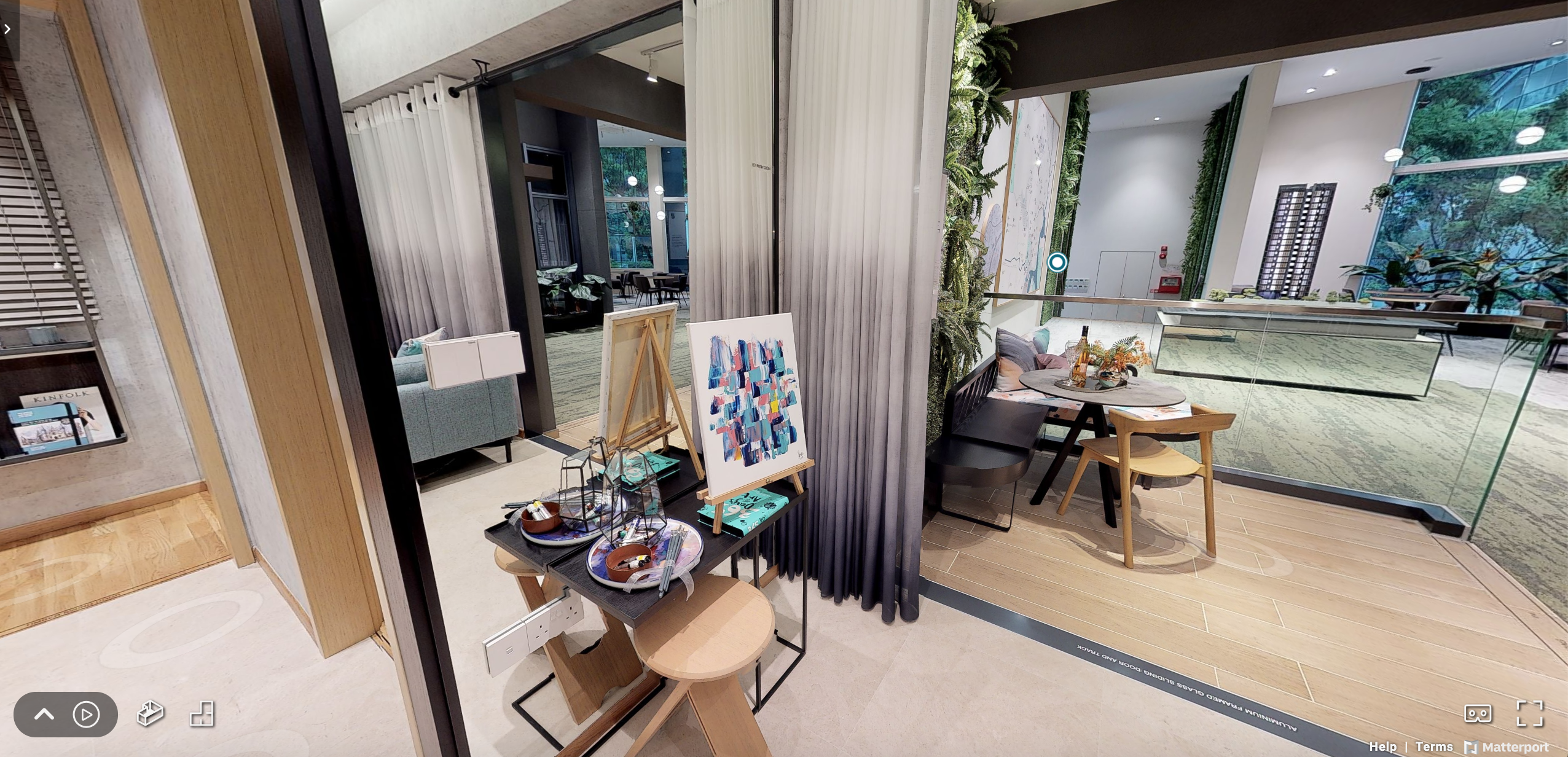 A further walk into the unit we reach the master bedroom, which is beautifully decorated with blue and grey tones to give a relaxing and calm atmosphere. There is also ample walking space to accommodate a dressing table at the corner.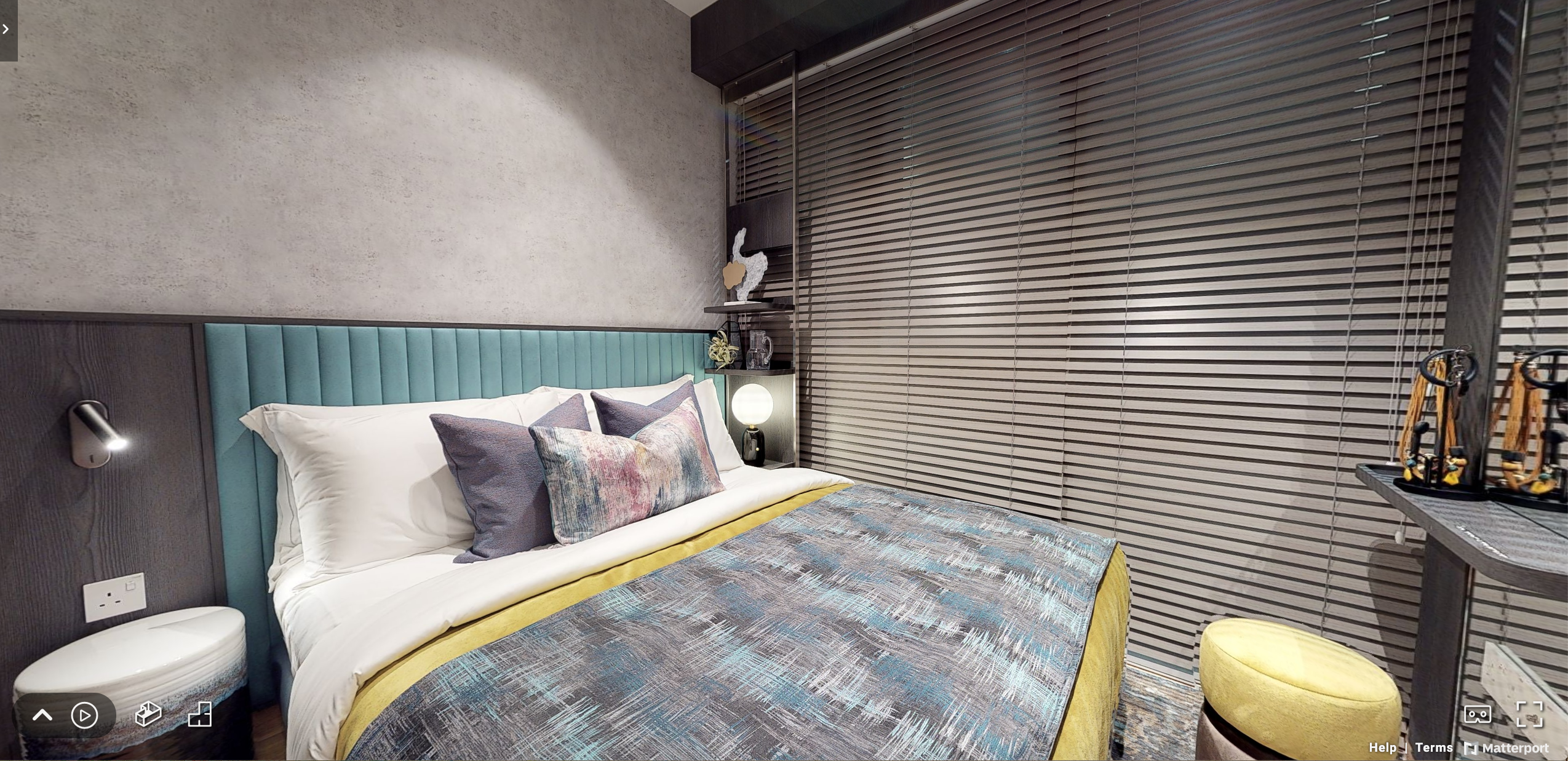 We've also noticed that at the end of the master bedroom, there is a mirror and shelf area, which is perfect for a walk-in wardrobe situation where you can dress up and prepare for the day here!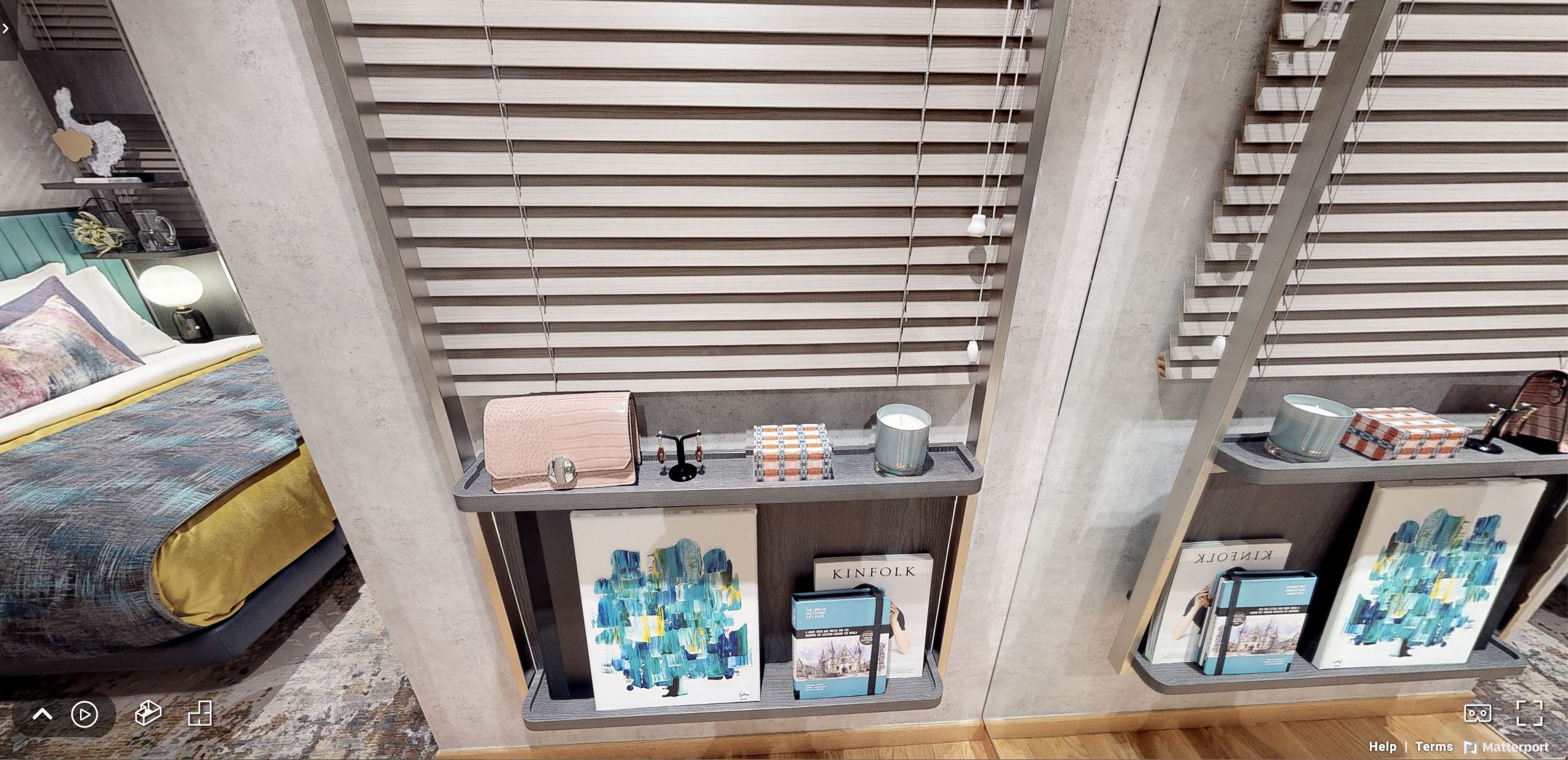 Finally, we get to the bathroom, which is decorated with clean colours of black and white, keeping the space crisp and refreshing. With high quality bathroom equipment, the bathing space looks decadent and effortlessly luxurious.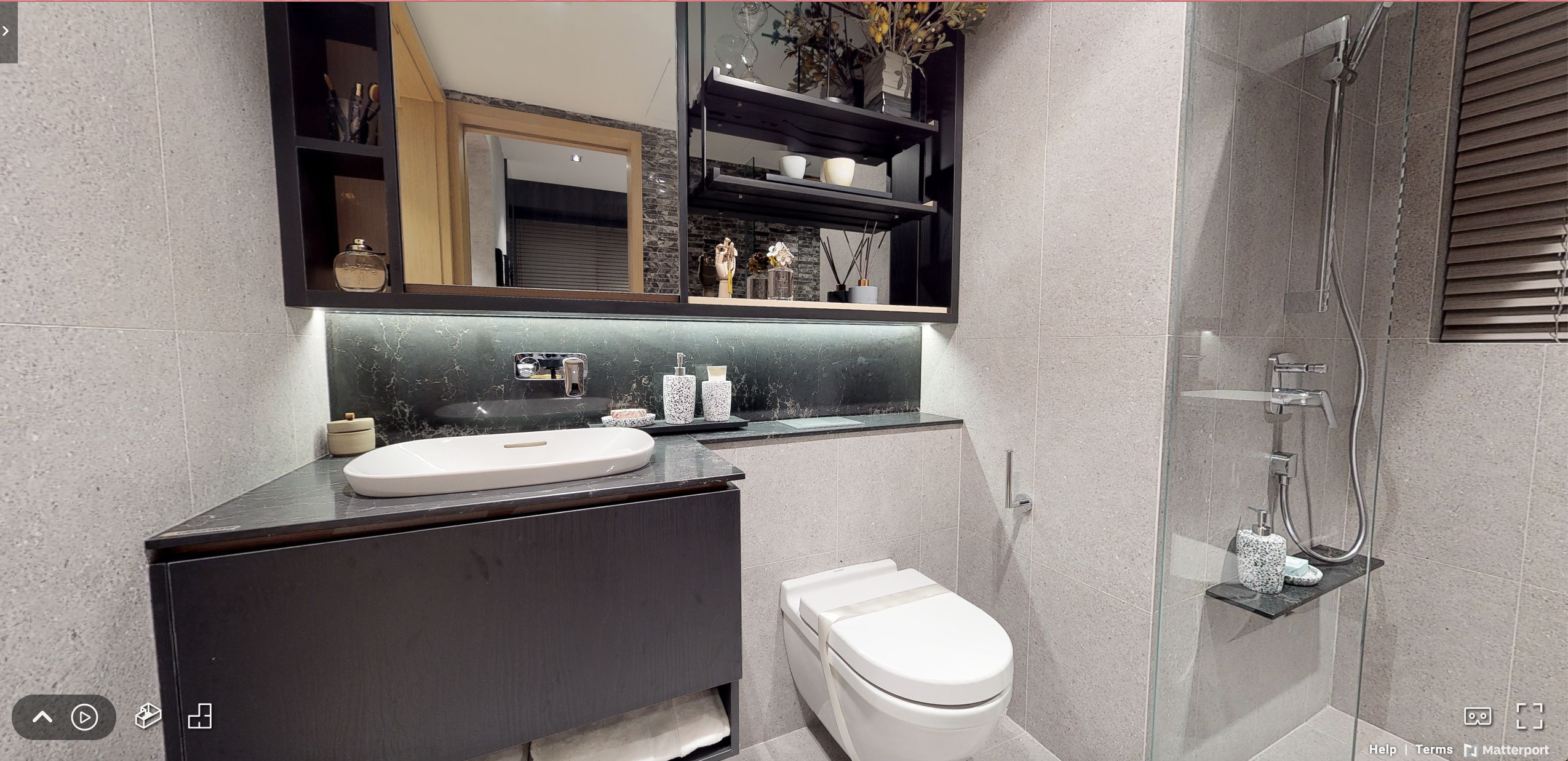 Three Bedroom + Guest Room Unit (Type C) – What does it offer?
At the three-bedroom unit we see a much larger living room, able to comfortably accommodate at least 4-5 people on the couch. In addition, the dining table is also able to accommodate 6 people to enjoy a meal together at the same time. The amount of walking space is also extended, making the living room space larger and more comfortable to lounge around in. At the far left we also see the extended balcony, which is also enlarged to accommodate more open area – perfect for a yoga or pilates session, or just a short relaxing time to read a book by the stunning scenery outside of Fyve Derbyshire.
We can also have a clear view of the rooms across, which is great for parents to keep tabs on their children playing in their own rooms from the living room.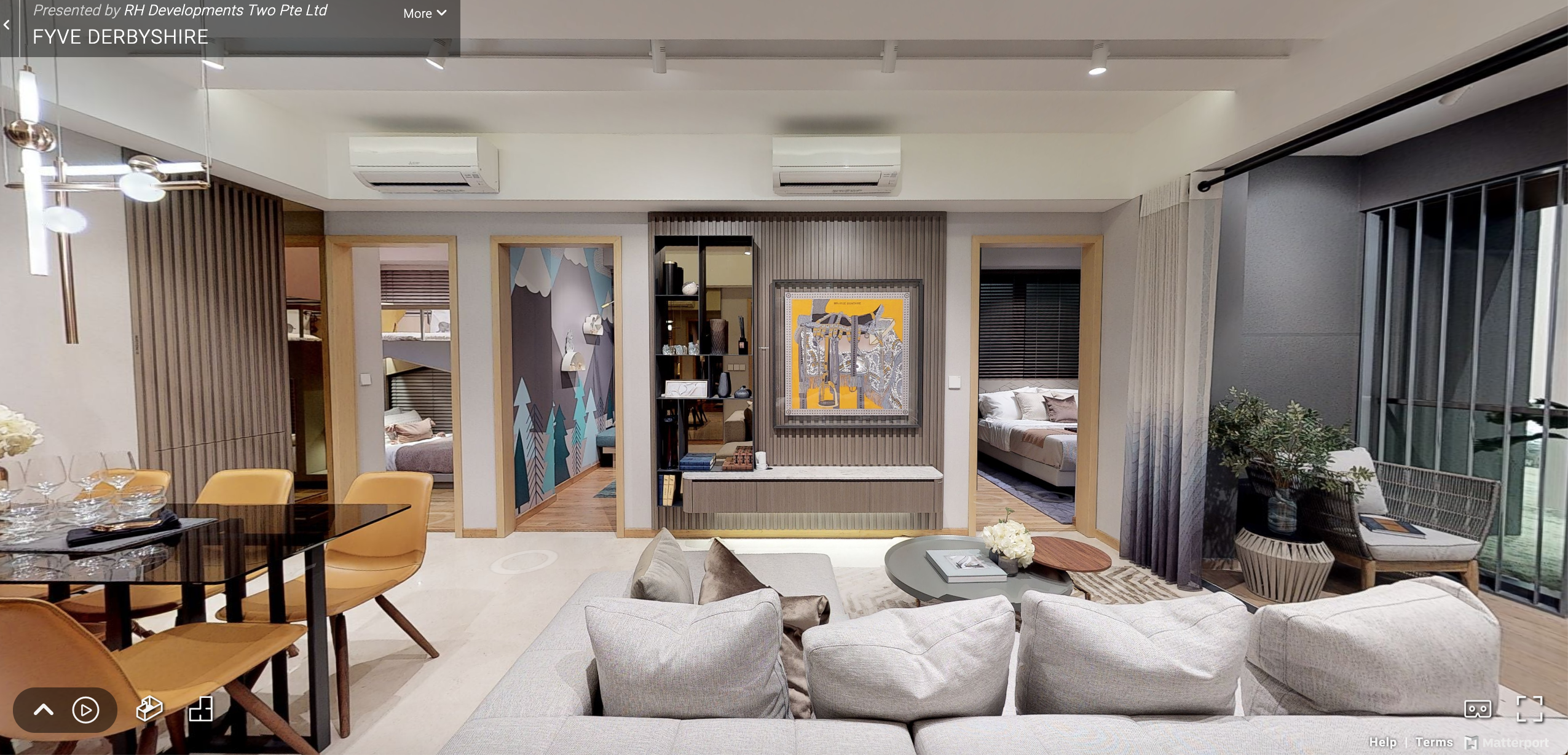 Next, we turn in to see the bathroom, which is decked with beautiful and minimalist tones of brown, beige and white to create an ideal and elegant bathroom space. With high quality bathing equipment accompanied by the beautiful bathroom shelf, it definitely compliments the decadence and splendor of the unit.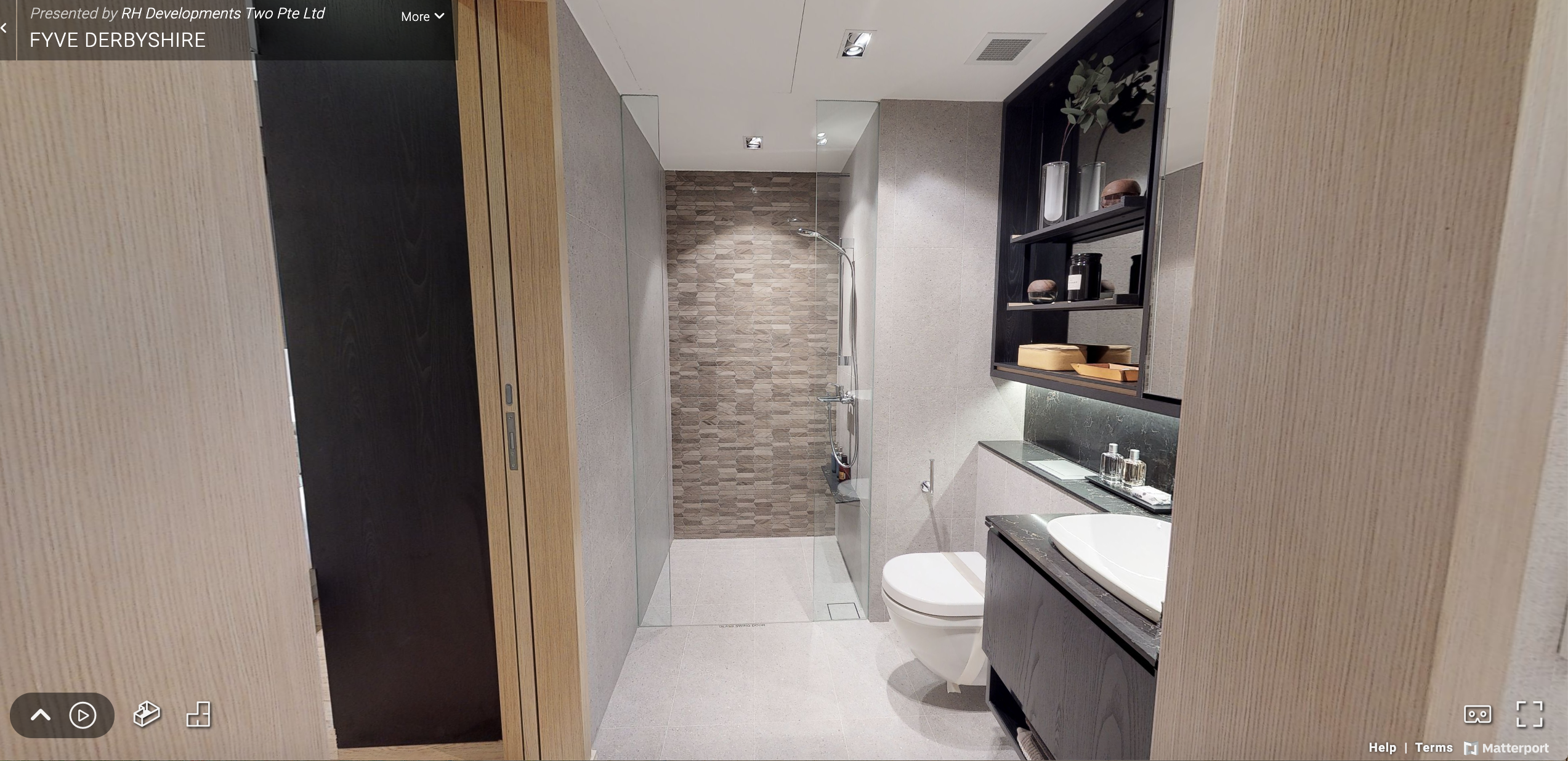 Finally, we reach the master bedroom, which is graced with a more muted colour scheme like black and dark brown wood furnishings. Coupled with the crisp white colours from the bed, it creates a luxurious and serene vibe, perfect for resting and relaxation after a long day at work. The room also features full-height windows, where you can pull up the curtains to admire the beautiful view outside of Fyve Derbyshire from the comfort of your own room.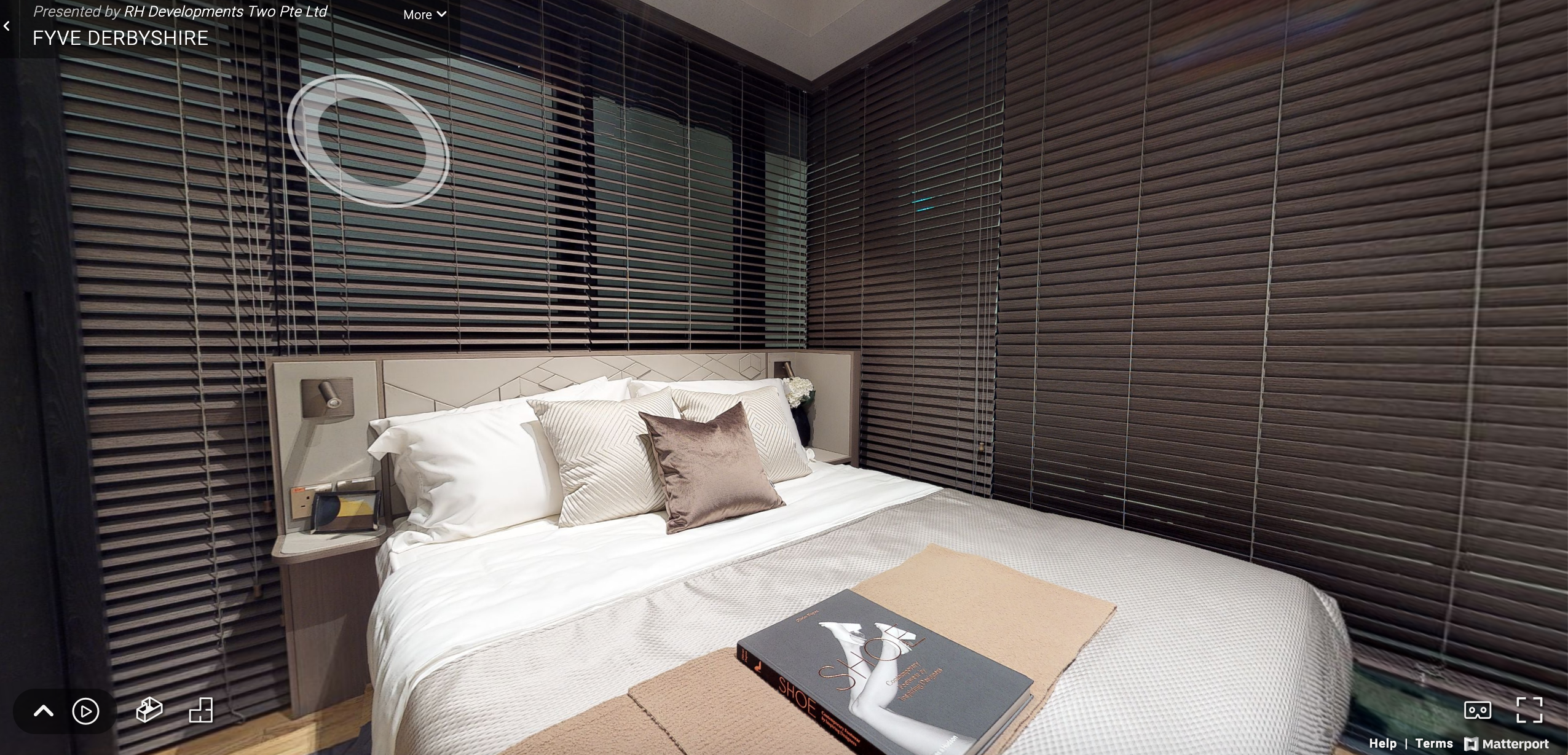 Location – More about its connectivity
As for the amenities, rest assured that Fyve Derbyshire indeed have an enviable location that allows it to stay deeply connected to many places across Singapore. For one, it is just a short walk to reach the Novena MRT station. This implies that residents can have direct access to North South Line, for it to reach key areas including Dhoby Ghaut MRT station just a few stops away. In other words, residents can gain access to the central business district and also, the shopping cluster within the orchard region as well. Otherwise, they can also opt to stay within the Novena area, which by itself is also full of life and options as well. For one, residents can shop at United Square or Velocity where there are numerous retail and dining options as well.
In addition, there is also Tan Tock Seng Hospital nearby, which can be a great advantage for those that wishes to keep their body in top condition with regular checkups, or those that have loved ones whom require constant medical help or supervision.
Finally, as for educational opportunities, Fyve Derbyshire also has numerous reputable schools in the vicinity to provide reliable and holistic education as well. This include:
Balestier Hill Primary School

San Yu Adventist School

East Institute of Management

Kheng Cheng School

Beatty Secondary School

Marymount Kindergarten

Madrasah Al-Arabiah Al-Islamiah Secondary

Pei Chun Primary School
With unparalleled luxury and decadence across its amenities and units, Fyve Derbyshire is truly a city address and an urban sanctuary!