Attracting an impressive crowd of 9,000 people back when it opened its weekend preview, Jadescape is touted to be Singapore's first fully-smart multi-generational residential project. As Qingjian Realty's latest residential project, it is evident that they have outdone themselves again with this front-forward property that blends functionality and beauty in a perfect harmony. Jadescape is located on 301 Shunfu Road, which is within District 20 near Marymount MRT. It will consist of 7 blocks that will contain about 1206 exclusive units along with 6 commercial shops.
What is a fully-smart multi-generational residential project?
Jadescape is the first residential development to adopt a Smart Estate Management System. In addition, it also has approximately 63 units that are thoughtfully designed to cater to the needs of active ageing residents. This implies that these exclusive units will have support bars, pull-down hydraulic racks and slip-resistant flooring installed. It will also assist these residents to gain greater access to other vital services that include medical services on standby 24/7, dietary planning and health screening as well.
One bedroom unit – What does it offer?
Taking a look at the one bedroom unit and we are impressed by the spacious walking area due to the good space allocation of the unit. We can see that the kitchen is decked with high quality cooking equipment in decadent black and white tones, while the other wall is adorned with innovative hangers, beautiful and perfect for hanging your coats and accessories.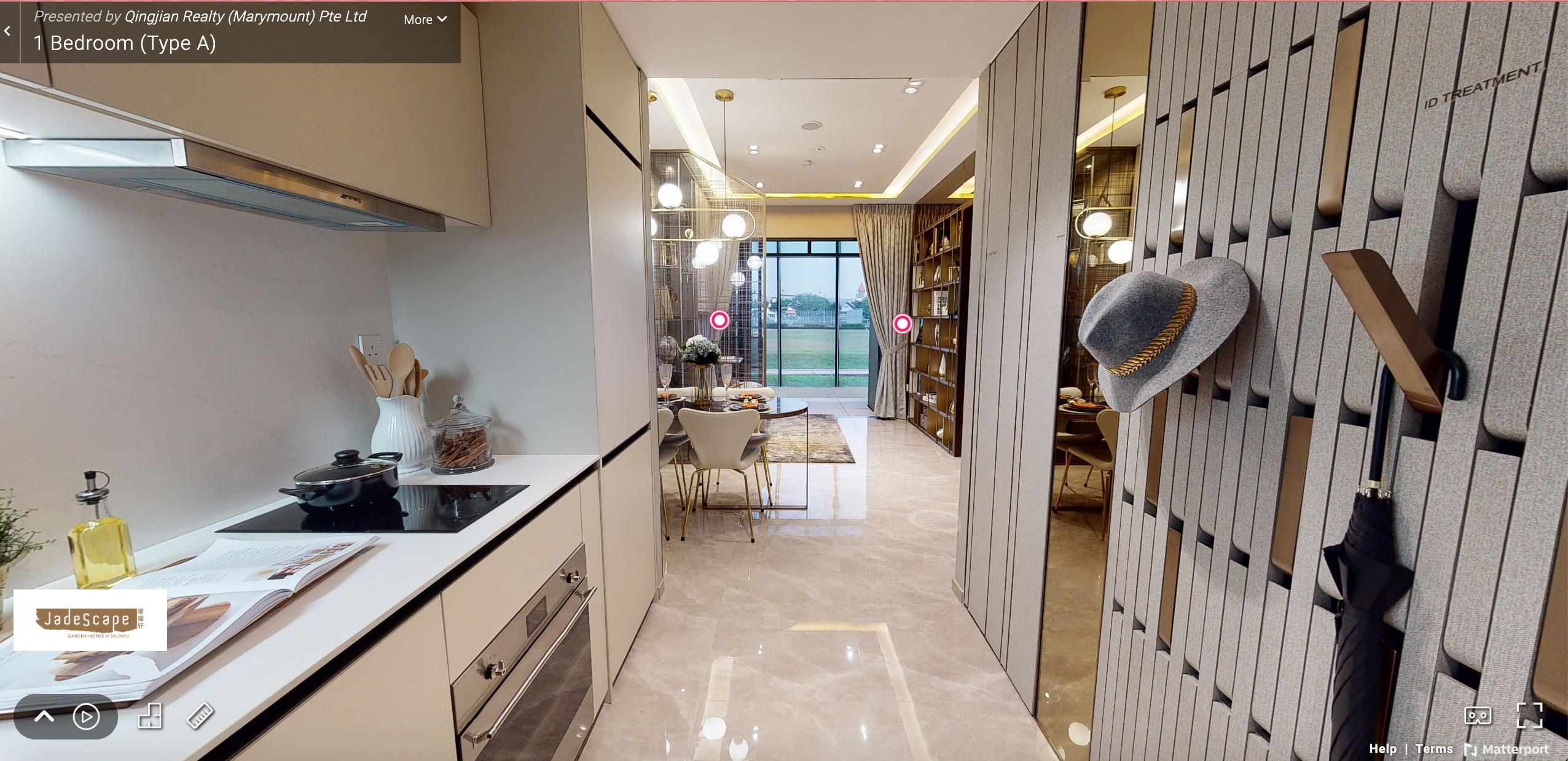 Walking further in pass the dining table that can comfortably sit a family of 4, there is also a couch in the living room area and a full height shelf. It extends to the balcony area, which is cleverly redesigned to accommodate a study table that acts as a study room instead. Imagine studying or working leisurely near the beautiful rays of sunlight!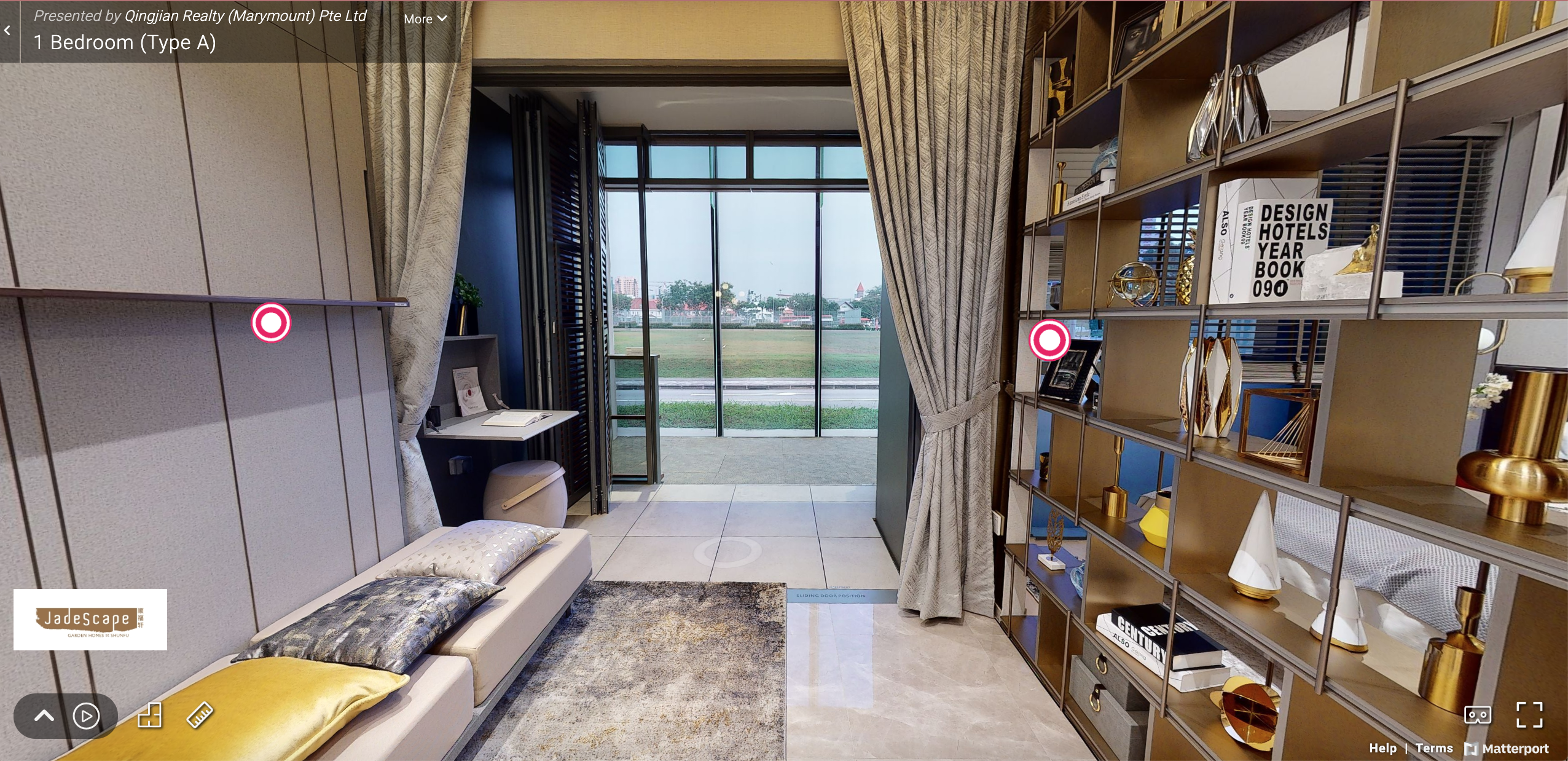 Finally we reach the master bedroom, which is beautifully adorned with full height shelves and windows. Along with a plush looking bed and ample walking space, there's really nothing else we can ask for to relax and rest in.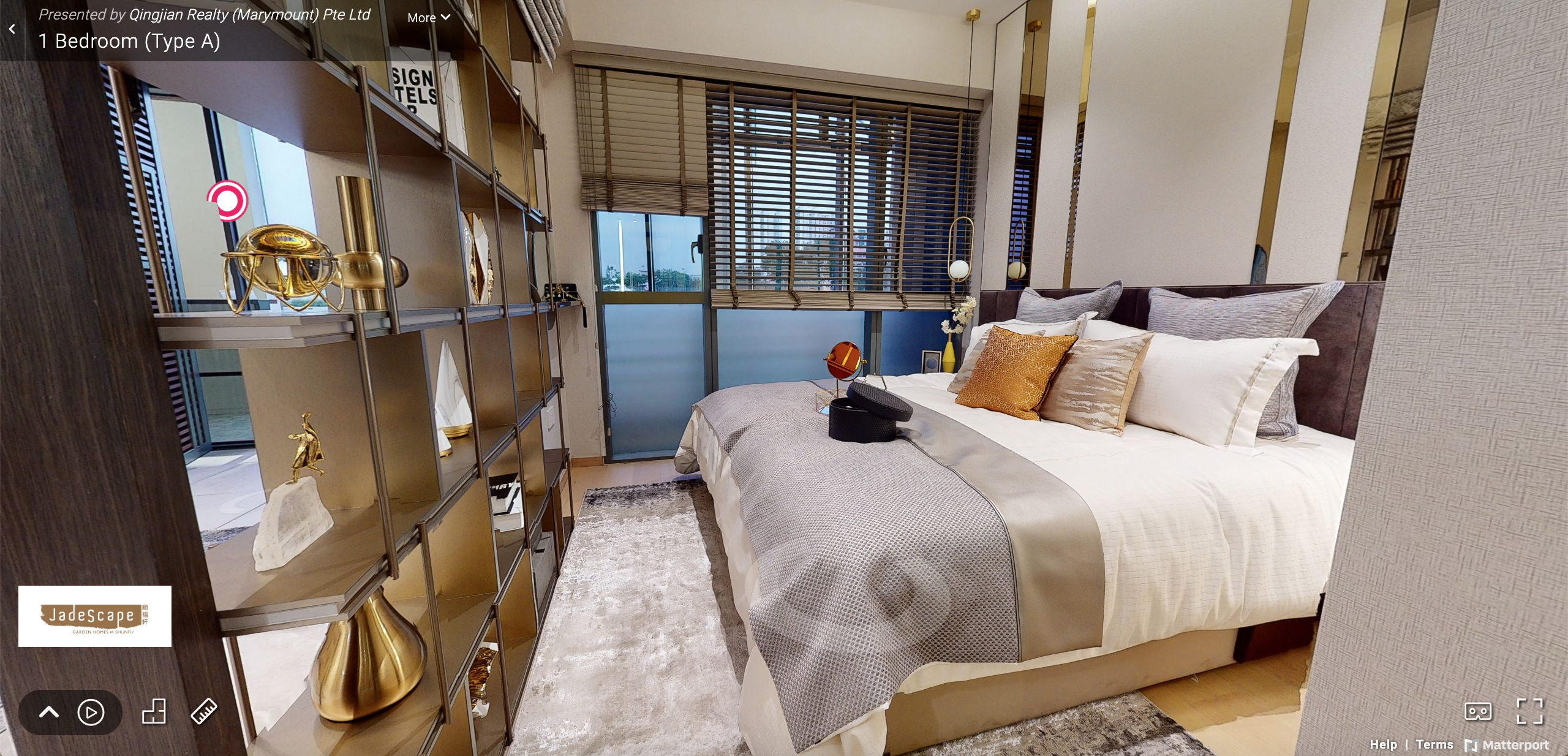 Three bedroom deluxe unit – What does it offer?
At the three bedroom deluxe unit we see that the living room area is adorned with calm and serene colours of brown and marble detailing, perfectly creating a luxurious and sophisticated atmosphere. The room is well-lit with a beautiful chandelier, ceiling lights that are cleverly reflected in the mirrors and marble flooring. The dining table is spacious enough to accommodate 6 people comfortably, which also leads to the entrance of the kitchen that is separated with a glass partition and a sliding door to contain the cooking area. At the end we can also see the balcony area, which is spacious enough to accommodate a resting armchair too.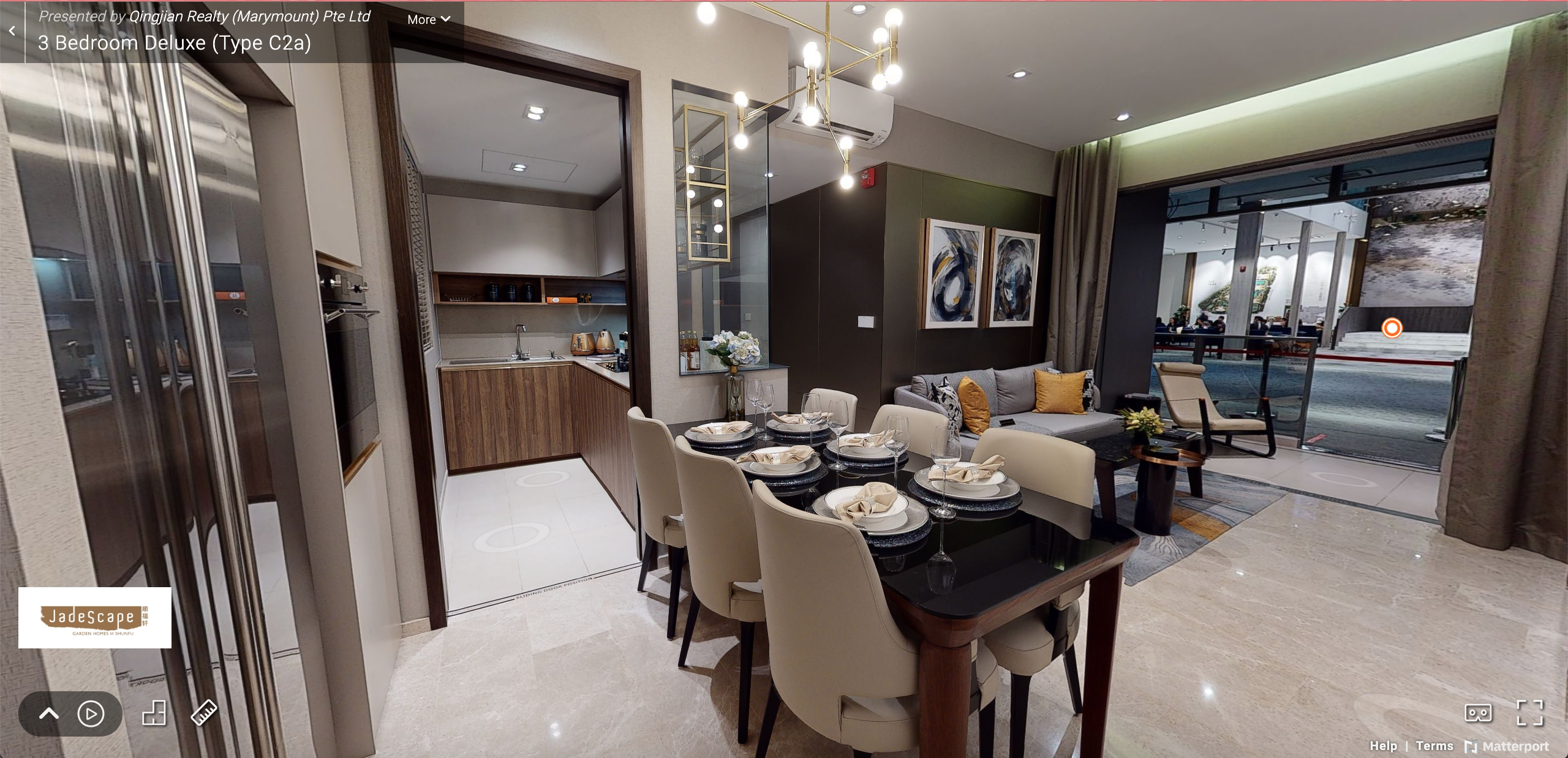 Next we walk towards the master bathroom, which is beautifully adorned with bright marble detailing too. Along with lighter colours of wooden shelves and basin, the bathroom gives off a bright and luxurious look. Decked with high quality bathroom equipment, the master bedroom is definitely a huge plus!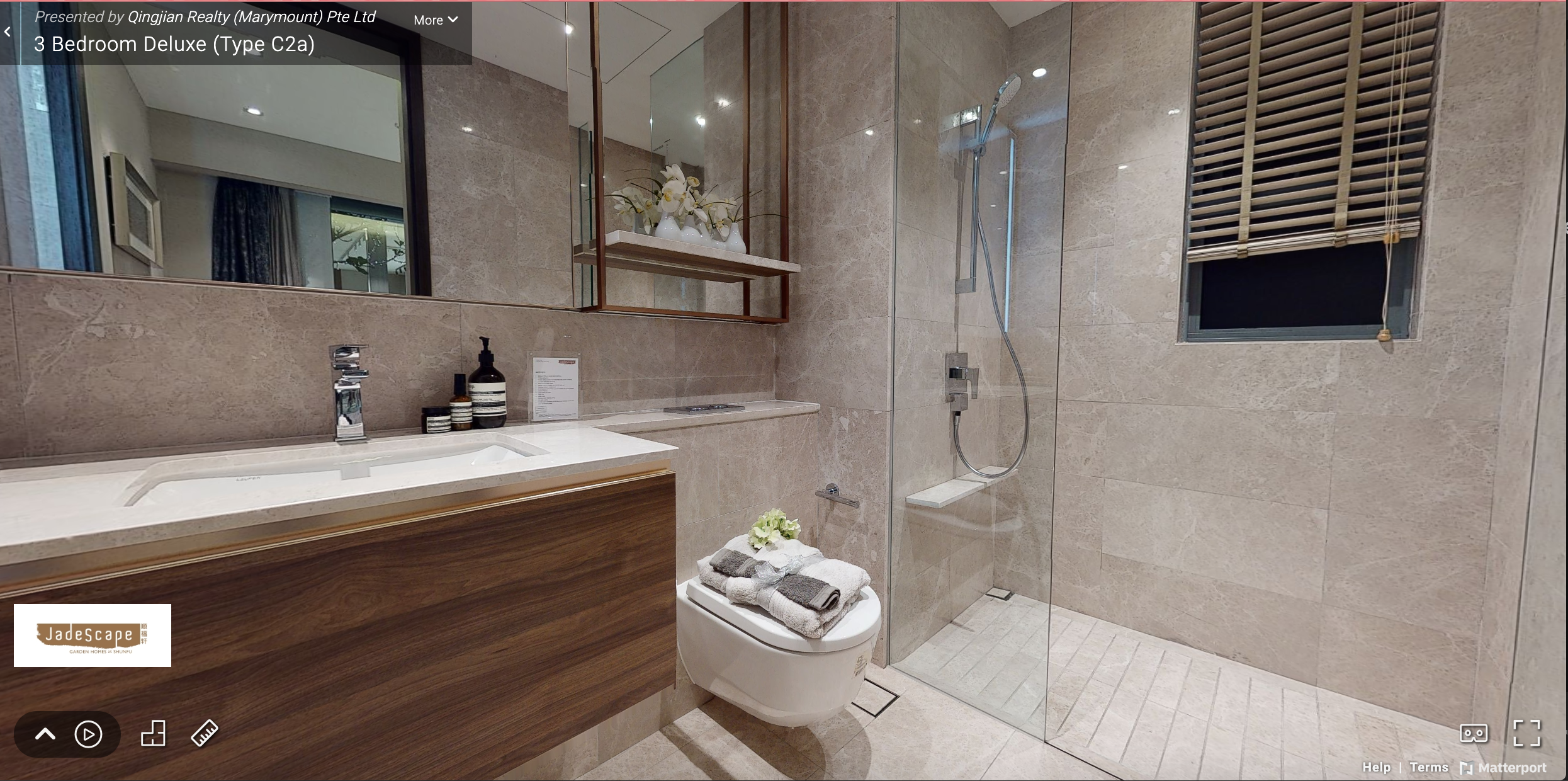 Finally we reach the master bedroom, which is decorated with luxurious tones of black, grey and beige. With an elegant addition of a dressing table and full height windows decorated with luxurious multi-layered curtains, the master bedroom becomes the perfect place for relaxation and rest.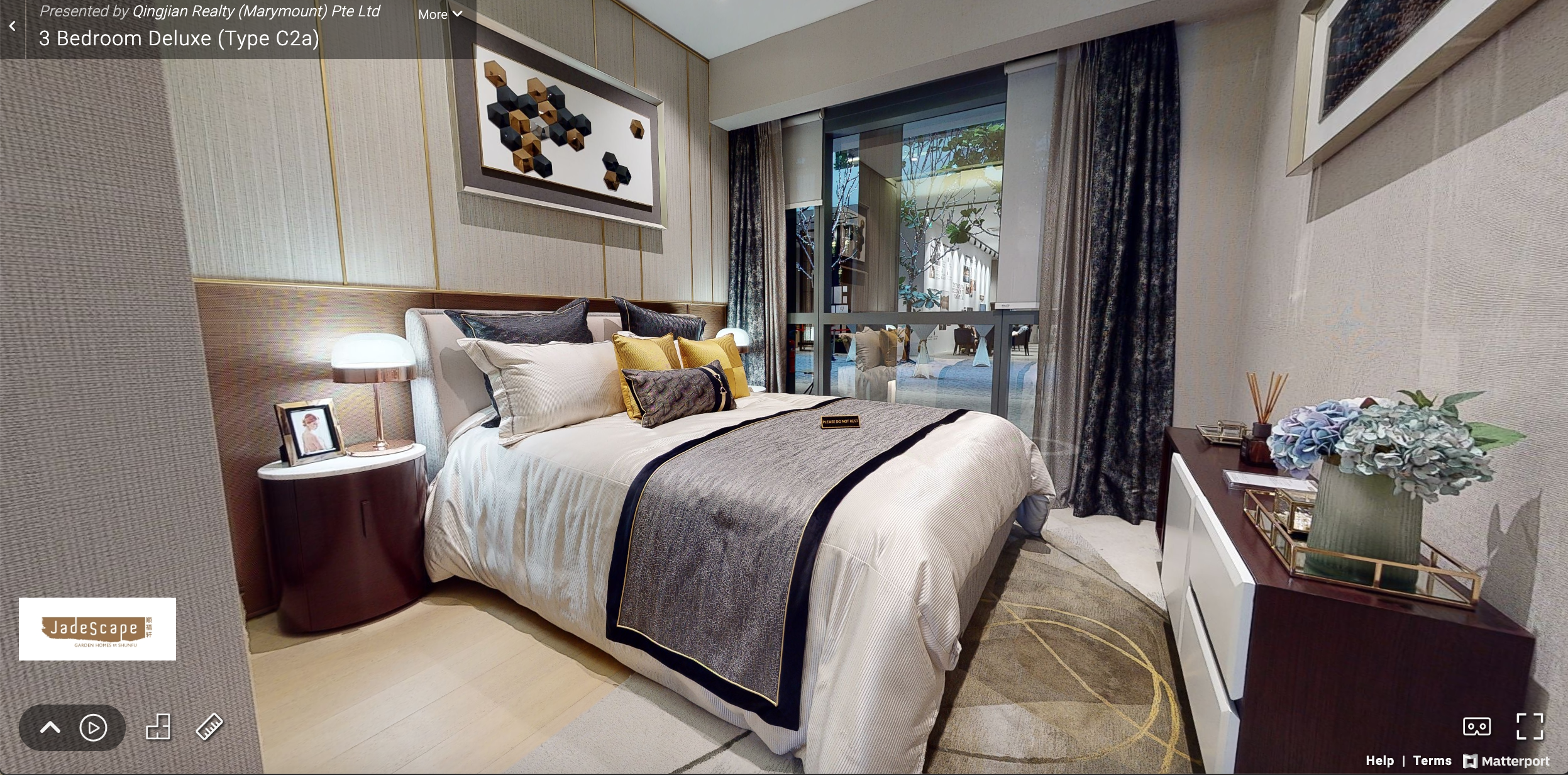 Five bedroom Suite Unit – What does it offer?
At the five bedroom suite unit we see that there is definitely a much more luxurious and spacious living room area, which is also able to accommodate a six sitting dining table and a dry kitchen outside. The dry kitchen, in beautiful hues of black marble detailing, is also decked with a complete set of kitchen equipment.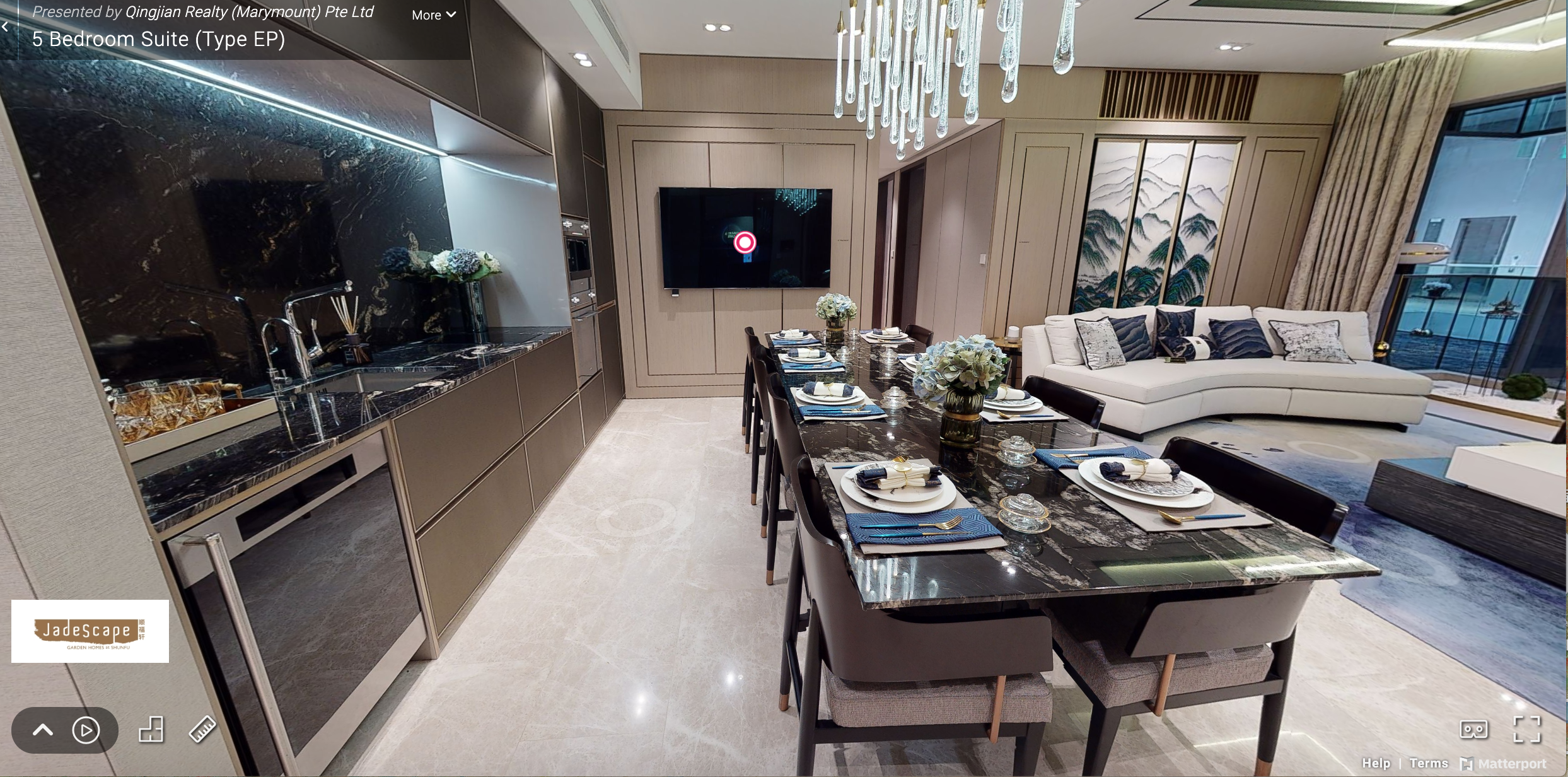 Next we reach the master bedroom area, which is decorated with decadent navy and sky blue velvet tones. With classy beige undertones across the furniture in the room, it creates a serene and luxurious atmosphere.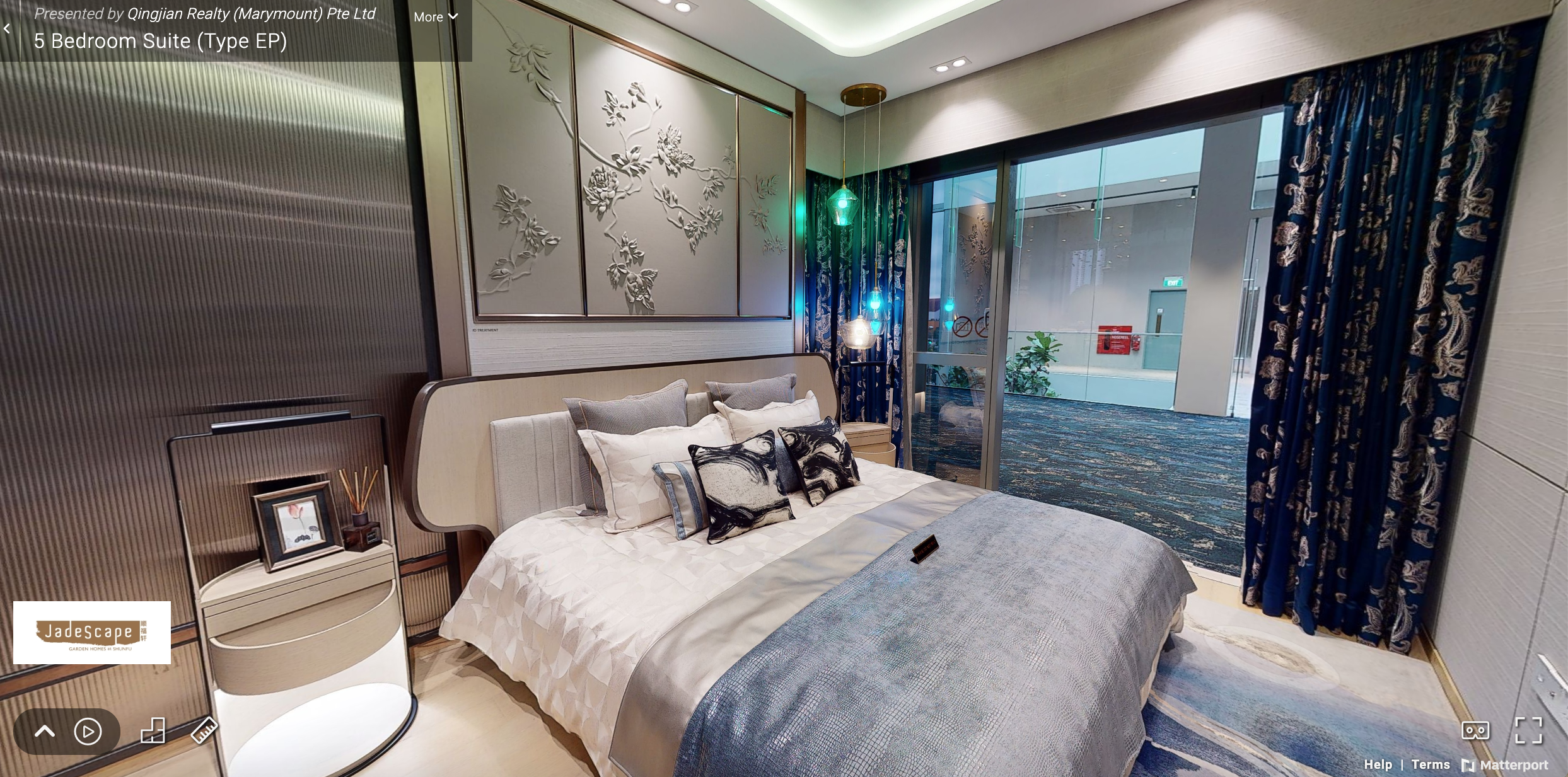 Turning around we reach the master bathroom, which is beautifully decked with marble detailing across the bathroom equipment. With the luxurious bathtub addition, the bathroom looks as luxurious and decadent as the ones in five star hotels.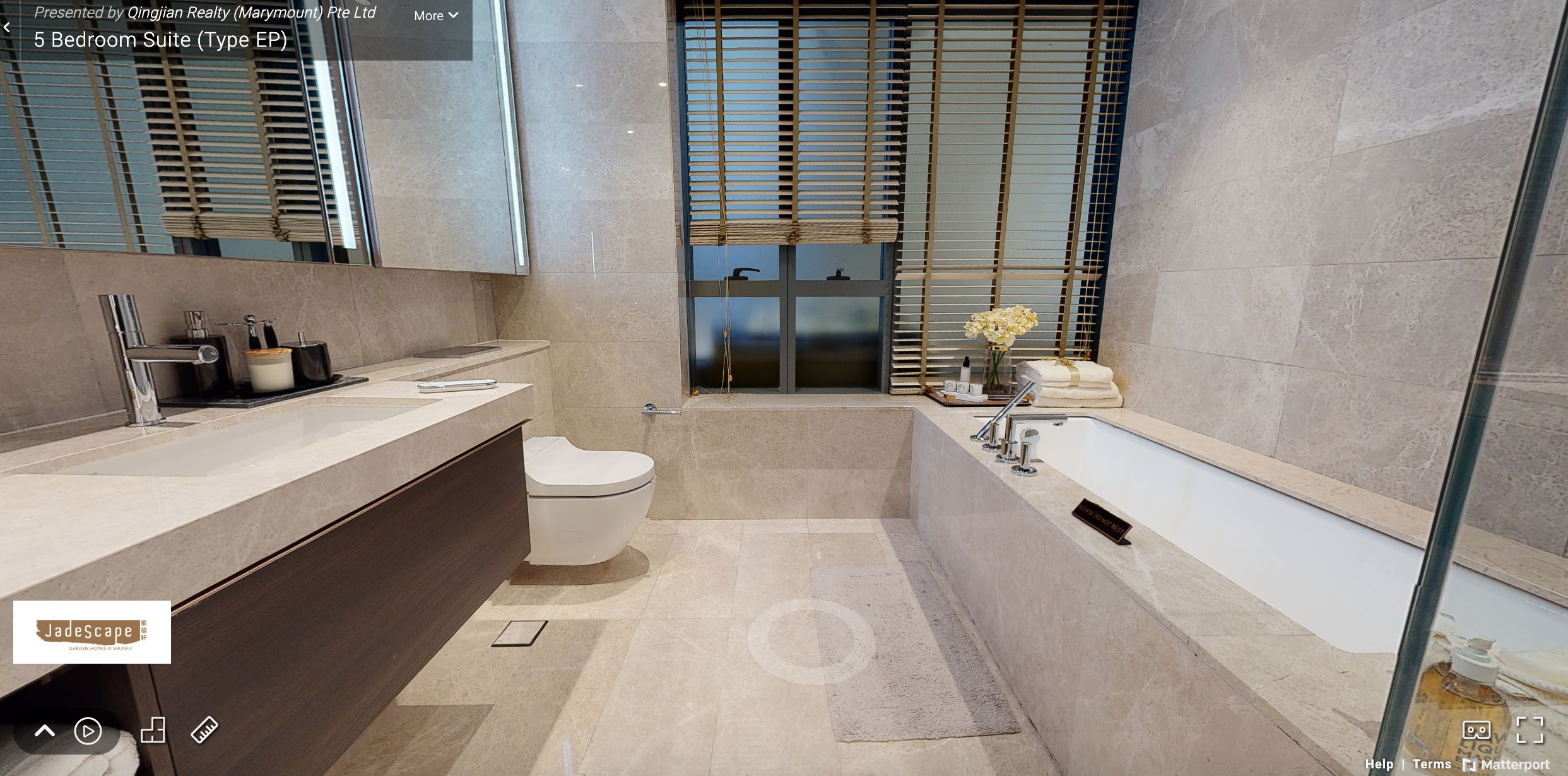 At the side of the master bedroom would also be a walk-in wardrobe, which is perfect for you to get ready before a day of work. Designed with maximum functionality coupled with a chic design, the walk-in wardrobe is definitely a huge plus when it comes to a lifestyle here!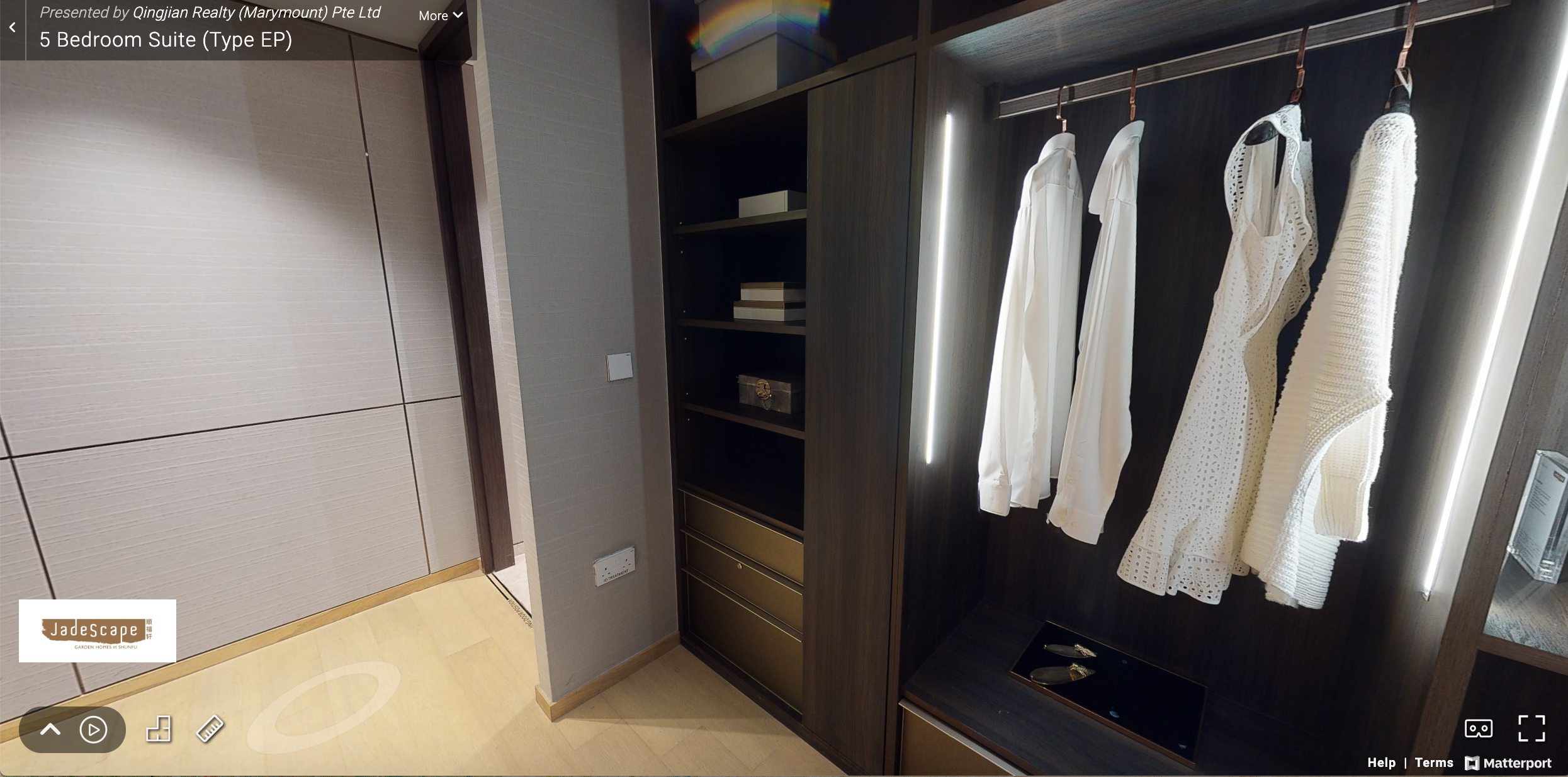 Location – More about its connectivity
Jadescape would not have attracted over 9,000 interested homebuyers if not for its perfect location, a cherry on top of the cake for this breathtaking masterpiece. For one, the condominium is a 3 minutes' stroll to reach Marymount MRT station, which take about 15 minutes train ride to reach the city area. This indicates that residents can have an extensive access to dining, shopping and entertainment options in just a few minutes of travelling. Residents that prefer to take bus as their mode of transport can be rest assured, as they can also walk a short distance to reach Upper Thomson Road where numerous bus services as available. In fact, within Marymount Road itself also hold numerous bus services for residents to reach different destinations across Singapore effortlessly.
Vehicle owners will also be pleased to know that Jadescape is also conveniently linked to the Pan Island Expressway (PIE) and Central Expressway (CTE) that allows residents to reach numerous places of interest with the most time-efficient route possible. Jadescape can also be accessible through Braddell Road and Lornie Road.
When it comes to entertainment options that are closer to home, residents can also opt to bring their loved ones for a quick stop at Junction 8, where it also a popular heartland shopping mall providing numerous reputable brands including Crabtree & Evelyn, Dorothy Perkins, Etude house and many more. Food options also include tasty choices like 4 Fingers Crispy Chicken, Din Tai Fung, Genki Sushi and Chateraise. Residents can also stock up their daily essentials here with NTUC as well.
With smart technology, great location and engaging facilities, it's not hard to see why numerous investors and home-buyers alike are viewing Jadescape as a viable property to invest in. If you are interested as well, wait no further and contact us to get to know more about owning an exclusive unit at Jadescape!