Leedon Green is one of the newest additions to the most exclusive and classiest luxury development in the Holland Village area, with its location along the Farrer Road that has a cluster of the most exquisite selections of residential buildings and bungalows like Leedon Park and Cornwall Gardens. It is expected to consist of 7 blocks of 12-storey residential buildings with basement car parks and an impressive selection of facilities to bring residents effortlessly closer to nature. Leedon Green will offer 638 units that range from 1 bedroom units to 4 bedroom unit types – where 4 bedroom unit types can come with utility and private lift, or a garden villa type as well.
Two bedroom with Study Unit – What does it offer?
Taking a look at the two-bedroom unit and we are pleasantly surprised by the light wooden tones displayed in the kitchen area, giving it a refreshing and bright look. Decked with high quality oven and other cooking equipment, it is definitely sufficient for residents to cook up a good meal. Under the stunning chandelier would be the dining table that can comfortably fit a table of 4 people for a meal together – perfect for a gathering or a family meal.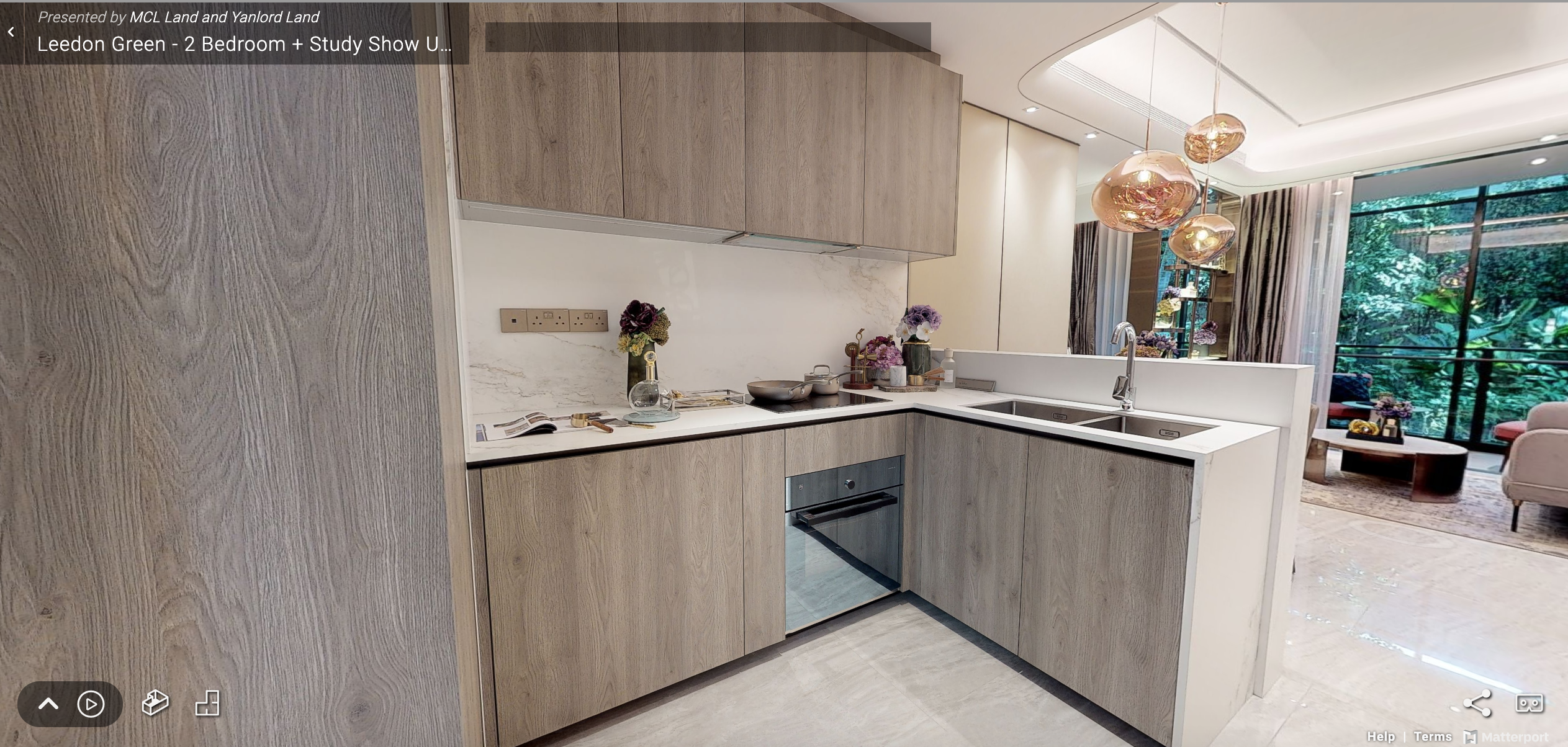 Next we take a look at the living room area, which is efficiently spaced out with a shelf acting as a wall to demarcate the study room area and the living room area. This serves as a decoration with the lights installed and a good way to enjoy some storage space at the same time. The living room extends to the balcony area, which is also spacious enough to accommodate plush cushion chairs and a small table for placing tea or wine. The study room behind the shelf is also spacious enough to accommodate a study table, a full-height shelf to keep all your study or work materials neat and within reach.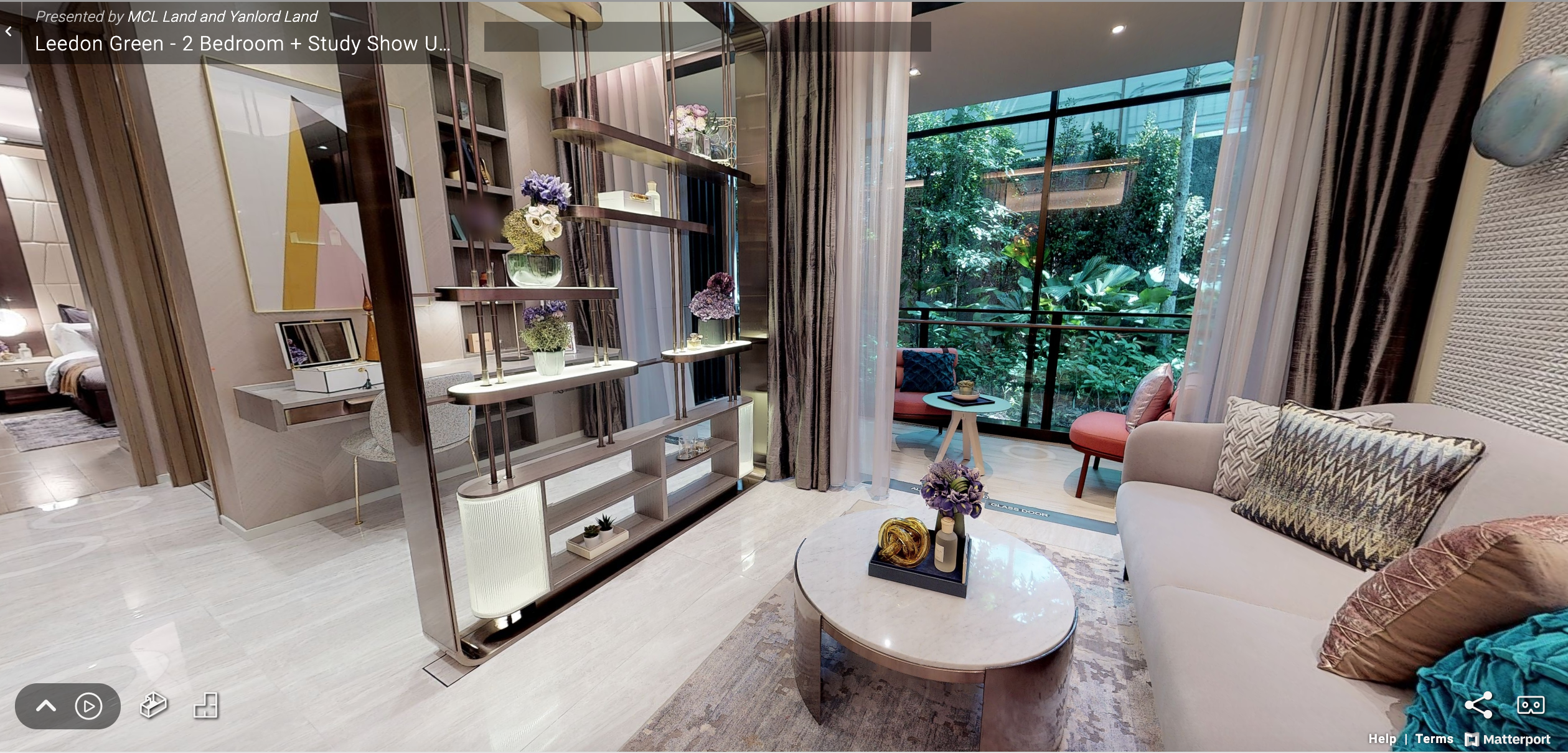 Next we get to the master bedroom, which is decorated with light colours and great lighting. It also features full height closets for maximum functionality. There is also multi-layered full-height curtains, allowing you to control the amount of sunlight you want into the room.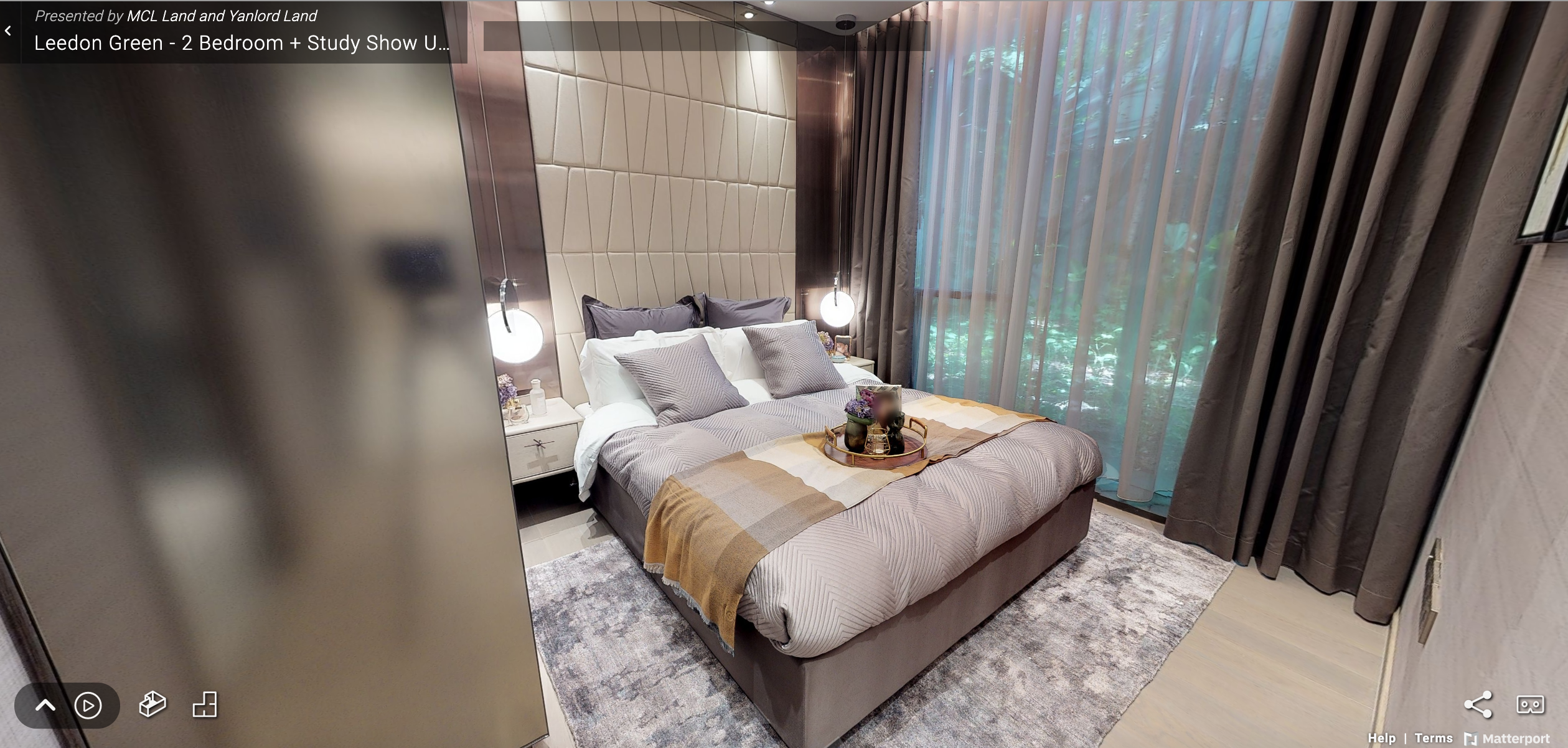 Finally, we get to the bathroom area, which is beautifully adorned with marble details that gives it a refreshing and clean look. Along with high quality bathroom equipment and great lighting well-spaced out between the mirrors and the ceiling, the bathroom looks cozy and stunning at the same time.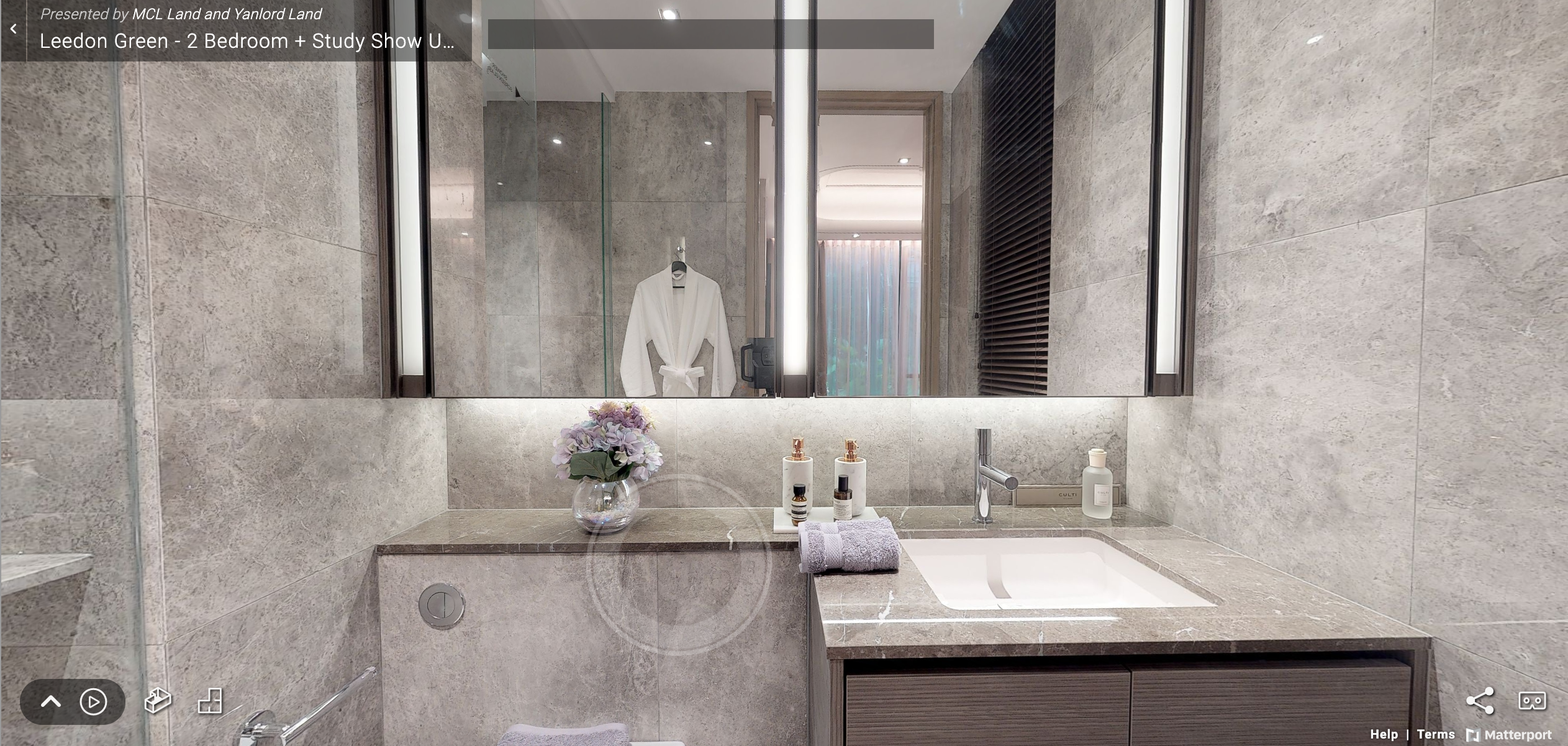 Four-bedroom exclusive units – What does it offer?
At the four-bedroom unit we see a much larger living room area, with the dining table able to accommodate many more people at once for a small gathering. We also like how the room is decorated with white marble detailing, which gives the living room a bright and refreshing look when reflecting the natural sunlight.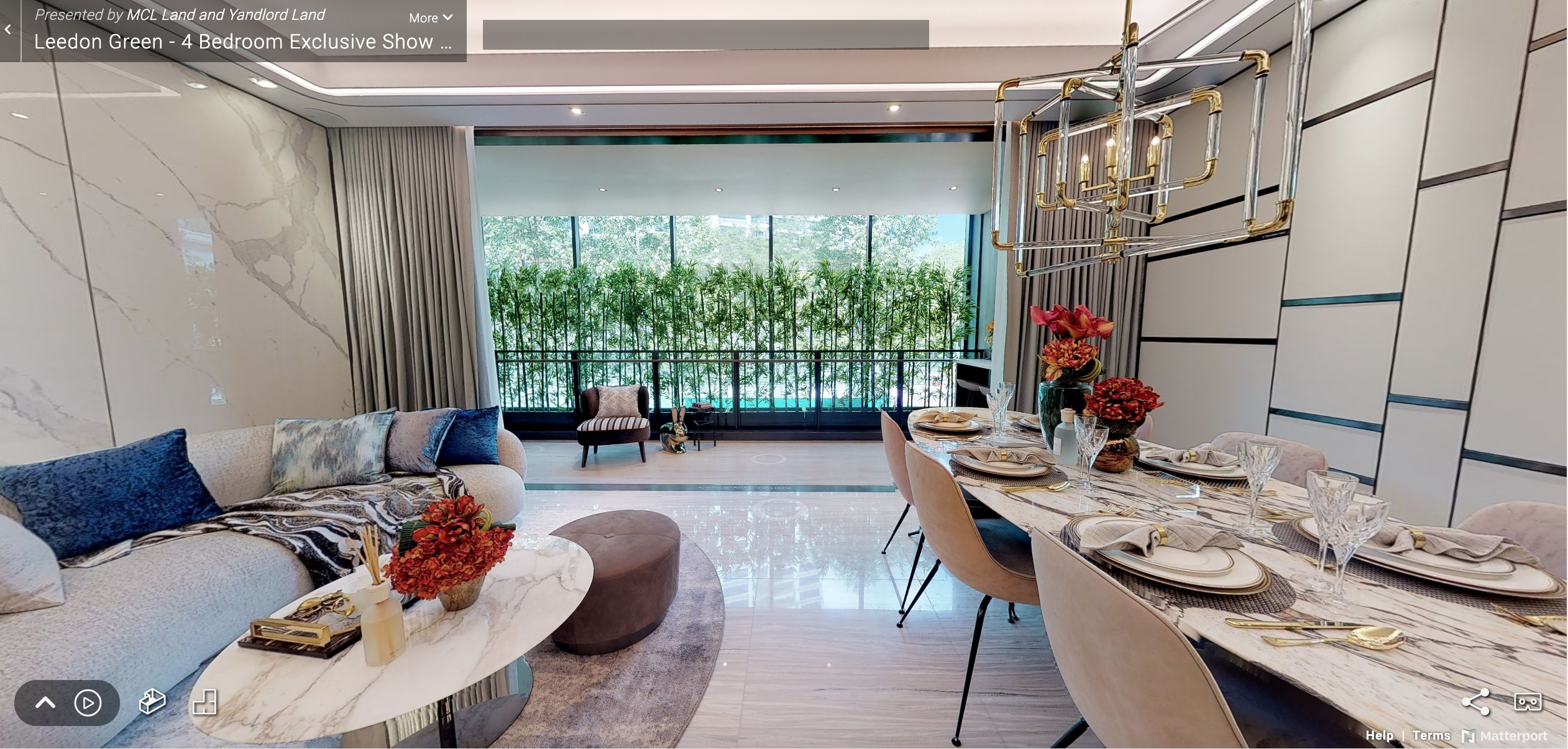 We also like how the balcony area is so spacious that it can accommodate a bar table for tea or a relaxing wine session. The open area is also perfect for you to lay down your yoga mat for a quick workout session, or even just a leisurely stretch.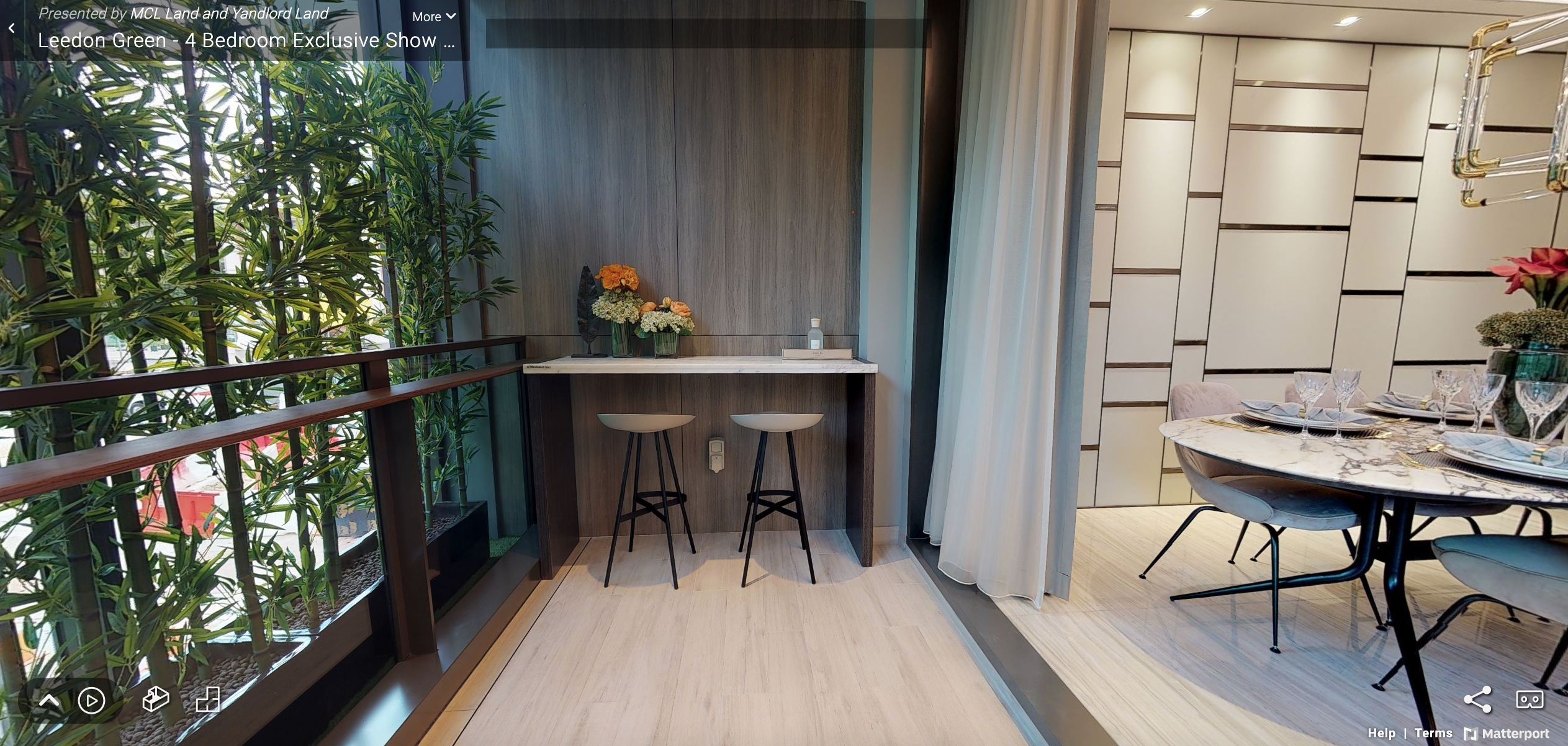 Next we take a look at the study room, which we found very interesting to have it connected to the master bedroom through a sliding door. This gives both areas a much more spacious feel – and let's be honest, hopping onto your bed to relax after a long day at the study desk sounds like the perfect plan!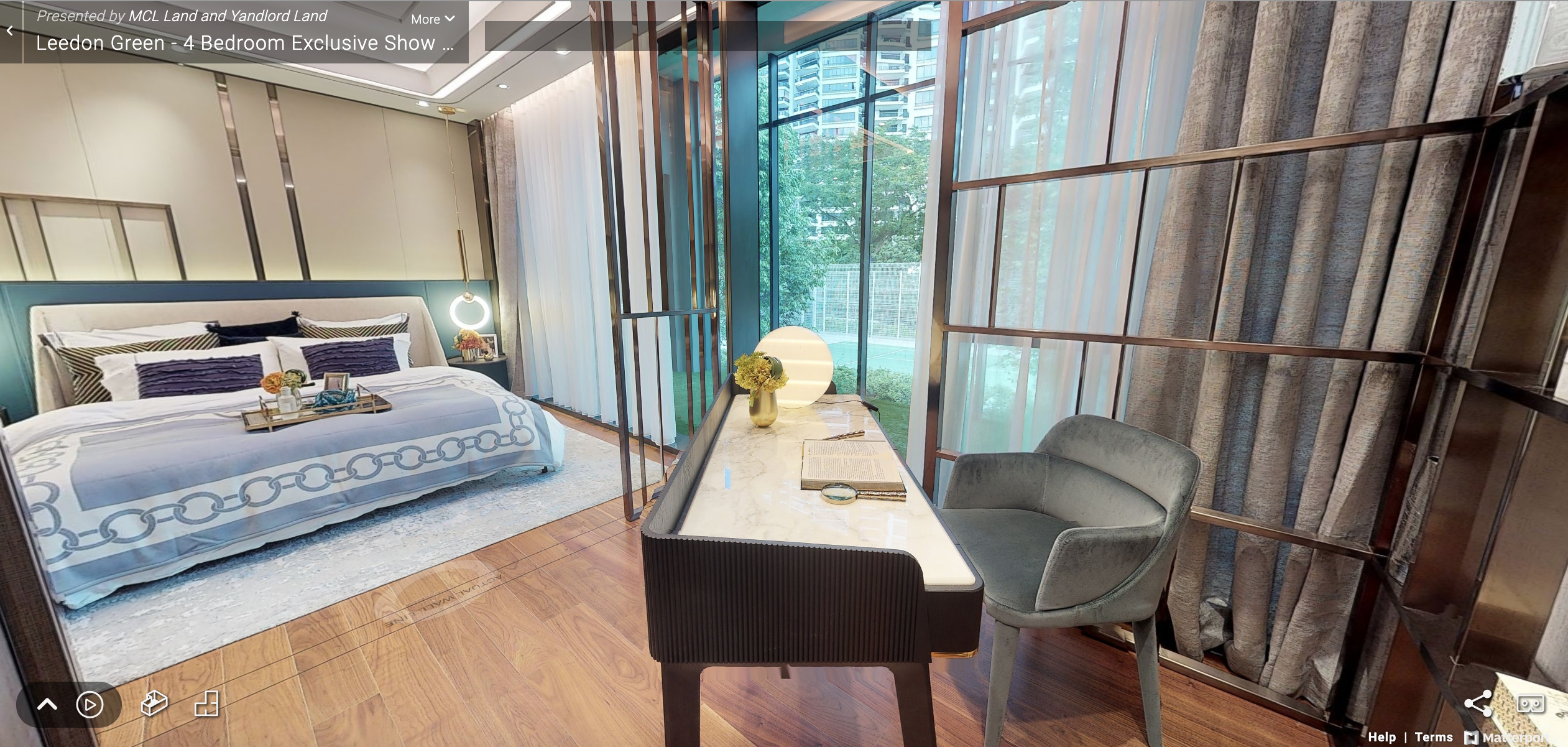 We have a clearer picture of the sliding door and the master bedroom from this perspective, which along with the full height windows gives the room such a serene and calm vibe – perfect for both studying, working and resting.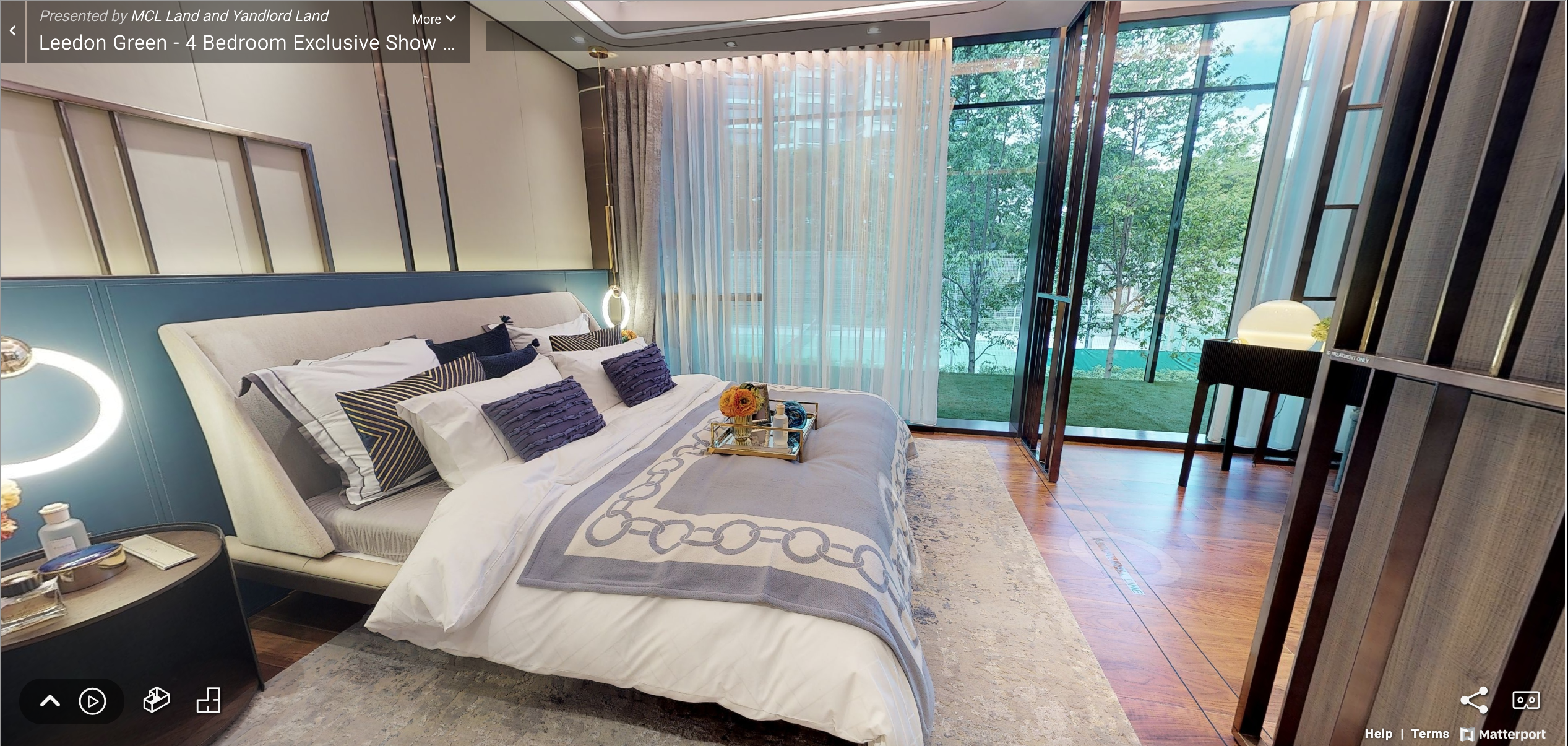 Finally, we get to the bathroom area, which is beautifully decked with unique marble prints across the shower area. Along with the luxurious bathtub and duo-basin, it makes washing up and getting ready for the day so easy, convenient and comfortable.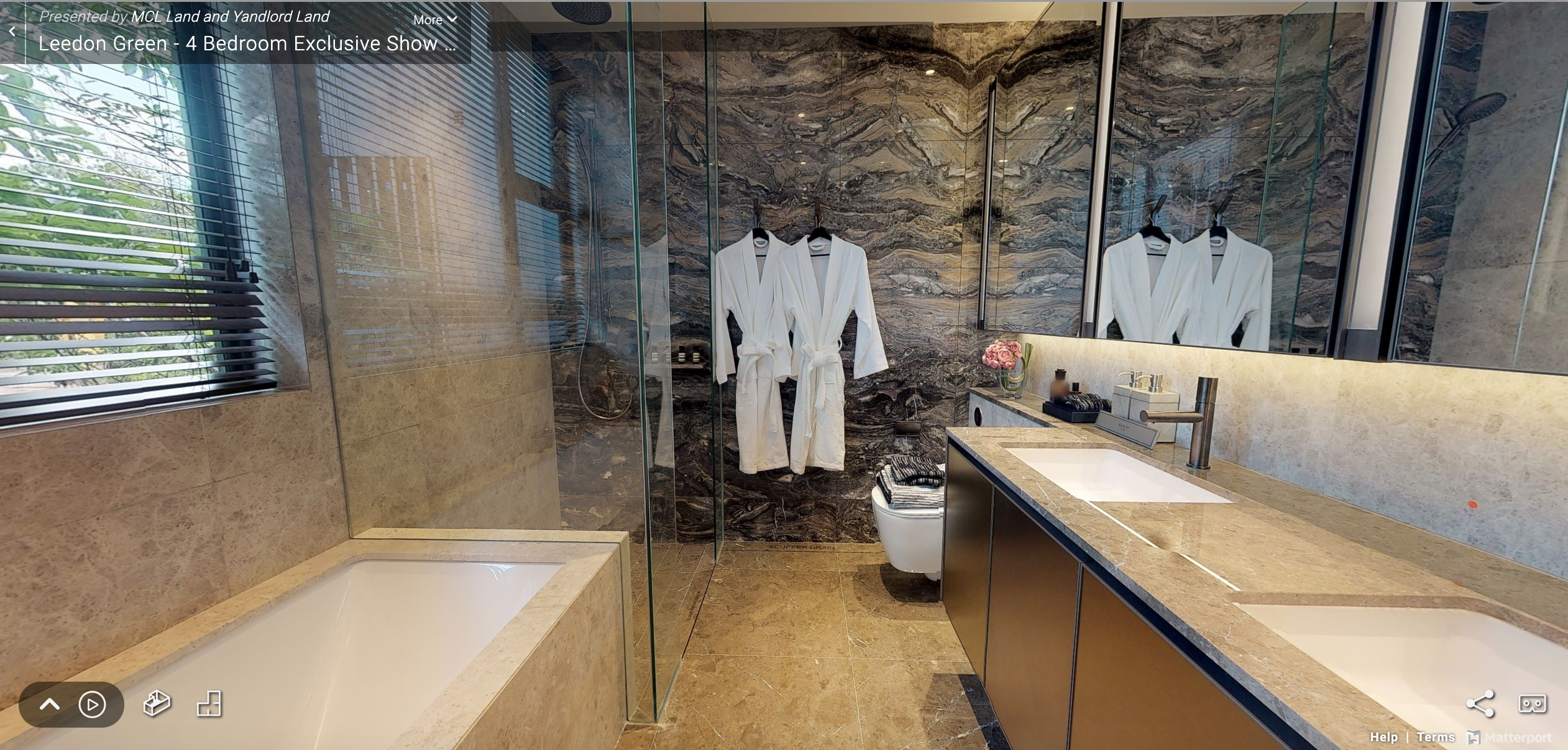 Location – More about its connectivity
Leedon Green has an impressive location within the Holland Village area that offers an array of amenities and convenience to travel to destinations across Singapore. For one, Leedon Green is only a short 9 minutes' walk to reach Farrer Road MRT station, or a 15 minutes' walk to Holland Village MRT station. This means that residents can have easy access to the Circle Line, which connected to other key MRT stations like Dhoby Ghaut, Promenade, Paya Lebar MRT station and more.
In addition, the drive to Central Business District takes less than 15 minutes through the Ayer-Rajah Expressway, while the Pan-Island Expressway is just 5-minutes away from the development when taking Farrer Road. There are also numerous bus services within the area as another transport option to be considered as well. To add, it takes only a short 9 minutes' drive to reach Orchard Central area via Holland Road, which means that residents can have quick access to the shopping district for a therapeutic shopping spree or enjoy fine dining without having to squander too much travelling around.
Living at Holland Village is also amazing due to the selection of shopping and retail options within the area, which include Star Vista, 321 Clementi, Clementi Mall, JEM, Westgate, Big Box, IMM and more. Residents will find no problem stocking up on their daily essentials, grabbing a meal or indulging in a well-deserved retail therapy. The area is also filled with a great selection of culinary delights, cafes, restaurants, bars and bistros.