Nestled within the heart of the bustling downtown area, another stunning property has made its grand entrance – the Marina One Residences, an integrated development with a perfect mix of residential, retail and Grade A offices, is evidently here to set a new benchmark within the property sector.
Located along 21 and 23 Marina Way, Marina One Residences is a 1,042 luxury residential unit situated in two 34-storey sleek and minimalistic building. With the highly raved about biodiversity and comprehensive flora and fauna called The Green Heart, residents are in for a tropical treat to be able to get a closer touch of nature.
One bedroom with Study Unit – What does it offer?
At the one bedroom with study unit, we are first impressed with the sliding door installation that demarcates the space between the living room area and the master bedroom. This allows you to have extended room area and extra walking space without losing the privacy when you return back to your sleeping area for rest.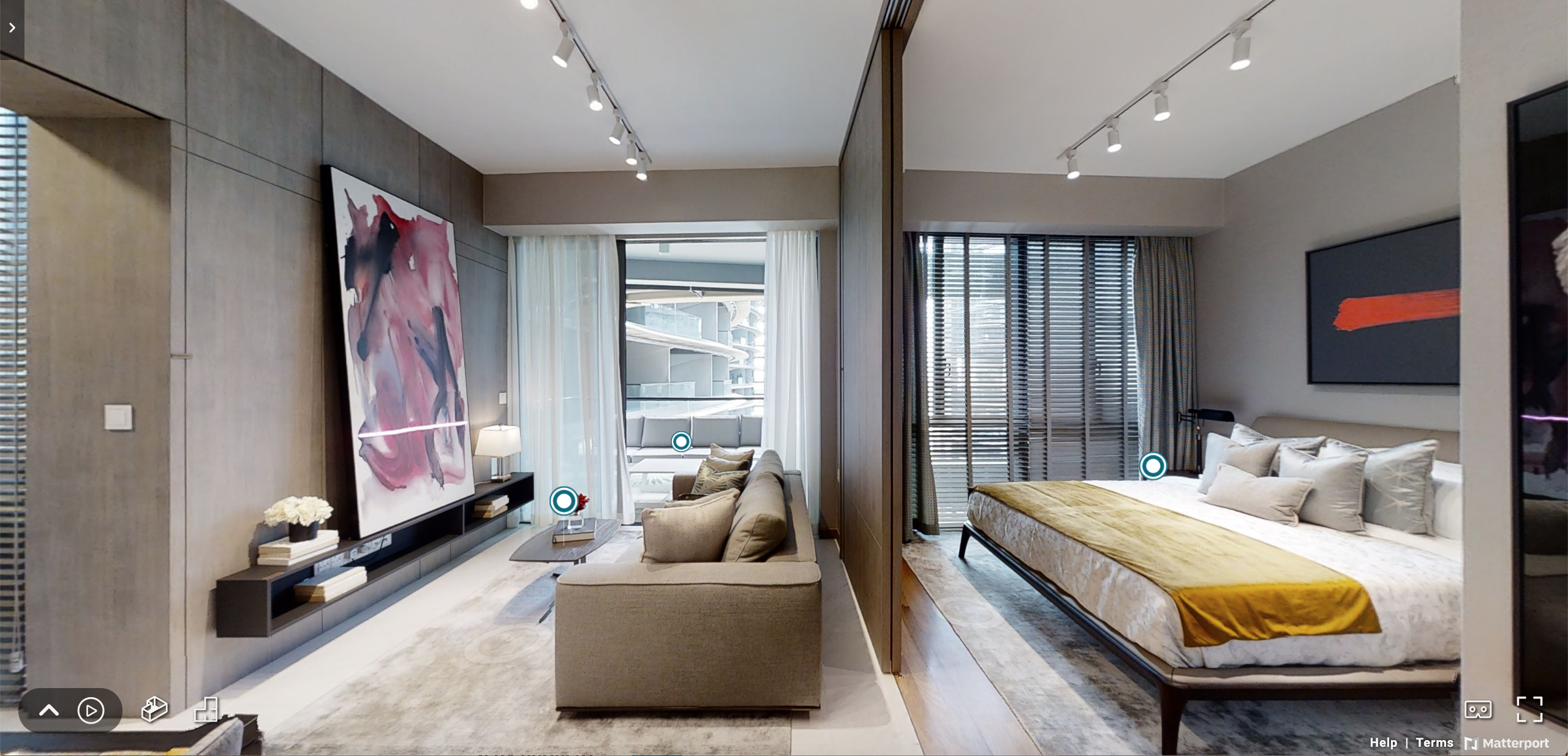 Next we take a look at the dining area, which can comfortably accommodate a family of four or a small gathering around the dining table. Near the dining table we also see a study room area, which can also be separated by the sliding doors for some privacy as well. Further down we can also see the kitchen area, which is decorated in crisp white and high-quality kitchen equipment.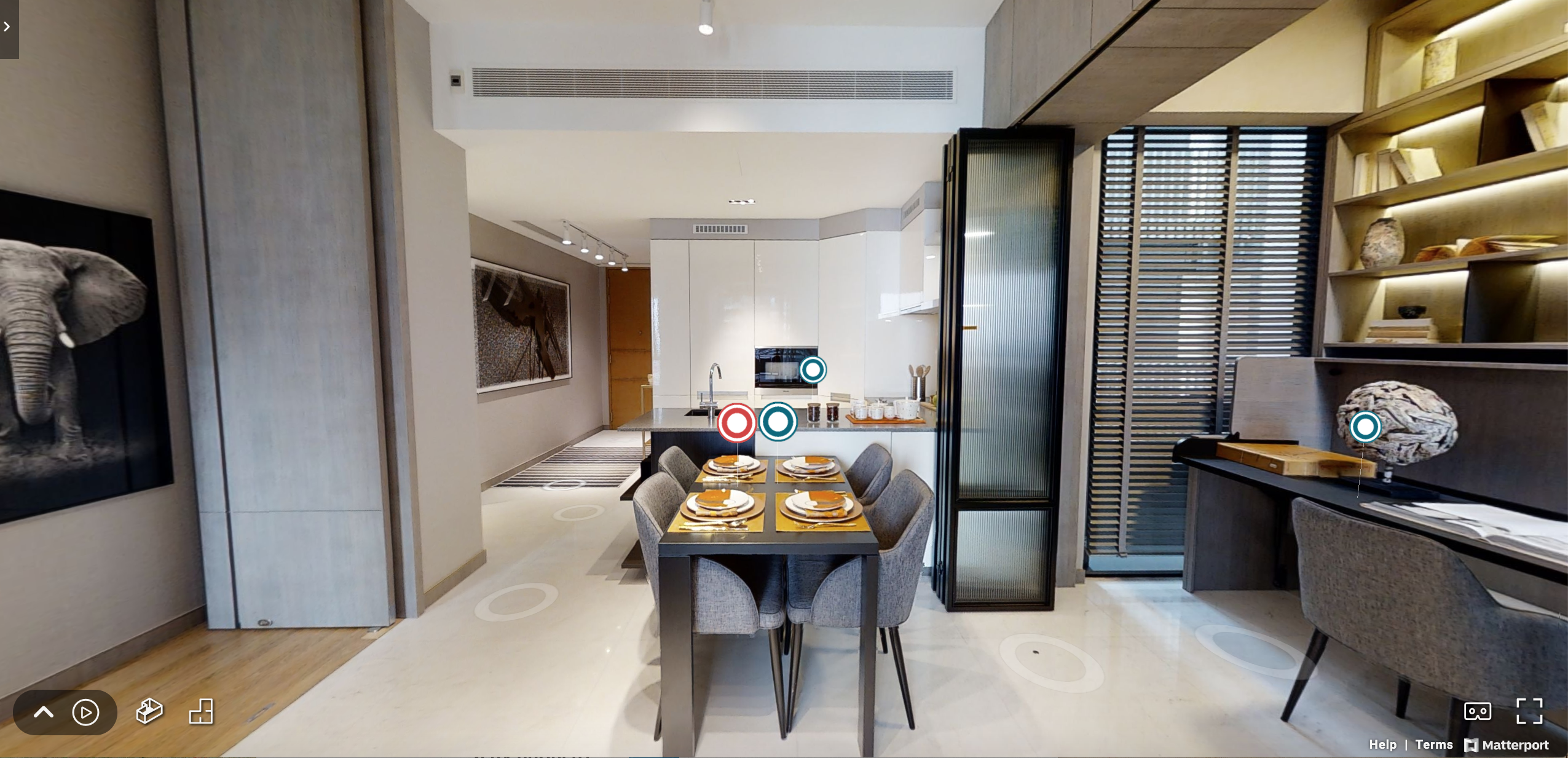 At the end of the living room area we also see the balcony, which is able to accommodate a full-length couch with an accompanying table too. With the stunning views of skyscrapers outside, the balcony will be perfect for relaxation and recreation.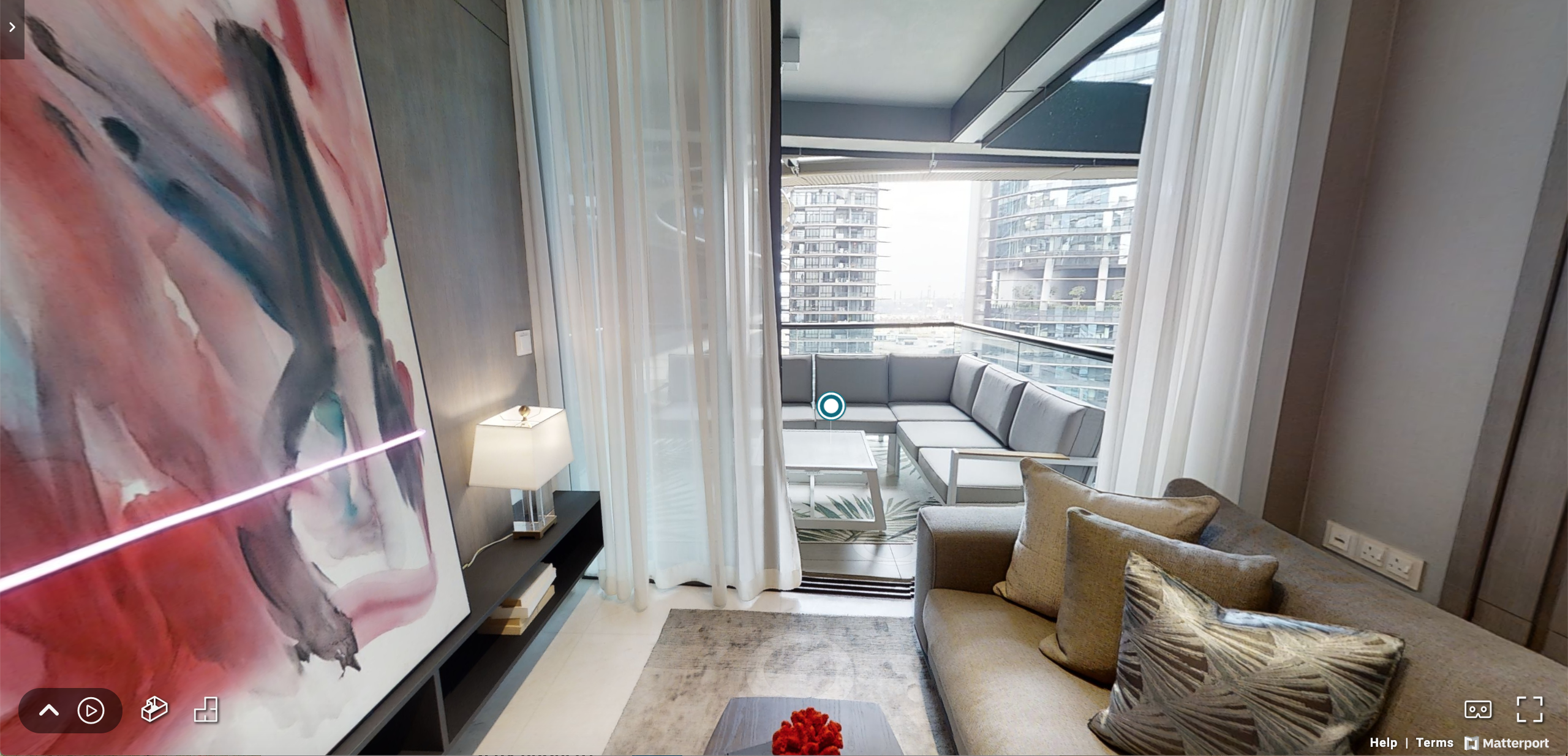 Three bedroom and Study unit – What does it offer?
At the three-bedroom with study unit we see a much more spacious living room area, which can also accommodate more extensive and lavish furniture. The dining table can now accommodate 6 people comfortably, with an added touch of luxury with the hanging chandelier. The living room area is very well lit with the dark hues of wooden furniture in the background, creating a soothing and classy look.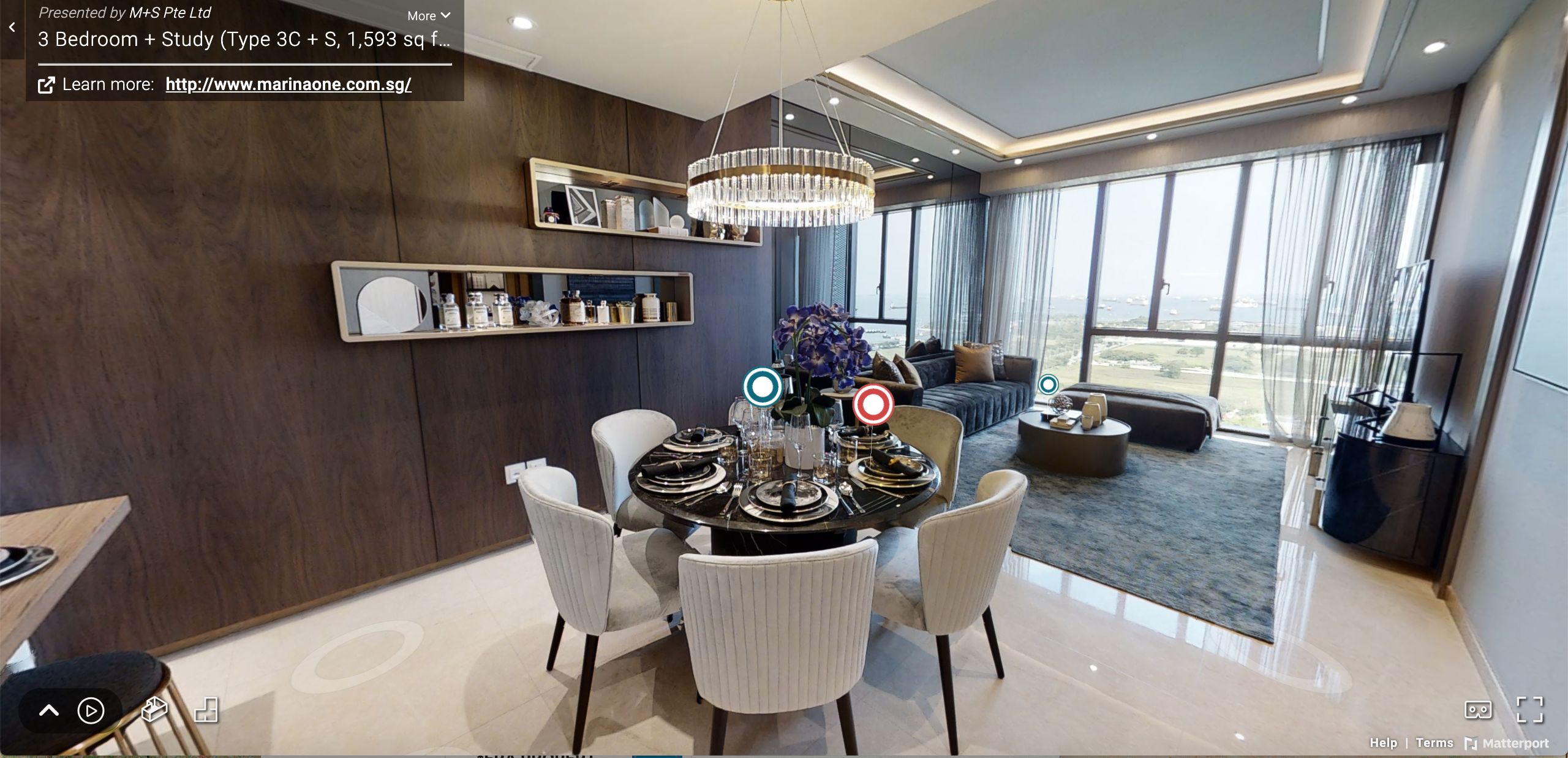 We turn around to look at the kitchen area, which can now accommodate a bar area right beside the kitchen – perfect for food or wine tasting! It is also decked with high quality kitchen equipment and decorations that give it an elevated look.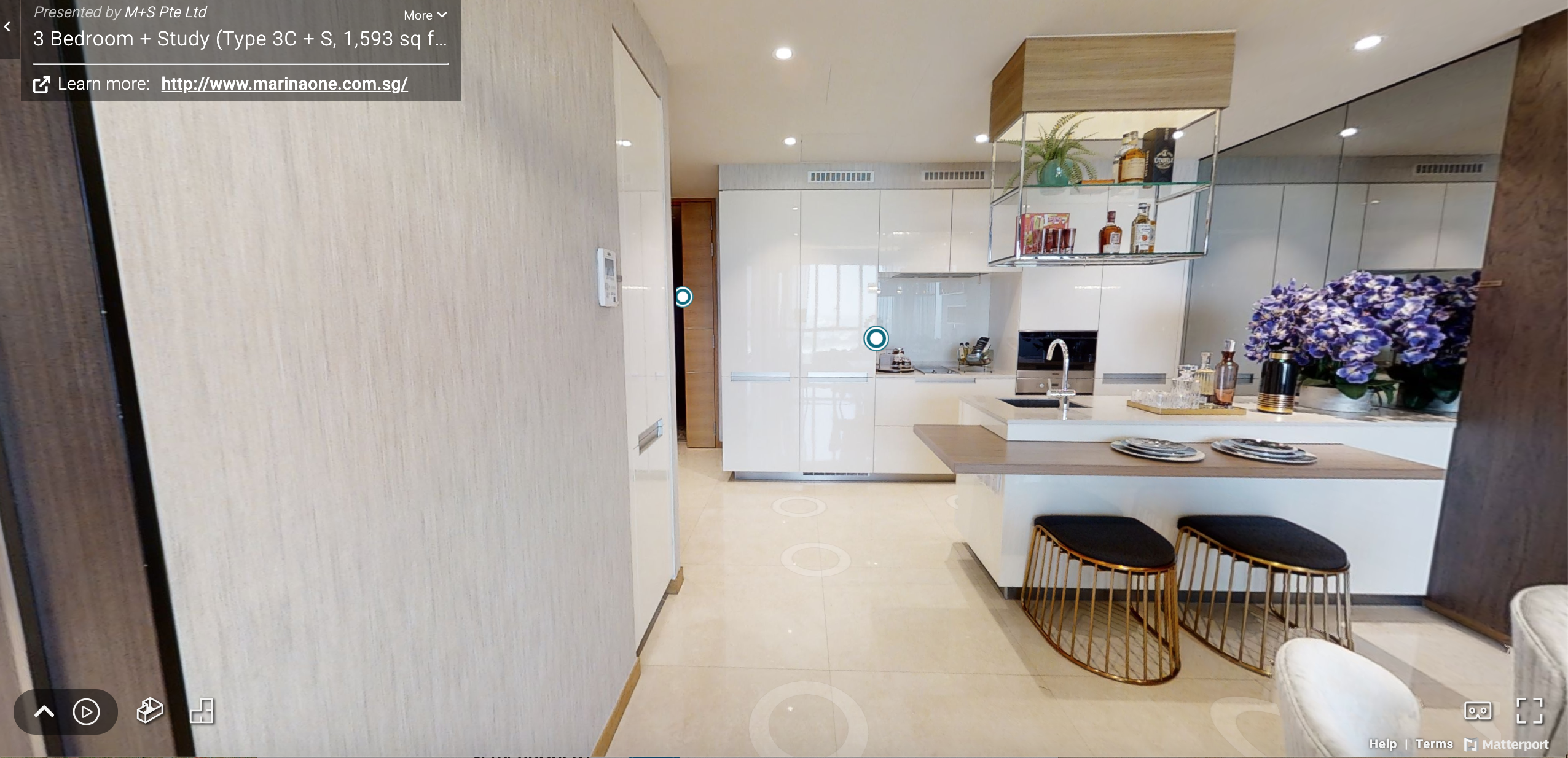 Next we look into the study room, which is now extended to have two expansive shelfs surrounding the study table, perfect for you to keep your study or work materials in check and within reach easily.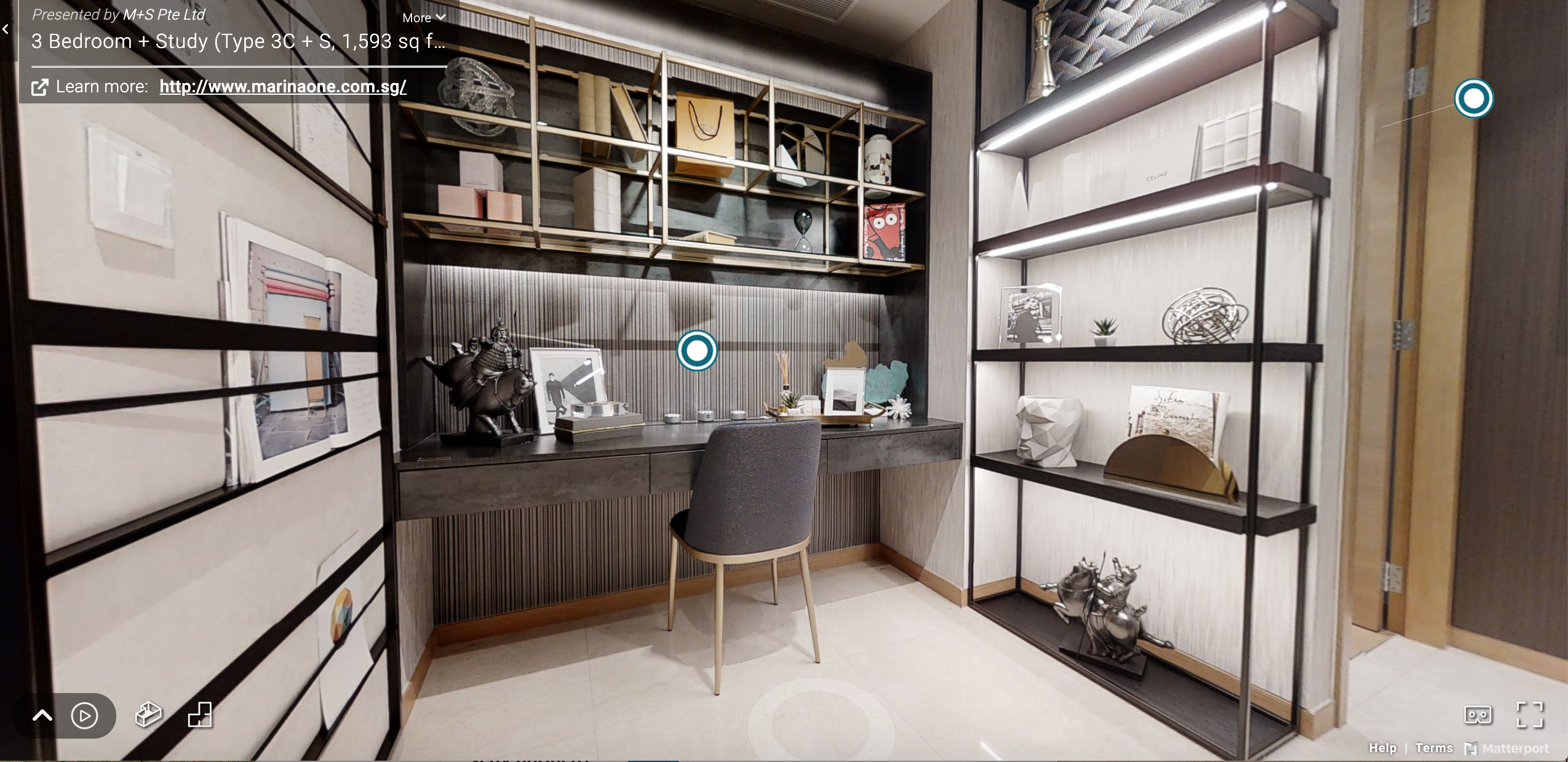 Near the study room would be the master bedroom and master bathroom, which is adorned with beautiful ceramic and marble detailing in a crisp and clear beige colour. It will feature shower and bathtub facilities, perfect for comfort and relaxation.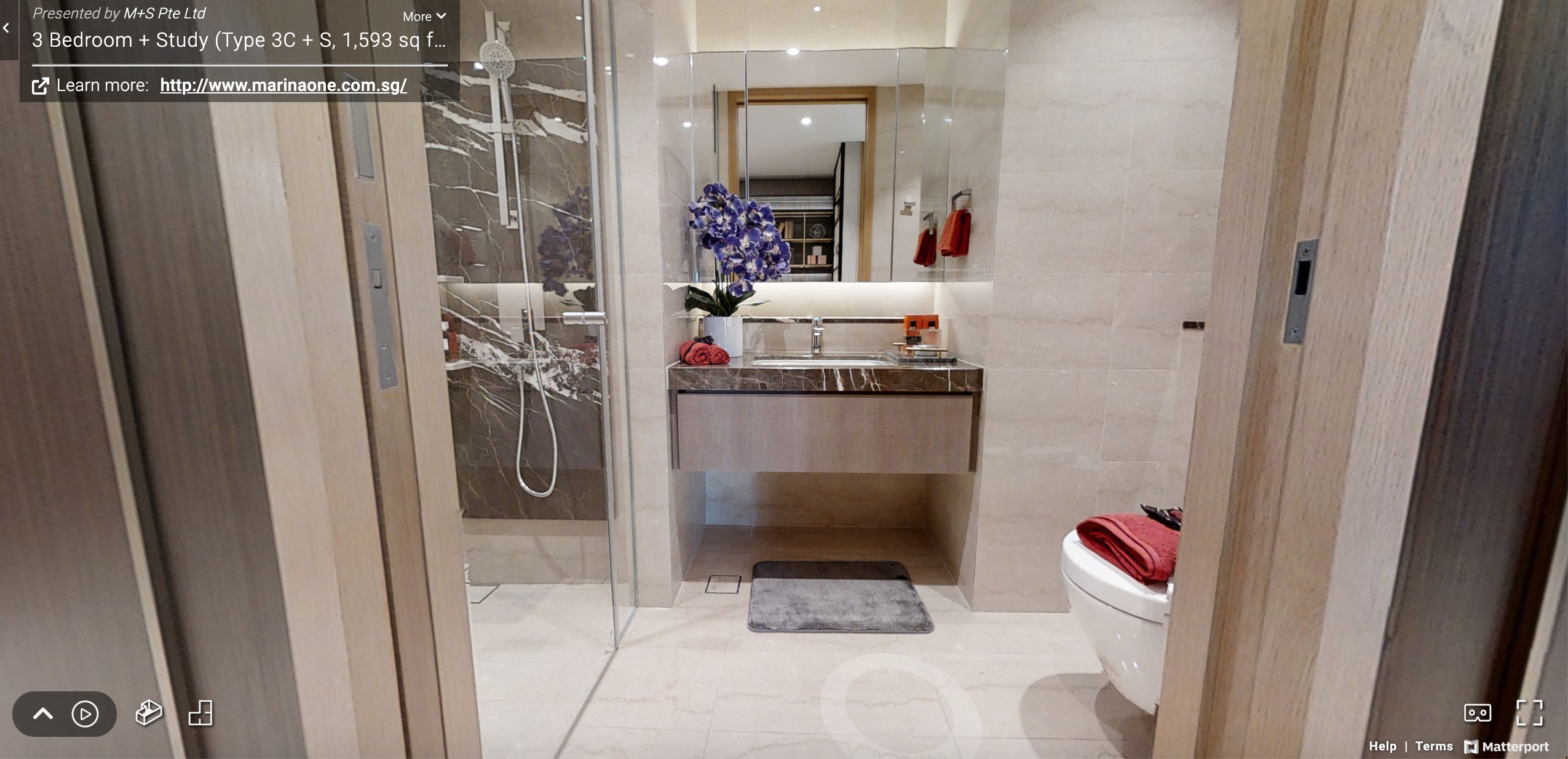 Finally, we reach the master bedroom, which is decorated with luxurious colours across the full height curtains and plush pillows. We can that there is ample walking space that is accompanied by a full-sized dressing table, which is definitely a plus for females to get ready to tackle the day. Imagine getting ready by the beautiful view across the full height windows!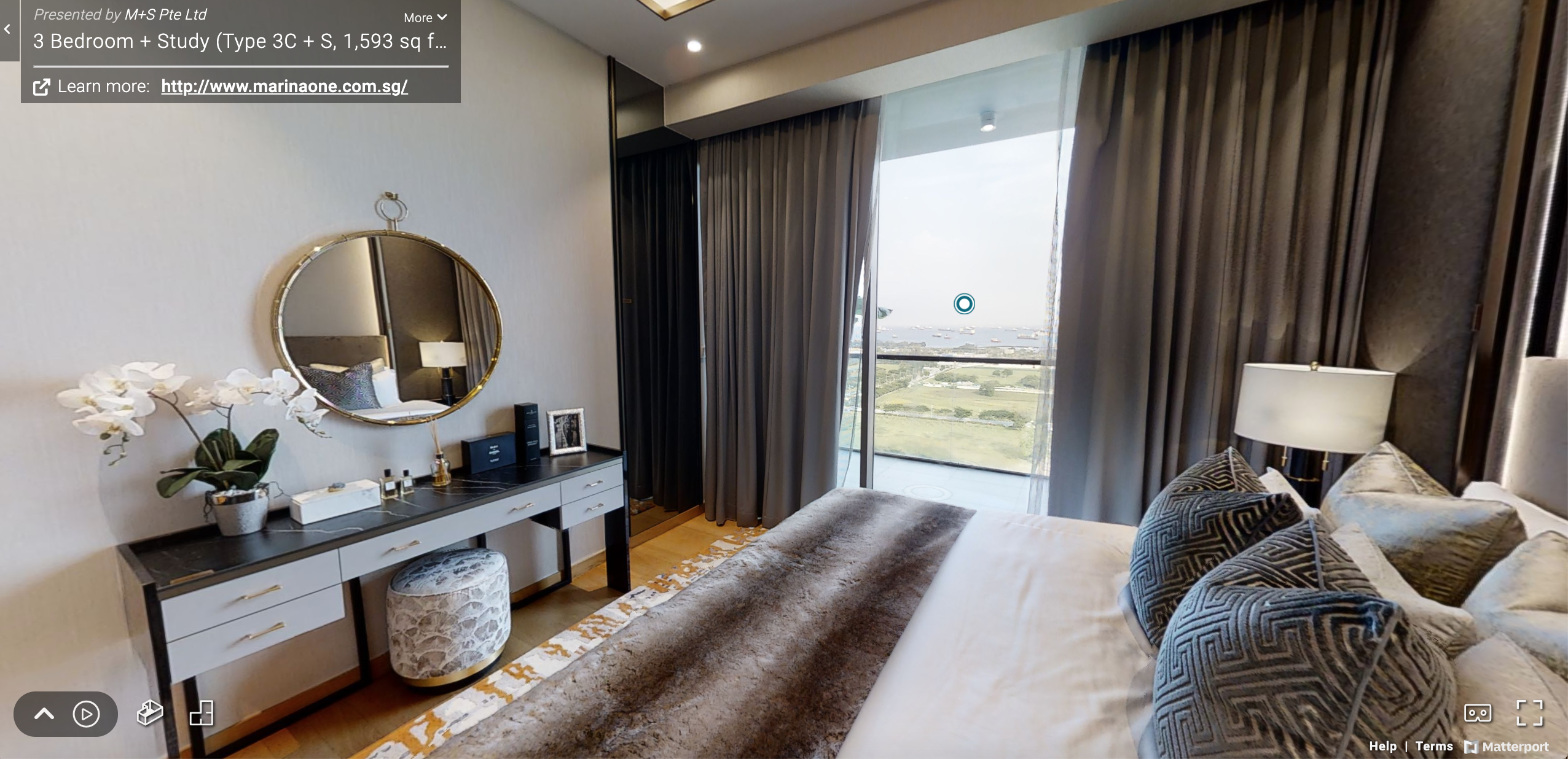 Four-bedroom units – What does it offer?
At the four-bedroom unit, we see an extended living room space that beautifully connects to the full height window to create a more spacious and brighter atmosphere. With the elegant black and white hues across all the furniture and the flooring, the living room area has an elevated and sophisticated look, completed with the luxurious chandelier lighting.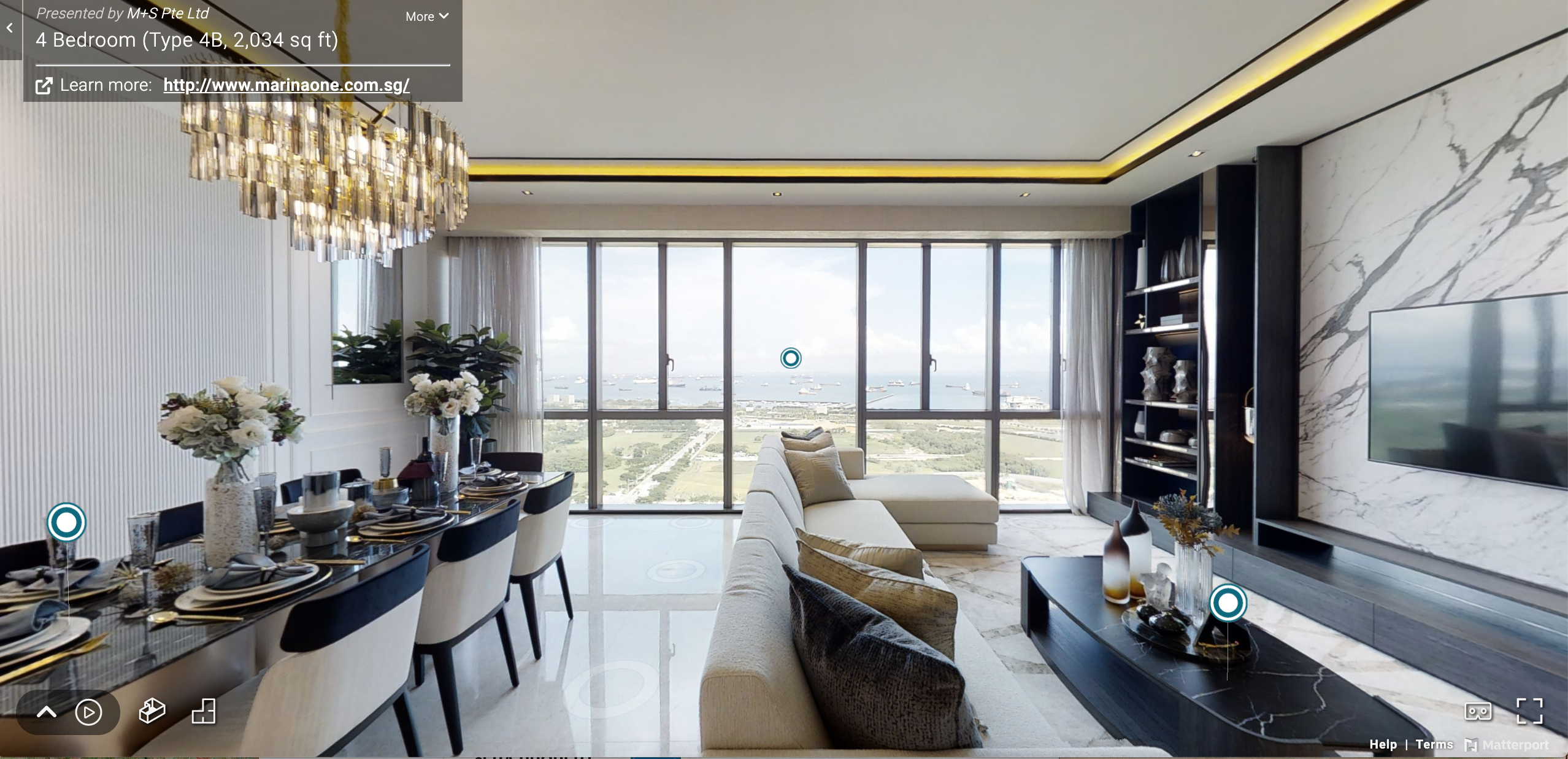 The kitchen area is also extended to have dry and wet kitchen areas, which is accompanied by a beautiful island counter with comfortable cushions chairs – perfect for a glass of wine and snacks while you relax and rest.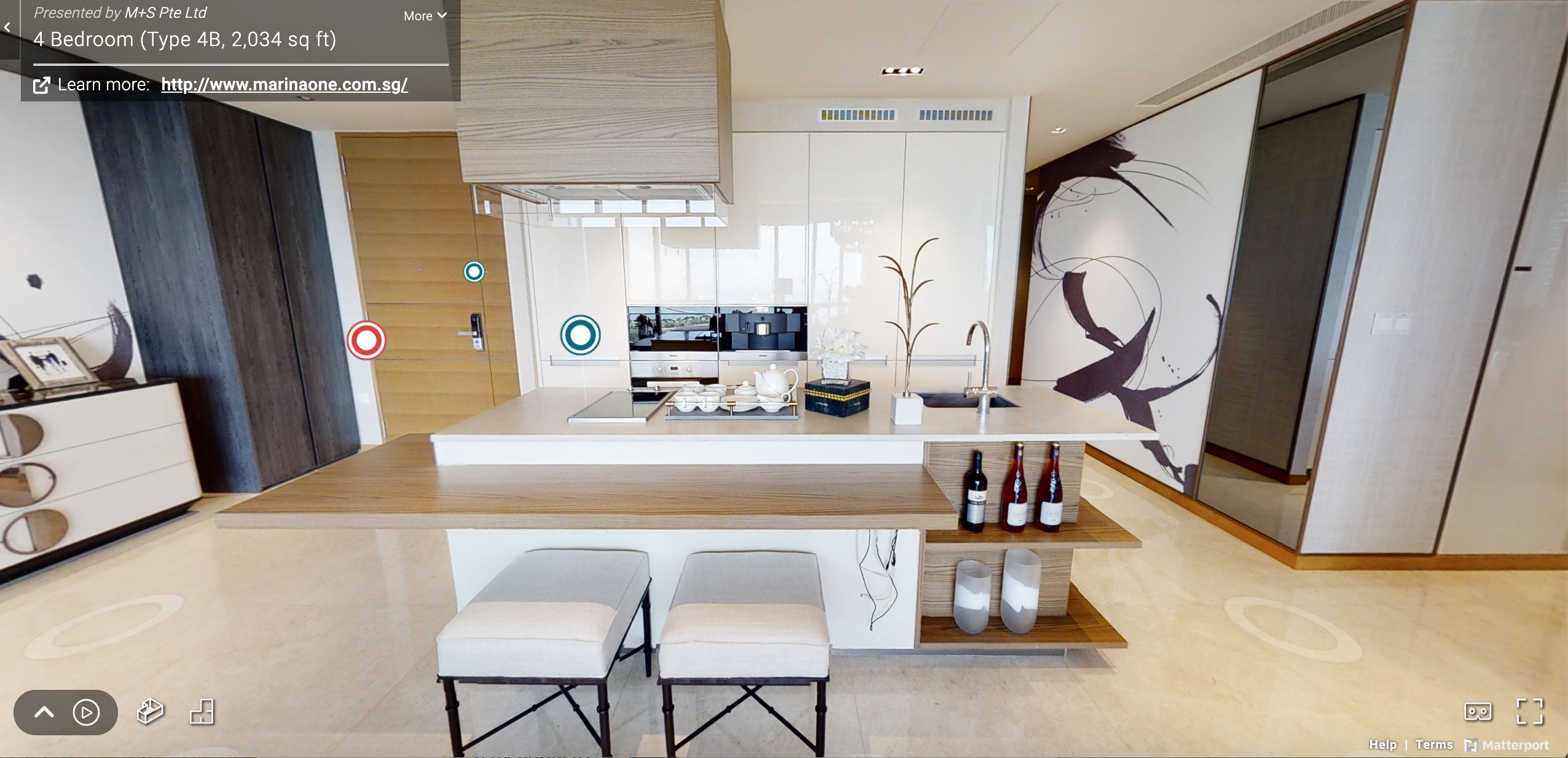 The study room is also elevated with full height shelfs and study table well provided for within the studying space. Lighting is great here to ensure that the studying or working session is accompanied by proper lights. There is also ample space to spread out your materials across the table, or to place them on the shelfs to reach out for them later.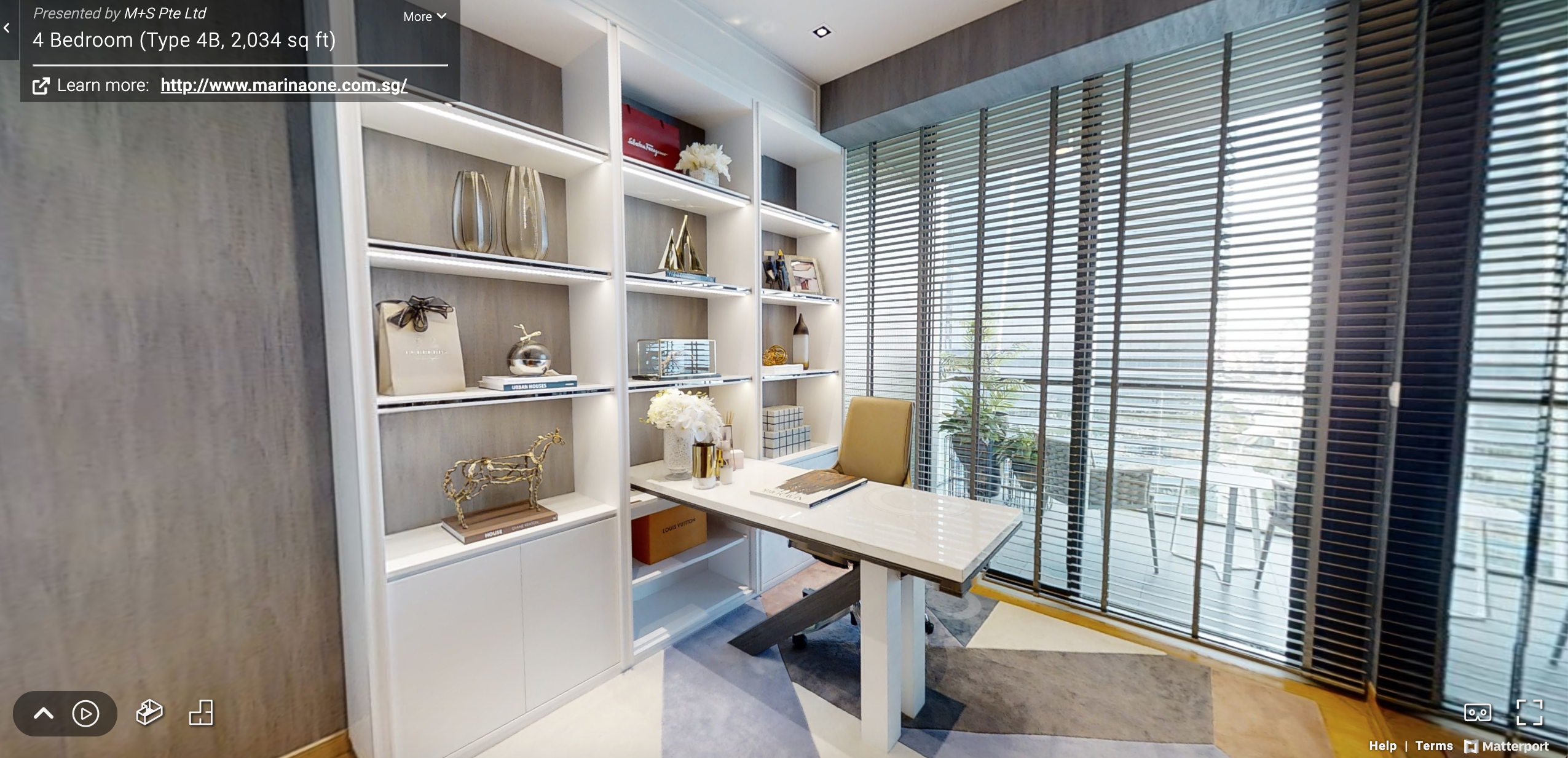 Next we walk to the balcony area, and we are impressed again by the beautiful view of sleek skyscrapers and beautiful horizon across. The balcony is spacious enough for you to have afternoon tea with your loved ones, or to place furniture aside to lie your yoga mat here for a quick workout session here!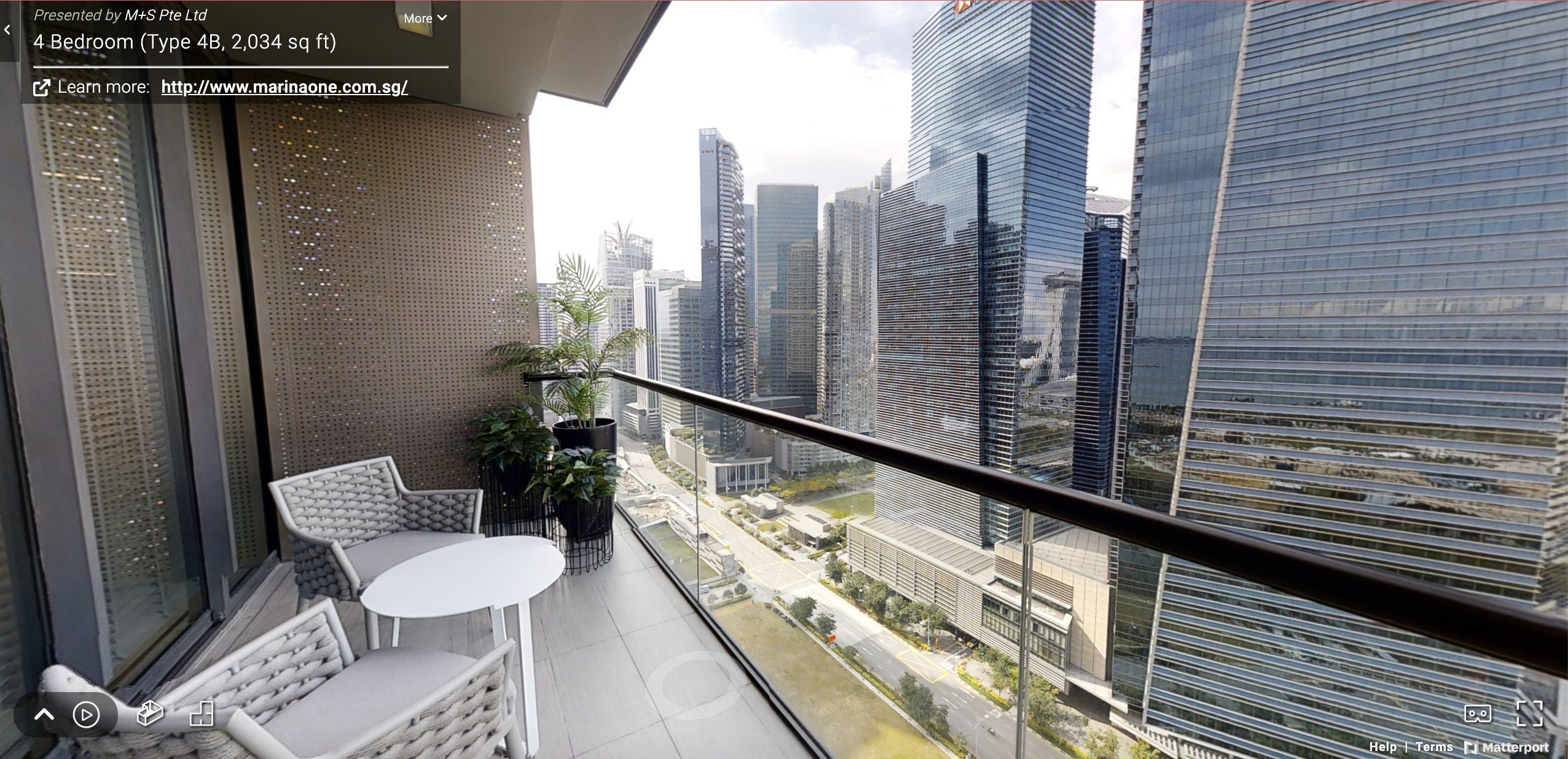 Finally, we reach the bedroom area, which is beautifully decked with a luxurious assemble black, grey and white colours to create a sophisticated and grand look. The dressing table is elongated to accommodate more skincare and makeup, while providing space for your own decorations and photo frames as well. The room also features full height windows across the room, allowing natural lighting to shine in – imagine waking up to such beautiful views everyday!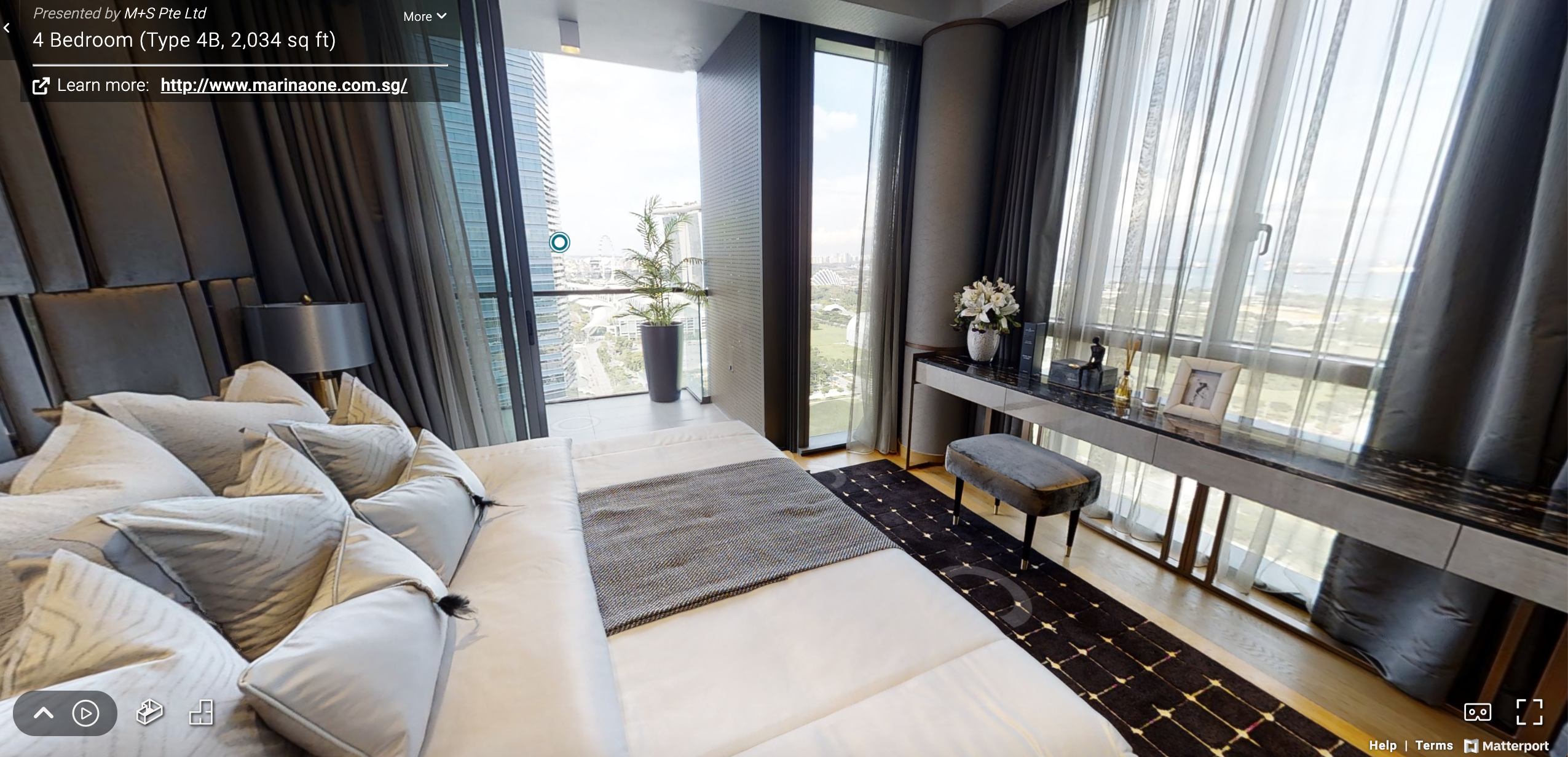 Location – More about its connectivity
Residents will be delighted to know that one of the bestselling points of Marina One Residences would be how connected it is to every amenity possible – the world would literally be at your doorstep. For starters, Marina One Residences is conveniently connected to 4 MRT lines, which includes: North South, Circle, Downtown Line and even the upcoming Thompson Line as well. Residents will not need to worry about travelling anywhere as they can do so through multiple routes with ease. Furthermore, there are also multiple expressways nearby to allow vehicle owners to reach their desired destination in the shortest time required, reducing the time squandered on travelling.
Furthermore, residents will also be pleased to know that there are numerous shopping destinations within a stone's throw away from Marina One Residences – allowing residents to enjoy a satisfying shopping therapy anywhere, anytime. This includes the nearby Far East Square and One Raffles Place decked with shopping areas and lavish dining options, and even the luxurious The Shoppes at MBS as well. Be it having a good time for afternoon tea or a delectable dinner with the family, Marina One Residences' surely got you covered with a good location for each occasion!
When it comes to the places of entertainment near Marina One Residences, it is evident that there is numerous places to explore within the vicinity. Being near to Marina Bay area means that residents can gain easy access to popular attractions like the beautiful Gardens by the Bay for an easy breezy picnic with your loved ones, or the Singapore Flyer to get a bird's eye view of the stunning landscape across Singapore. If residents are up for an enjoyable musical or theatre play, hit up the Esplanade Theatres, or even visit Marina Bay Sands area to enjoy the myriad of exciting activities available. Your life can be exciting yet comfortable at the same time, only at Marina One Residences.