Within the heart of Bukit Timah Road is a new development fast gaining attention in the midst the array of properties released – Fourth Avenue Residence, the star property located right beside Sixth Avenue MRT station. Developed by Allgreen Properties Limited, Fourth Avenue Residence is set to be a huge success. It plans to have approximately 450 units with options ranging from 2 bedrooms to 4 bedrooms, perfect for families of different sizes.
Fourth Avenue Residences is developed by Allgreen, which has a diversified portfolio of properties comprising residential, retail and office space, serviced apartments and a hotel. Allgreen's portfolio of development properties consists of a mix of condominiums, terrace and semi-detached units. These properties are on freehold and 99-year leasehold tenures. Their investment property portfolio comprises Great World City, Tanglin Mall and Tanglin Place as well.
One bedroom unit – What does it offer?
At the one-bedroom unit we see a seamless connection of space from the kitchen to the living area and the balcony space. The unit is decorated in warm colours of brown wooden tones and crisp white walls, creating a spacious, light and refreshing vibe.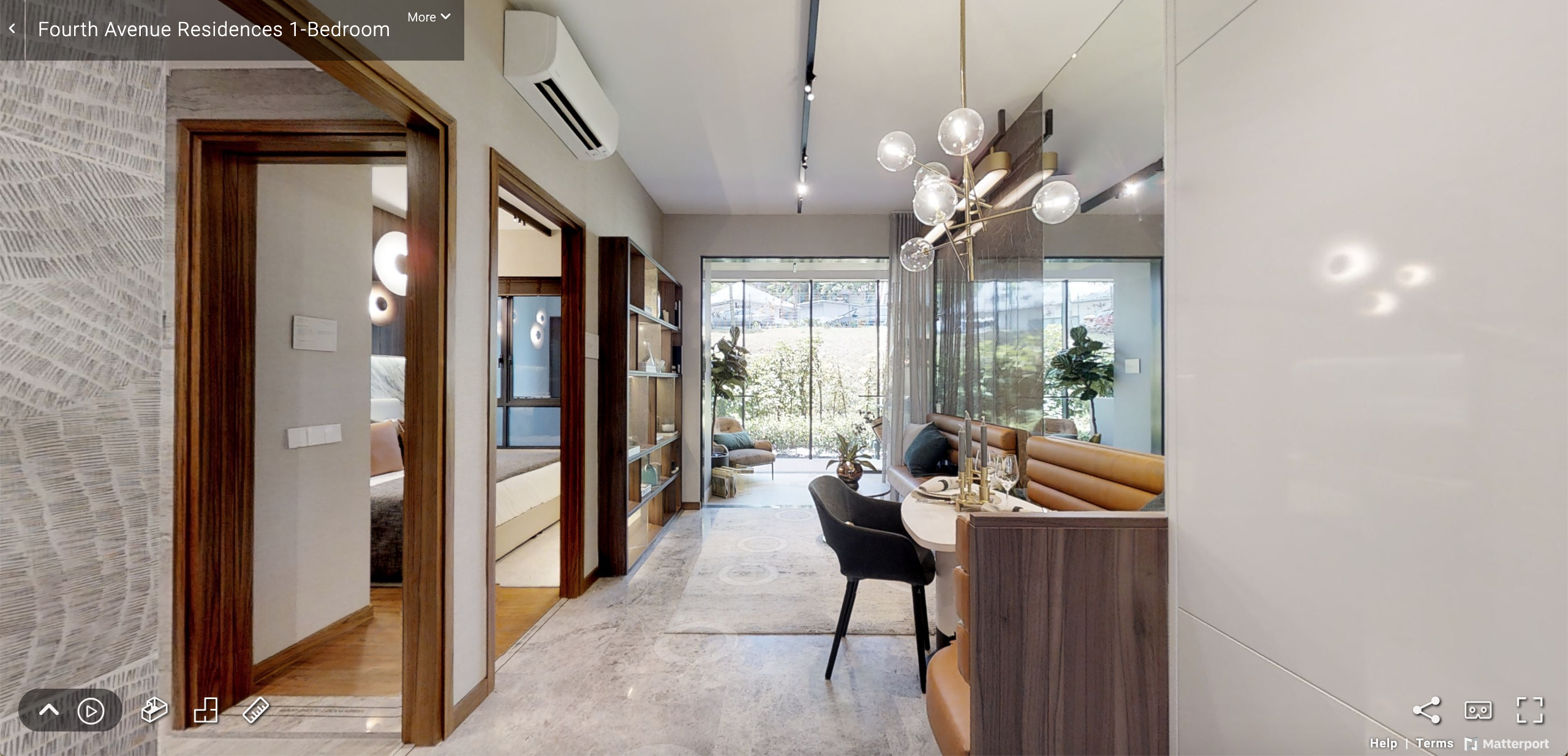 We like how the kitchen is no-fuss and beautiful in white, with an overhead shelf to keep your cooking equipment – definitely a minimalist and elegant look!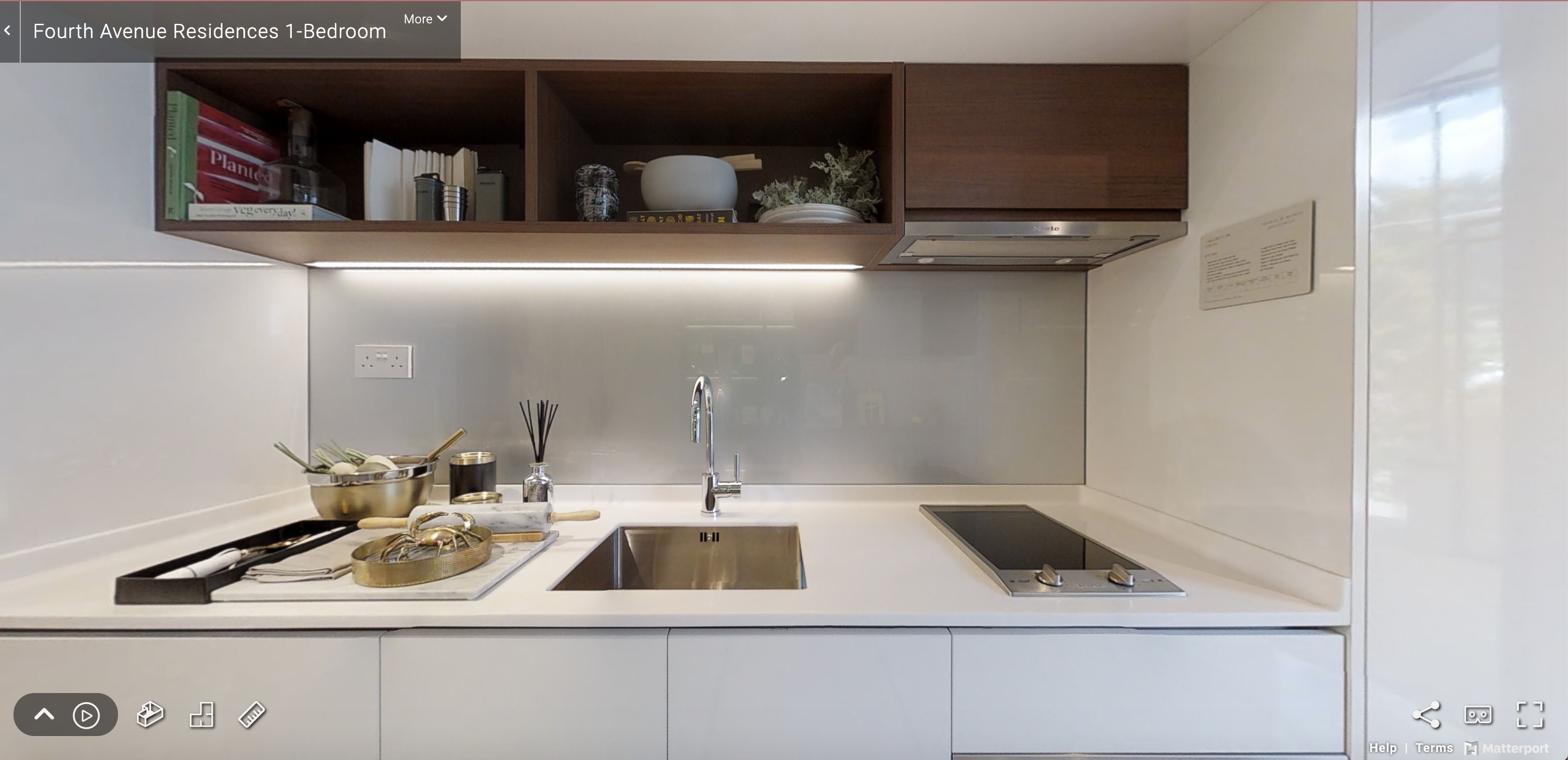 We also appreciate the design of the balcony space, which is able to accommodate a shelf, cushion chair and ample space for a table or other furniture. The combination of brown tones and greenery creates a comfortable and relaxing space.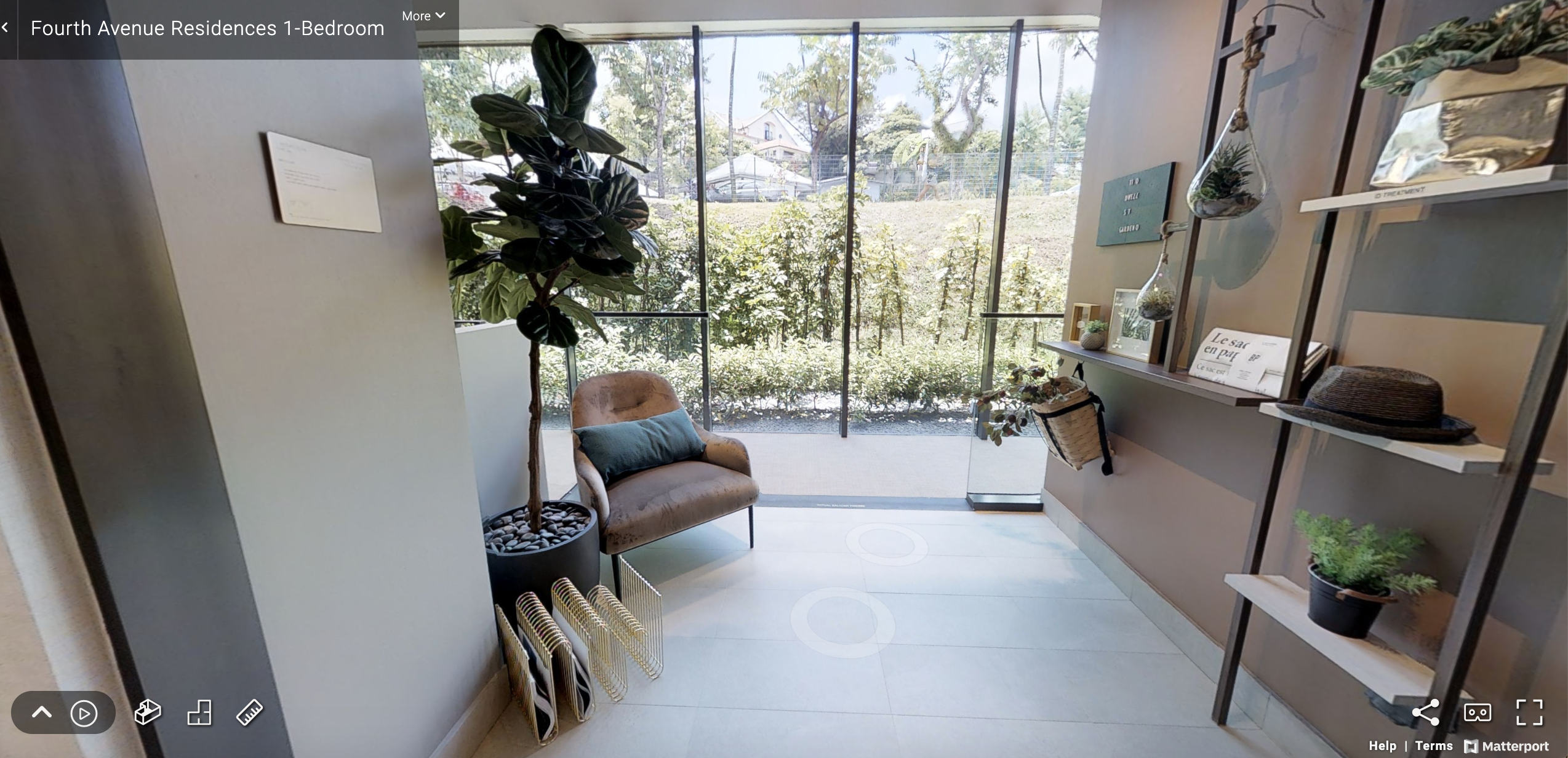 Finally we reach the master bedroom, which is also decorated beautifully with dark brown undertones and wooden furniture, creating a serene and calm atmosphere within the room. From this perspective we can also see that there is ample walking space, which is perfect for comfort. We can also see the room is well connected to the bathroom. The bathroom is also decorated in same hues of beige marble detailing, perfect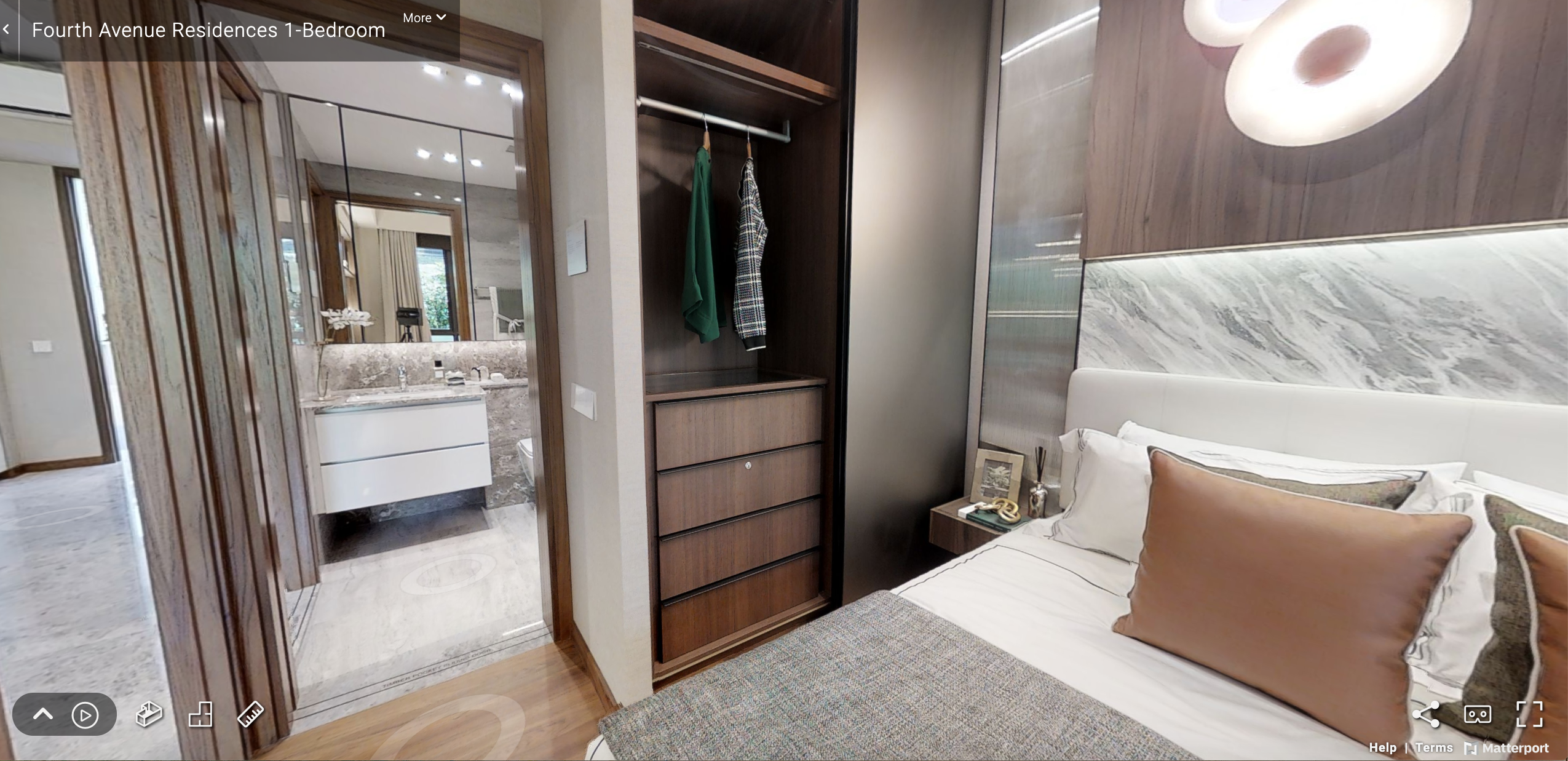 Three bedroom unit – What does it offer?
At the three bedroom unit we see a much more larger living room space, with great lighting and reflective surface walls that make the room look larger and brighter. With the light beige tones of the furniture, the room looks comfortable, relaxing and elegant.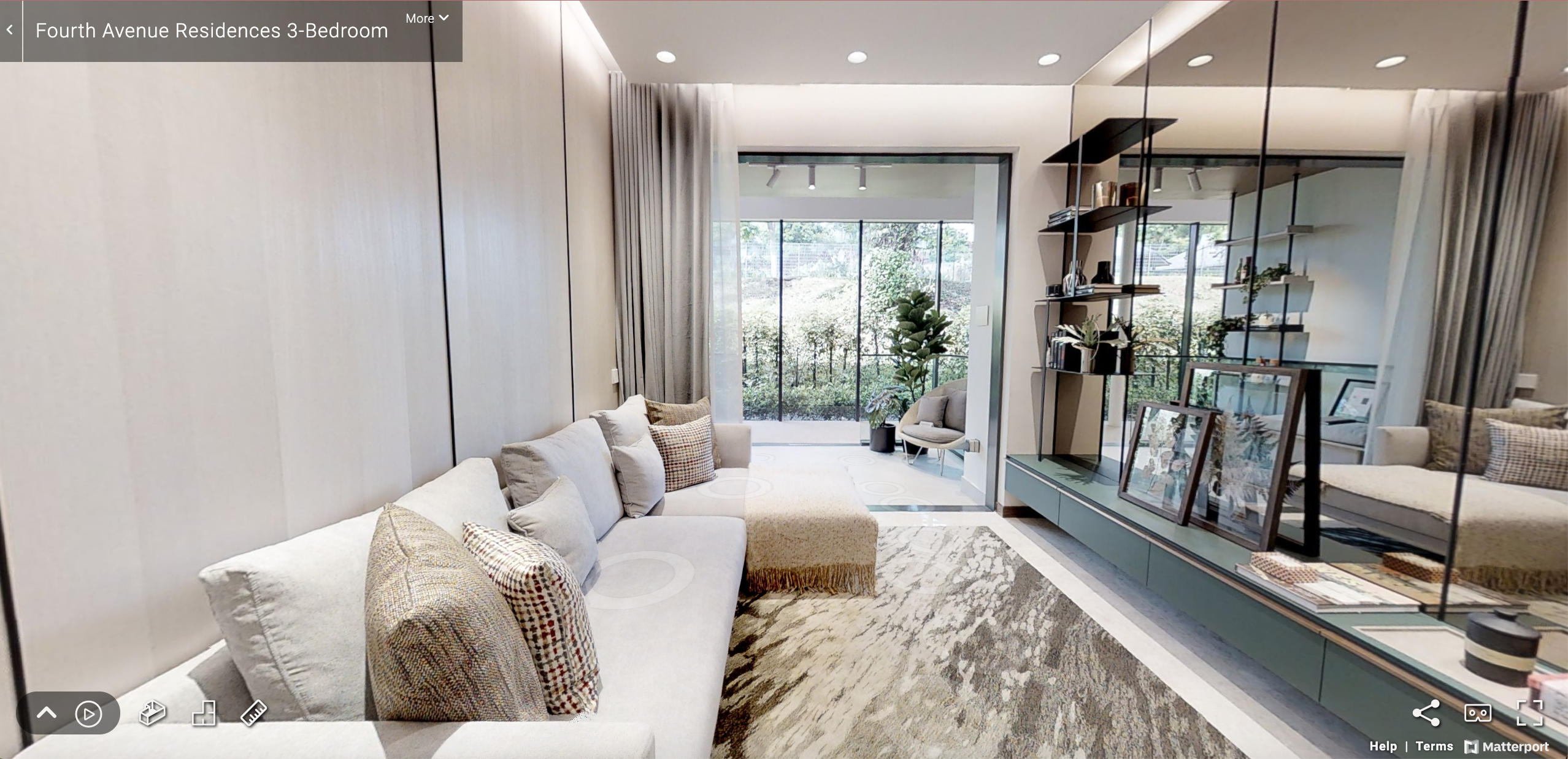 Taking a look at the dining area and we are pleasantly surprised by the kitchen area that has a dry kitchen area and a glass partition to keep the cooking area contained. The dining table is also able to fit 6 people comfortably – perfect for a family meal together or even a small gathering with friends and loved ones!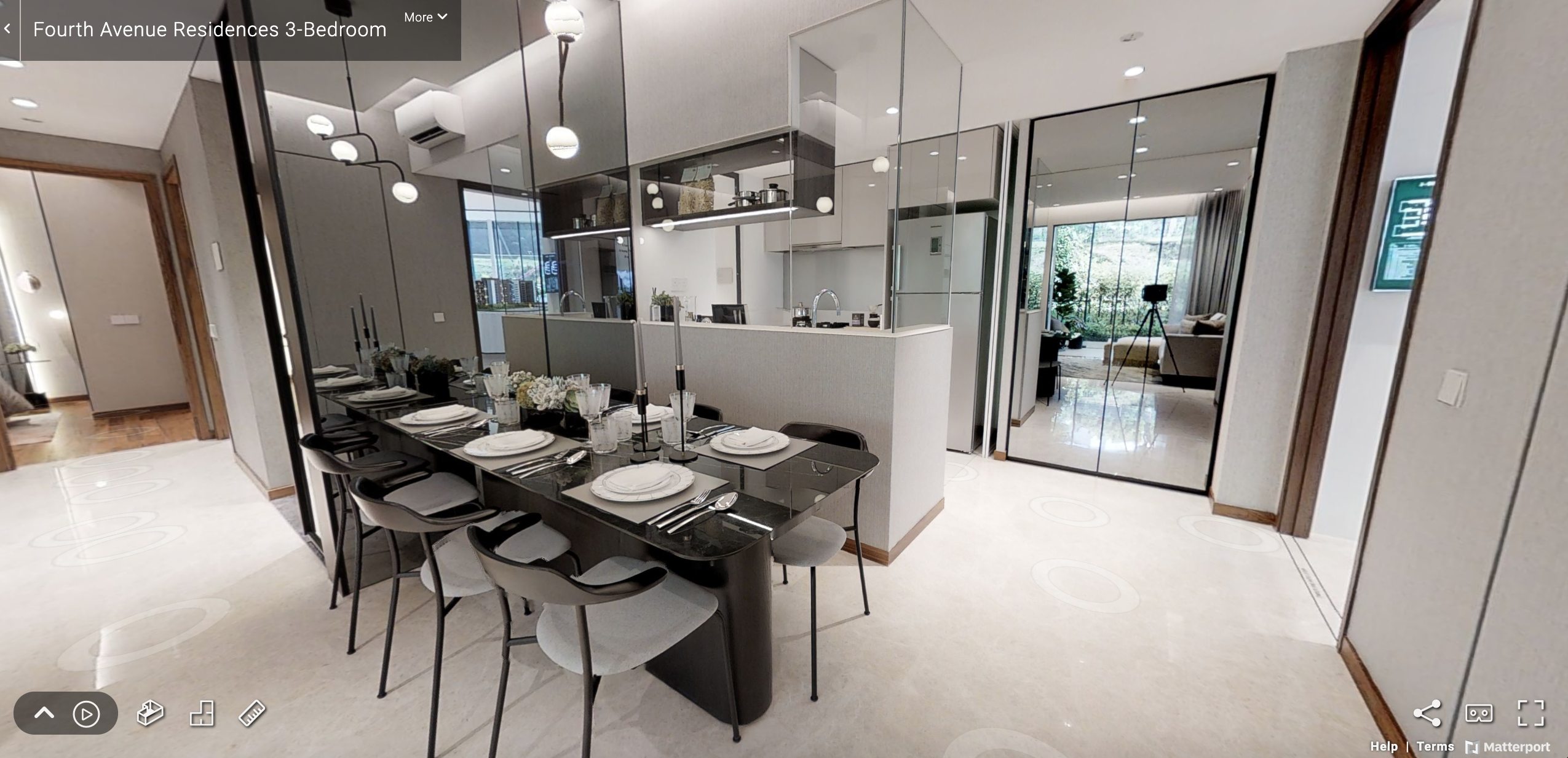 Moving on to the master bedroom, we can see that it is decorated in the same minimalist and light coloured tones to create a relaxing and soothing vibe. We like how the walls are not just plain whites – with the wooden shelf installed to the walls of the master bedroom, it add in a pop of colour and add another dimension to the room as a great touch of sophistication.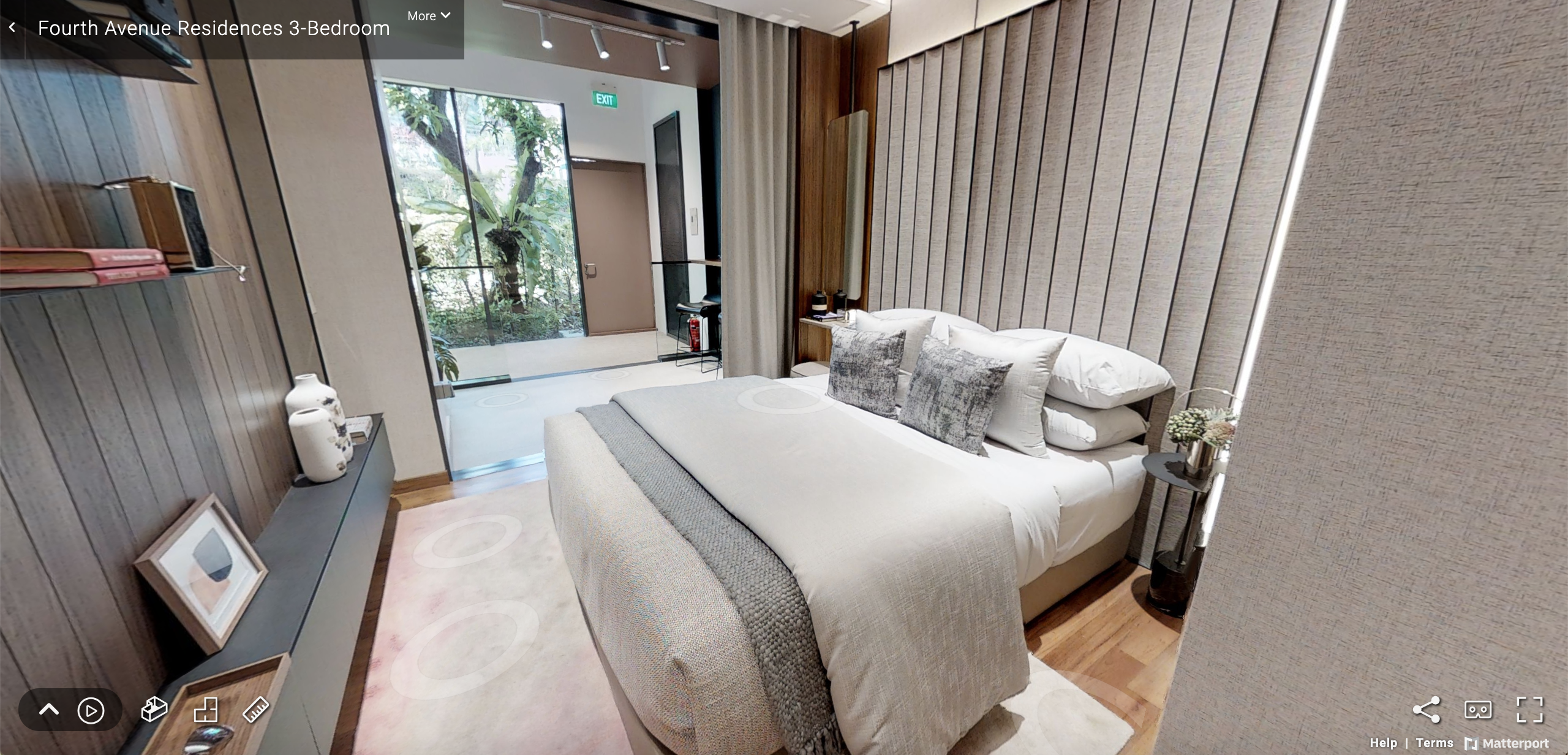 Next we get to the bathroom, which is decorated with beautiful marble detailing and mirrored shelves for convenience and functionality. With high quality bathing equipment and great design, we definitely find the bathroom to be a bonus.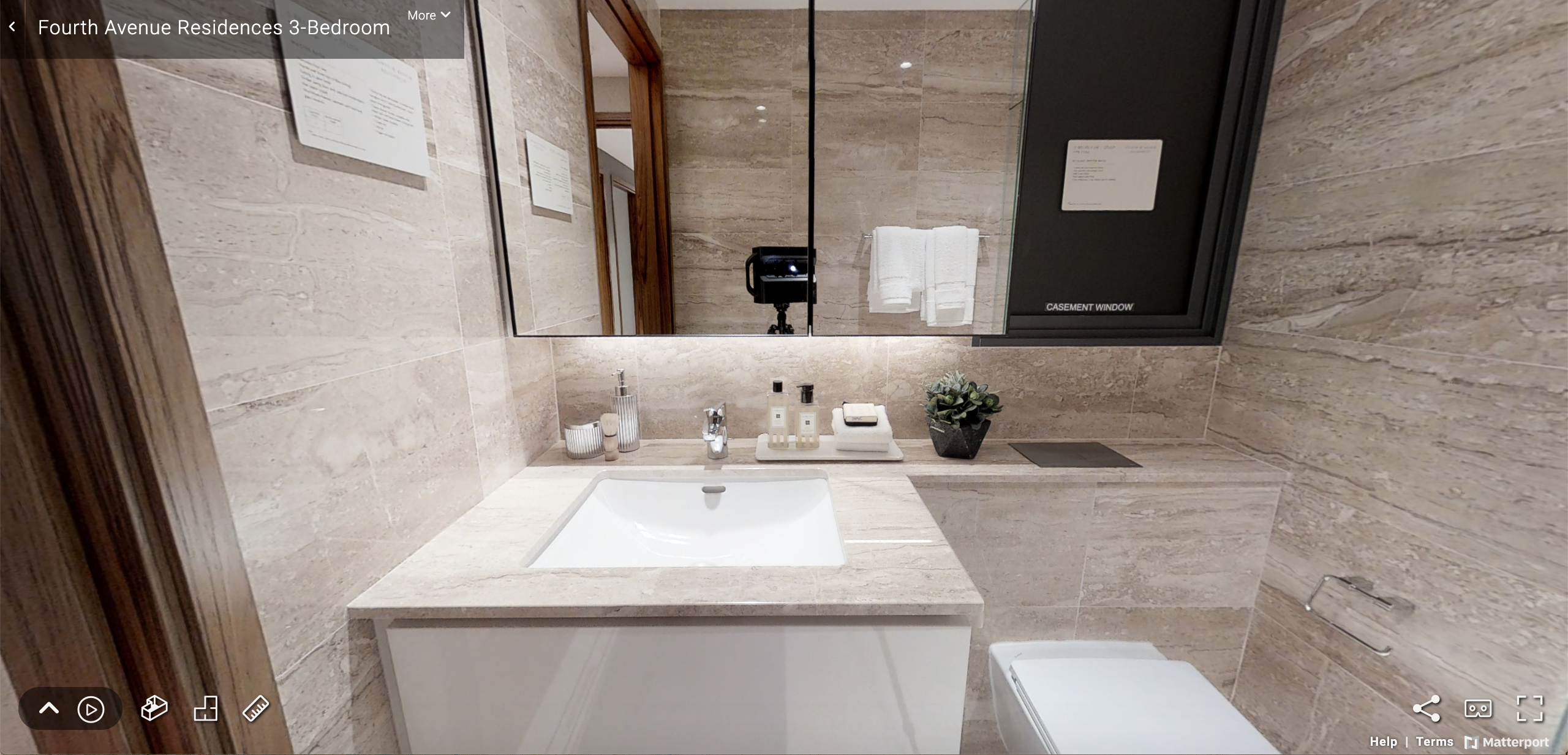 We also absolutely love the balcony space, which can be repurposed or redecorated according to your preference. Here we see that it is large enough to accommodate a couch and a shelf along with a cushion chair, allowing more than one person to enjoy this space and the beautiful scenery outside together.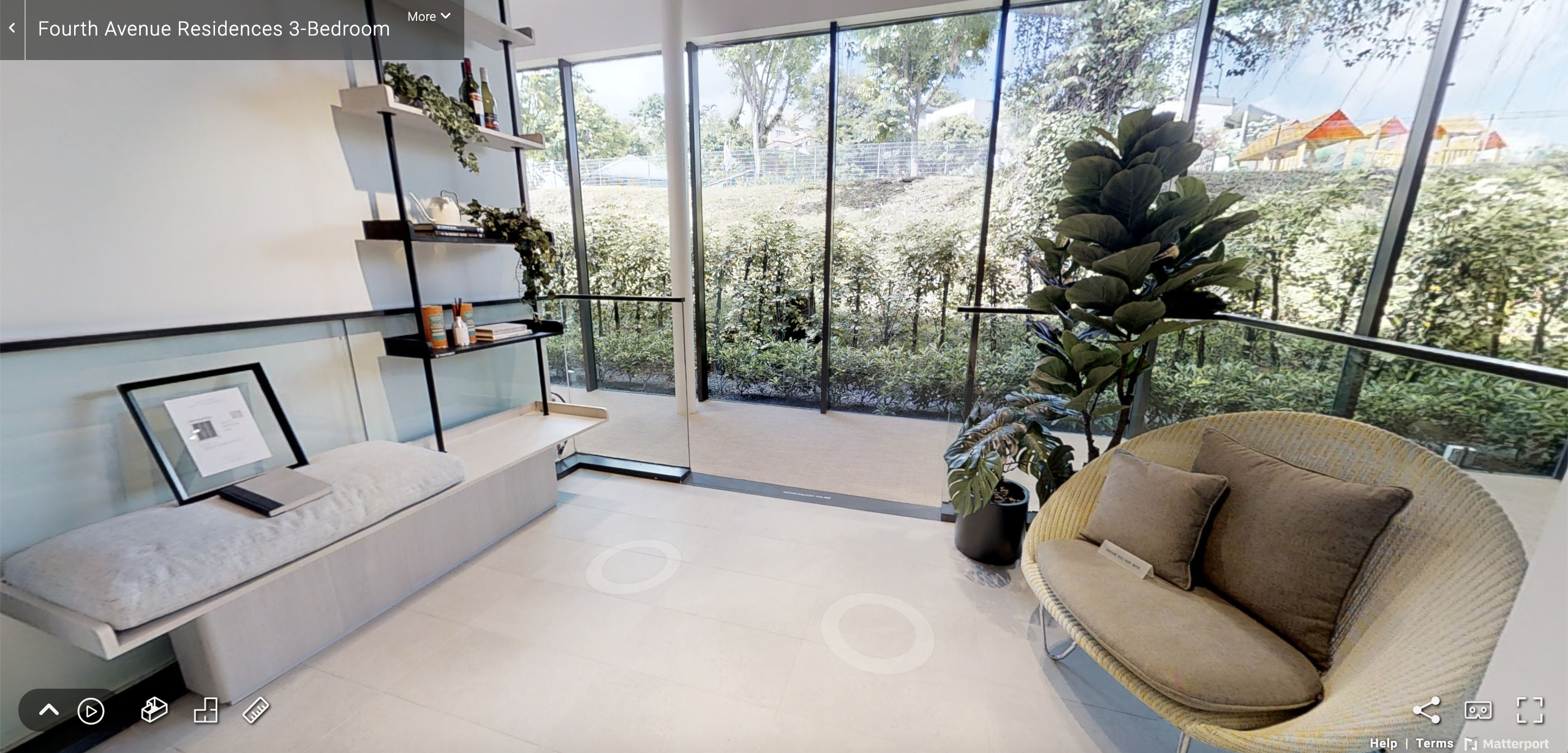 Location – More about its connectivity
One of the key advantages that Fourth Avenue Residence enjoy would be the fact that it commands a convenient location for residents to gain access to numerous destinations. For one, as aforementioned, Fourth Avenue Residence is just a 2 minutes' walk away from Six Avenue MRT station. This grants residents direct access to Downtown MRT line, including key stops like Bugis, Tampines and many more. In fact, North South Line is also within reach as well – a mere 4 stops of travel will allow residents to reach Newton MRT station.
This means that residents can have easy access to the CBD area for them to reach their workplace with ease. No more squandering time on travelling when residents can reach their workplace in a jiffy! Alternatively, residents that have their own mode of transport can also drive through the Pan Island Expressway (PIE) to reach the CBD area, and even the famous shopping belt of Orchard area within roughly 10 minutes' drive.
Residents will also be delighted to know that their daily essentials can be stocked up at the Cold Storage at Sime Darby Building and FairPrice Finest at Bukit Timah Plaza. In addition, other shopping and lifestyle options include surrounding malls like Bukit Timah Plaza, The Grandstand and The Star Vista. Furthermore, the whole Bukit Timah area is also known for its features dainty cafes and artisanal eateries that will offer delightful treats anytime, anywhere.