Things seem crazy right now. In fact, things ARE crazy right now. Singapore is heading into its first recession in years and the Covid-19 situation is showing little signs of abating.
So while things are tough at the moment, this doesn't mean you should sit around and be prudent. Instead, this is a lucrative opportunity to buy and invest in a property. Here are 4 reasons why:
1. It's a buyer's market
In case you haven't heard, property prices have slumped by 1.2% in Q1 2020 — the first after three successive quarter-on-quarter gains. In fact, analysts predict that property prices will fall by 8% this year.
What's more, Singapore has a huge supply surplus as a result from 2018's en bloc frenzy (the total unsold inventory stood at 30,473 units as of last year), with many of those new projects available in the market right now. This means that developers may be motivated to lower their prices for new launches or offer discounts as the stock of unsold homes increases over time with upcoming launches.
"Given the current situation, buyers are able to choose from 40 new developments in the pipeline of which 50% are in the Core Central Region and likely at more accessible prices than 2019", says Tan Tee Khoon, Country Manager – Singapore, PropertyGuru.
2. Near-zero interest rates
With the world's economy severely hit by the Covid-19 outbreak, the U.S Federal Reserve has cut its interest rate to near zero to cope with the economic impact of the virus.
As Singapore's interest rates are closely associated with the U.S, the Singapore interbank offered rate (SIBOR) is expected to follow suit. That means banks are likely to offer lower home loan rates.
"In fact, interest rates for bank loans have been stable and not seen a rise despite earlier upward movements in 2018", says Tee Khoon.
"Fortunately in Feb 2019, the US Federal Reserve announced that interest rate increases would be put on hold, on the back of sluggish inflation and slowing growth in Europe and China. This provided a timely reprieve for home owners and buyers which continues to this day.
"With the silver lining of soft interest rates, prospective buyers going house hunting seem set to land on good deals".
On top of that, MAS has also announced that individuals with outstanding mortgages can apply for up to 9 months deferment on principal payments or/and interest payments on their housing loan repayments (however, do note that interest will continue to accrue on the deferred principal amount).
While this might mean a lower borrowing cost or refinance rate for prospective buyers/current home owners, it still means that you should proceed with caution as home loans are expensive. At the end of the day, you'll want to borrow within your means.
3. Because, technology
Since the coronavirus hit Singapore shores, developers have taken extremely careful measures to market their projects while also ensuring the safety of visitors at their showflats.
Apart from temperature screenings, recording travel history declarations, crowd control and increasing cleaning frequencies, developers have also resorted to technology such as online balloting, e-applications and virtual tours.
Now with the 'circuit breaker' measures in place to contain the spread of the virus, developers have to close their showflats for a month from April 7 to 4 May.
But thanks to technology, Tee Khoon says that despite the pandemic, prospective buyers can still view sales galleries on digital platforms with no physical contact and from the safety of their own homes.
One such developer who has resorted to technology is City Developments (CDL), who will continue to provide potential buyers with virtual tours, floor plans and e-brochures on its CDL Homes website.
"Although CDL's offices are closed during this period, our operations continue, with our workforce telecommuting. For inquiries, our sales consultants remain contactable via telephone calls, e-mails and video-conferencing. Those who are ready to make purchases – we can assist with the sales process remotely", said a spokesperson.
4. Buying during a recession has been proven to be a good investment time, as evident during the SARS period
While things are crazy right now, it will return back to 'normal', to how things were before.
Restaurants will be full.
Sporting events will continue to go on.
And people will continue to buy and sell properties.
According to this article, if there's one parallel to be drawn to the last time Singapore faced a pandemic (during SARS), is that a majority of sellers made a huge profit after selling their homes.
During the SARS period in 2003, there were 10,386 private property transactions based on URA data. Of these, 2,658 units were resold over a five-year time horizon, between 2003 and 2008.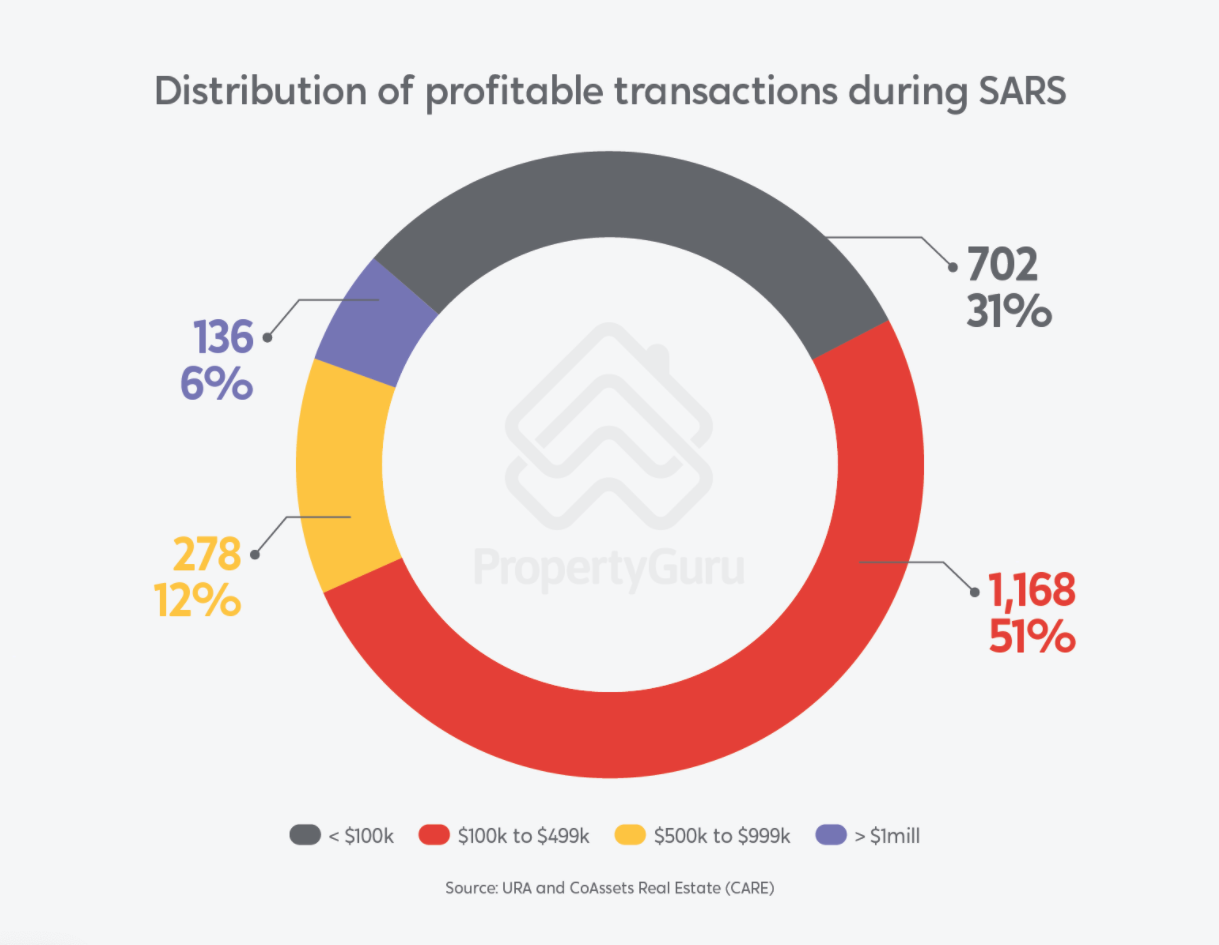 Guess what? 86% sold their units at a profit. The numbers are clear — those who took advantage of the uncertainty benefitted from it.
And to quote the article (which quotes Warren Buffett's famous saying): "be fearful when others are greedy and greedy when others are fearful".
Looking for Property?
Reach out to our team and get the most up-to-date property analysis and insider sales information.
Source: Property Guru News